Family Medicine Residency Program
The Reid Health Family Medicine Residency offers a great environment in an established, high-volume regional referral center. Residents receive a hands-on education in all required areas of family medicine, enjoying an unopposed structure that provides varied experiences ranging from emergency care to pediatrics, adult medicine, women's health and more.
The Family Medicine residency program offers three years of training in hospital and clinic environments.

OUR MISSION: The mission of the Reid Health Family Medicine Residency is to train exceptional family physicians who provide comprehensive, evidence-based, and compassionate patient- centered care.
OUR AIMs:
To educate residents on the importance of wholeness in body, mind and spirit and of promoting it among the patients for whom they are privileged to care.
To educate residents in the philosophy of lifelong learning.
To train residents in the use of technology to support efficient, evidence-based, patient-centered care.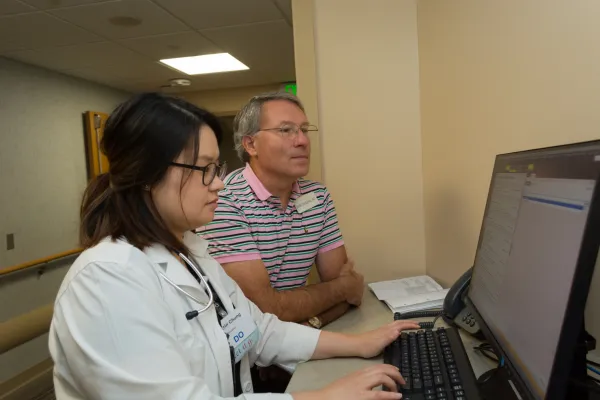 Other aspects that our residents say set us apart:
Impressive, newer facilities with a range of specialties in one expanding health system that consistently gains regional and national recognition
A mission and community-focused culture that mirrors the "osteopathic" principles of taking care of patients
Ability to focus on specific areas of interest, such as sports medicine or women's health
Opportunities to actually get to know and follow patients in your care
Joining and helping shape a program that is transitioning a high quality health system into a high quality teaching system
Proximity to larger metro areas but a smaller-community atmosphere with an affordable cost of living, easy campus access and free parking
Now engaged in several sponsored research protocols and developing a Reid Research Institute to support physicians' and residents' research interests
Third-year residents who have full Indiana license can moonlight at Reid Urgent Care, on the hospitalist team and other approved moonlighting opportunities.
Our program is accredited by the American Osteopathic Association (AOA) and in the process of transitioning accreditation to the Accreditation Council of Graduate Medical Education (ACGME) as part of the single accreditation requirements.
A great location
Reid Health is ideally located at the crossroads of America, on the Indiana-Ohio line along Interstate 70. We are an easy drive to Indianapolis, and Dayton and Cincinnati in Ohio. We have facilities and satellites in nine surrounding counties.
Learn lots more about our community!

Salary
| | Post | Graduate | Year |
| --- | --- | --- | --- |
| Year | First | Second | Third |
| Sign-On | $5,000 | - | - |
| Base Salary | $56,000 | $58,000 | $60,000 |
| Educational Stipend | $2,000 | $5,000 | $5,000 |
| Total Compensation | $63,000 | $63,000 | $65,000 |
Benefits
Resident benefits include:
Free Cafe at Twelve Hundred meals while on duty
An annual educational stipend. See the chart above for details.
Benefits for all full-time Reid Health Employees:
Free Parking
Paid Time Off (PTO)
Medical, dental and vision coverage
Supplemental employee life insurance
Spouse and dependent life insurance
Short-term disability
Voluntary accidental death and dismemberment insurance (AD&D)
Health care and dependent care flexible spending accounts (FSA)
403b Retirement Plan with employer match
Legal insurance
Accident Plan
Critical Illness
For more information
If you would like additional information regarding application to our residency program, please contact Tiffany Ridge, at MedicalEducation@ReidHealth.org or fmresidency@ReidHealth.org