5 reasons to warm up before you work out
Prior to a race or big game, it can be tempting to skip a warm-up. You're already going to be using all those muscles, so why take even more time to move and stretch?
Whether you're pumping iron or pounding the pavement, warming up is critical to get the most out of your workout and keep you healthy.
Here are five reasons to warm up before you work out.
1. Zone in: Warming up gives you time to visualize the race you will run, event or game you are about to tackle. Many people remain skeptical about visual imagery in sports. However, between 90-95% of North American Olympic athletes use imagery in their training, reports U.S. News. Envisioning yourself successfully completing your event before you participate in it has been proven to increase performance. The next time you warm up, imagine yourself starting, staying and finishing strong.
2. Prime muscles: Warm-ups increase blood flow and oxygenation throughout the body. Active reports that, when your body is passive, it only produces 15-20% of blood flow to skeletal muscles. However, after 10 minutes of total body activity, blood flow to the skeletal muscles increases to 70-75%. More blood flow means higher oxygen delivery to your muscles, which will lead to better performance.
3. Increased flexibility: When you warm up, you slowly raise your body temperature. An increase in body temperature provides increased range of motion in muscles, tendons, and ligaments.
4. Heart health: The American Heart Association shares that, by slowly raising your heart rate in a warm-up, you minimize the stress placed on your heart during exercise. This allows you to have a safer, more efficient workout.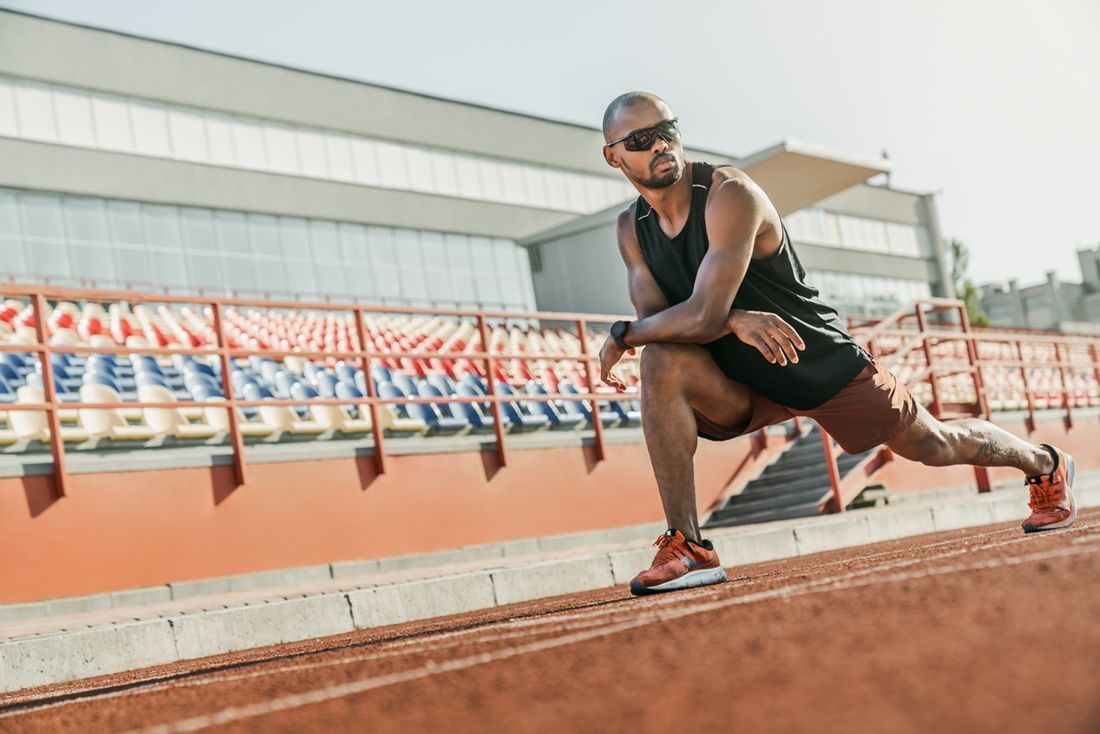 5. Prevent injury: Priming your muscles and heart to workout is beneficial for performance, but also helps prevent injury. When your body is warm and loose, you are less likely to suffer from strained or pulled muscles.
Tips for warming up
A warm-up isn't meant to zap your energy before the main event. Following these guidelines can help ensure you're putting in the right amount of time and movement.
A general warm-up should last 5-10 minutes
Your heart rate should be within 10 beats of the low-end of your training heart rate range
You should break a light sweat
Do dynamic, not static, stretching. Stationary hamstring or other stretches while your muscles are cold can actually decrease your power in the workout. Dynamic stretches, like butt kicks or arm circles, actively stretch the muscles and prime them for exercise.
The Mayo Clinic provides the following guidelines as sample warm-ups:
For a brisk walk, walk slowly for five to 10 minutes
For a run, walk briskly for five to 10 minutes
For swimming, swim slowly at first and then pick up the tempo as you're able
Rely on the experts
Whether you're a recreational walker, weekend warrior, or competitive athlete, keep yourself healthy and perform at your best by committing to warming up before exercise. If you do become injured and need to see a provider, contact Reid Orthopedics at (765) 935-8905. Also available is the Reid Health Athletic Training Clinic, housed at the same location. Call (765) 973-8057.