Recipe: Wow Butter Chocolate Chunk Cookies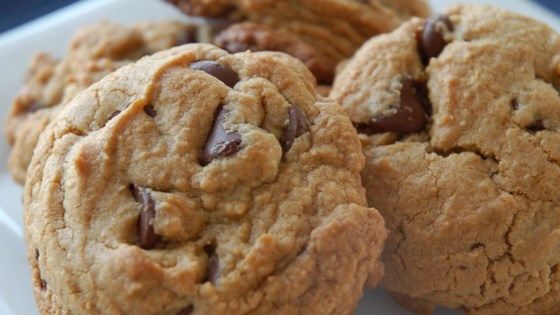 Servings: approx. 3 dozen
Ingredients:
• ¾ cup all purpose flour
• ¾ cup whole wheat flour
• 1 tsp baking soda
• 1 cup of Wow butter
• 4 tbsp. unsalted butter, room temp.
• ½ cup packed brown sugar
• ½ cup granulated white sugar
• 2 eggs
• 1 tsp pure vanilla extract
• 1 cup dark chocolate chunks
1. Preheat oven to 350 degrees F. Line bake sheets with parchment paper
and set aside.
2. In a medium bowl, whisk together both types of flour and baking soda; set aside. With an electric mixer beat together wow butter, butter and sugar until light
and fluffy. Add eggs, one at a time and beat until smooth. Add vanilla and beat
an additional 15 seconds. With the mixer running on low, add the dry ingredients
in a little at a time. Mix until just incorporated. Fold in chocolate chips by hand.
3. Using a tablespoon scoop, drop dough onto prepared baking sheets. Bake
for 13-15minutes, rotating sheets half way through. Allow cookies to cool on
baking sheet for 5 minutes and then transfer to wire rack to cool completely.
Nutrition Information per cookie - Calories 110, Fat 6g, Cholesterol 0mg, Sodium 40mg,
Carbohydrates 10g, Fiber 2g, Protein 2g