Healthy eating: Tips to get back on track!
If you didn't quite stick to your healthy eating regimen with all the indulgent foods available this holiday season don't be down on yourself! It's normal to enjoy the holidays and following a few simple steps will help you get back on track in no time.

1. Begin a workout routine
One of the best ways to balance diet and activity is to begin a regular workout program. Doing so helps prevent unwanted weight gain by burning extra calories throughout the day. If you exercise at a moderate intensity (it can be something as simple as brisk walking) aim for 150 minutes of cardiovascular exercise weekly and two or more days of strength training each week suggests the Centers for Disease Control and Prevention (CDC). A study in Obesity found that burning 400 to 600 calories per aerobic exercise session five days weekly led to weight loss in overweight men and women.
2. Record what you eat
If you're not able to shed pounds or are gaining weight despite your best efforts you might be taking in more calories than you realize. A good way to monitor — and control — your calorie intake is by recording what you eat. A review in The Academy Today reports that food journals aid in weight loss and helped participants in one study lose an average of 18 pounds in six months. Authors of this review suggest writing down what you eat on a piece of paper or using a smartphone app to track calories.
3. Choose a balanced breakfast
Start your day out right by choosing a healthy balanced breakfast. Skipping meals especially breakfast can drag you down make it more difficult to focus at work or lead to compensatory snacking or overeating at lunch. Pick controlled portions of protein foods and healthy carbs to curb hunger. Sample breakfast ideas include
Oatmeal made with low-fat milk blueberries and scrambled egg whites or tofu
Honeydew melon topped with low-fat cottage cheese and walnuts
Whole-grain cereal with low-fat milk and sliced almonds
A protein smoothie made with low-fat milk almond milk or soy milk vegetarian-based protein powder fruit or a dash of honey and nut butter
A vegetarian omelet made with black beans spinach tomatoes and feta cheese topped with sliced avocado
4. Don't restrict yourself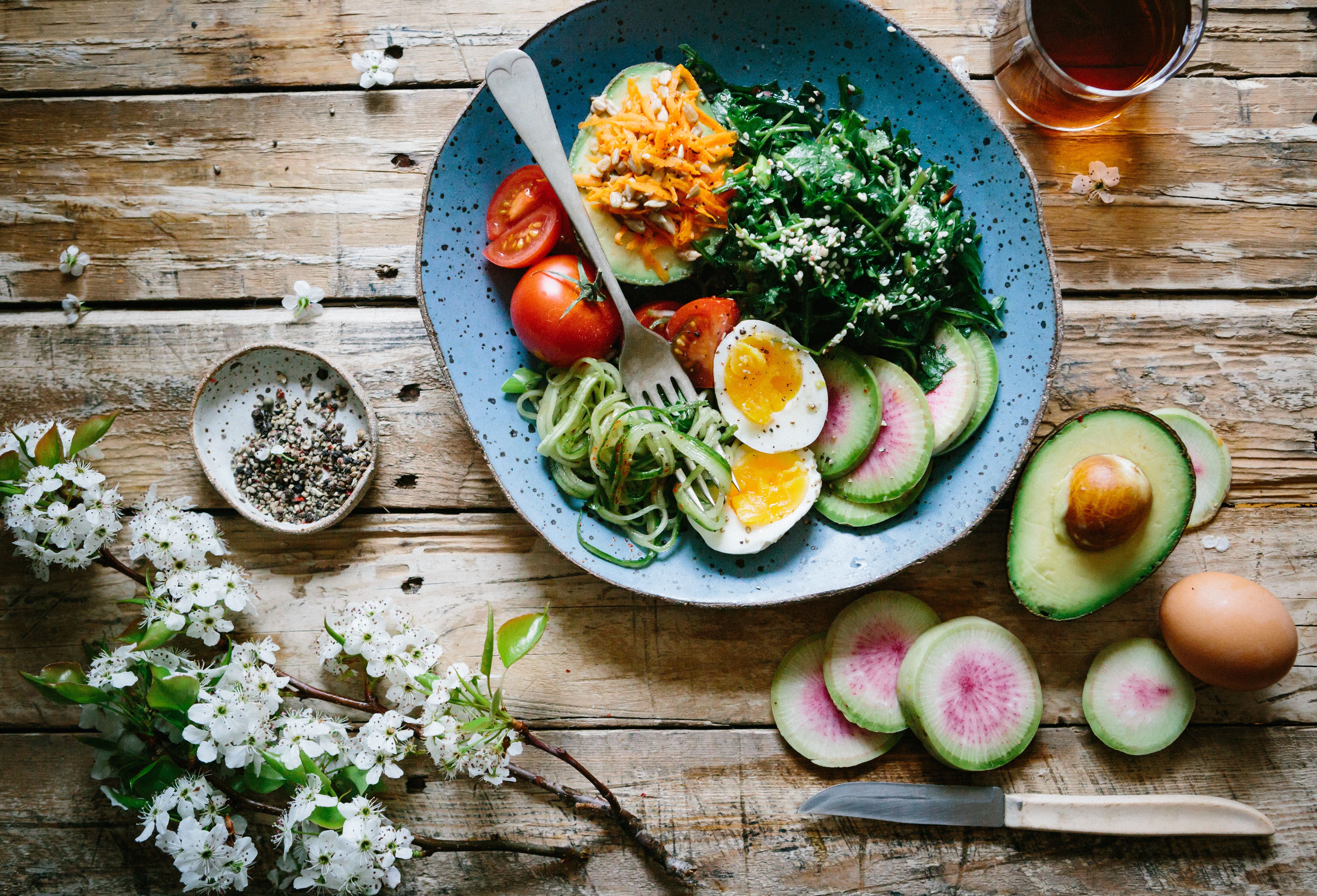 It's important to control your calorie intake to get back on track after the holidays but don't restrict yourself from the foods you love! Doing so can cause insatiable cravings and nutrient deficiencies. You can generally include your favorites in your diet — as long as you control your portion sizes and eat not-so-healthy foods in moderation.
5. Remember: Water is your friend
People who drink more water especially in place of sugar-sweetened drinks generally weigh less. Simply switching from soda to water significantly lowers your daily calorie intake. A study in Obesity found that drinking water before meals helps you eat fewer calories and aids in weight loss.
6. Focus on veggies and protein
Getting your diet back on track after the holidays means focusing on vegetables and protein-rich foods to fill you up without the extra calories. The Academy Today review recommends filling your plate half full with fruits and vegetables at each meal. Healthy protein-rich foods to pick from include fish seafood grilled chicken very lean red meat egg whites tofu legumes cottage cheese low-fat milk reduced-fat cheese nuts seeds and nut butter.
7. Get enough sleep
Believe it or not feeling groggy can lead to overeating and unwelcome weight gain. A review in Molecular and Cellular Endocrinology reports that sleep helps regulate the hormones your body needs for weight control. The ideal amount of sleep adults need nightly is 7 to 8 hours according to the CDC.
8. Try a weight loss program
Joining a weight loss program can help you get back on track when you need some extra encouragement and words of wisdom. Weight Watchers and Jenny Craig are effective commercial weight loss programs according to a 2015 review in Annals of Internal Medicine.
Making subtle healthy eating changes will get you back on track after holiday indulgences and allow you to meet your weight management and wellness goals.