Diabetic foot ulcers: An overview
A study published in the World Journal of Diabetes found that 15 percent of diabetics are affected by diabetic foot ulcers in their lifetime. These red sores can take a long time to heal and they can lead to serious infection gangrene amputation and in some severe untreated cases death. Clearly prevention and proper treatment are essential in addressing this serious health issue.
Causes
The American Diabetes Association describes neuropathy as a loss of sensation in your feet due to nerve damage. This numbness may keep you from feeling a foot injury beginning to form. Calluses which are more common in people with diabetes can turn into ulcers. Samaritan Health Plan Operations notes that poor circulation another potential complication of diabetes can slow your feet's heal time.
Prevention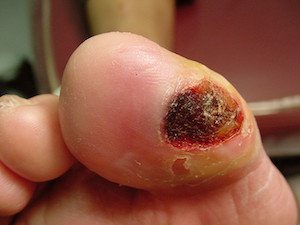 MedlinePlus recommends wearing clean dry socks in well-fitting (not too tight) shoes as part of proper foot care. The pad of the foot as well as under the big toe are especially vulnerable to diabetic ulcer formation though the sides of the foot tops of the toes and heels are also at risk. If you or a loved one has diabetes you should check the feet (especially between the toes) daily for cuts bruises redness or sores. A mirror on the floor can be a helpful way to check the bottoms of your feet if you have arthritis or limited mobility.
Treatment
If you find diabetic foot ulcers on your foot or see the potential for an ulcer to form you should make an appointment to visit your physician or podiatrist immediately. The sooner you can begin treatment for your wound the sooner you can begin to heal.
Your physician may refer you to a podiatrist or a wound care center like Reid Health's Wound Healing Center. The wound center will take a thorough health history and prescribe a treatment regimen that will put you on the road to healing.
According to MedlinePlus there are many ways a doctor can remove the dead skin from your foot including a whirlpool bath wet dressings chemicals and even maggots. You will be advised to do what you can take keep pressure off your wound which might entail staying off of the affected foot altogether.
The goal of treatment is to reduce healing time prevent infection and avoid amputation. Facilities that specialize in wound treatment like the Wound Healing Center use several treatment approaches to achieve these goals. For more information about the Wound Healing Center or to schedule an appointment call (765) 983-3300.