All about enrolling in Medicare
What is Medicare?
Government based health insurance for individuals 65 years or older managing a disability or diagnosed with End-Stage Renal Disease.
It is divided into multiple parts

Part A: Hospital coverage including hospitalization skilled nursing facility hospice and may cover home health
Part B: Medical coverage including outpatient office visits preventative care and medical supplies
Part C: Advantage Plans private organization (HMO PPO etcetera) contracted with Medicare to cover services traditional coverage may not offer.
Part D: Prescription medication coverage

You will choose if you would like both part A and B coverage or additional coverage through supplemental insurance.
When do I sign up?
Prior to your 65th birthday

The enrollment period begins 3 months prior to an individual turning 65 years old and ends after 3 months following his or her birthday.
If you apply on or in the 3 months following your birthday there will be a delay in Part B coverage
You may visit the Medicare website below to determine your exact eligibility period

What happens if I do not enroll in the appropriate time period?

A Part B penalty will be applied if an enrollee does not apply within the eligibility period.
The penalty may be an increase in your insurance premium by 10% for each year you were eligible for coverage but were not enrolled. This penalty will be included in your premium for as long as you have Part B insurance.
The general enrollment period for late applicants is from January 1 to March 31 of each year.

What are special enrollment periods?

If you have insurance coverage through your employment (including spouse employer insurance) by a group health plan
You may be eligible for the Special Enrollment

This is an 8 month window that begins:

The month after employment ends
The month after the group health insurance plan ends

If you enroll in SEP you likely will not have to pay the late penalty
When will my coverage begin?
The first day of your birthday month if you enrolled during the first 3 months of eligibility. If you enroll at another time refer to the chart below.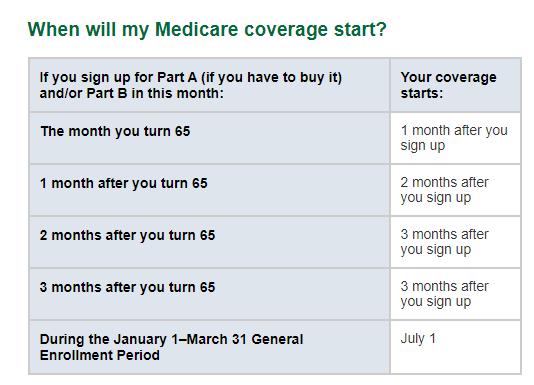 After you are enrolled:

Schedule a "Welcome to Medicare" physical with your primary care provider within the first year
If you have questions or are interested in more information please visit https://www.medicare.gov/people-like-me/new-to-medicare/getting-started-with-medicare.html