4 Heart Healthy Recipes
If you or a loved one has ever suffered from heart disease, you probably know what a profound affect diet can have on maintaining a heart healthy lifestyle. And while the idea of giving your diet a fresh overhaul may seem daunting, preparing healthy food choices doesn't have to be a chore. These four easy and delicious recipes, courtesy of the American Heart Association, are certified crowd pleasers, promote heart health and are ready to serve in under an hour.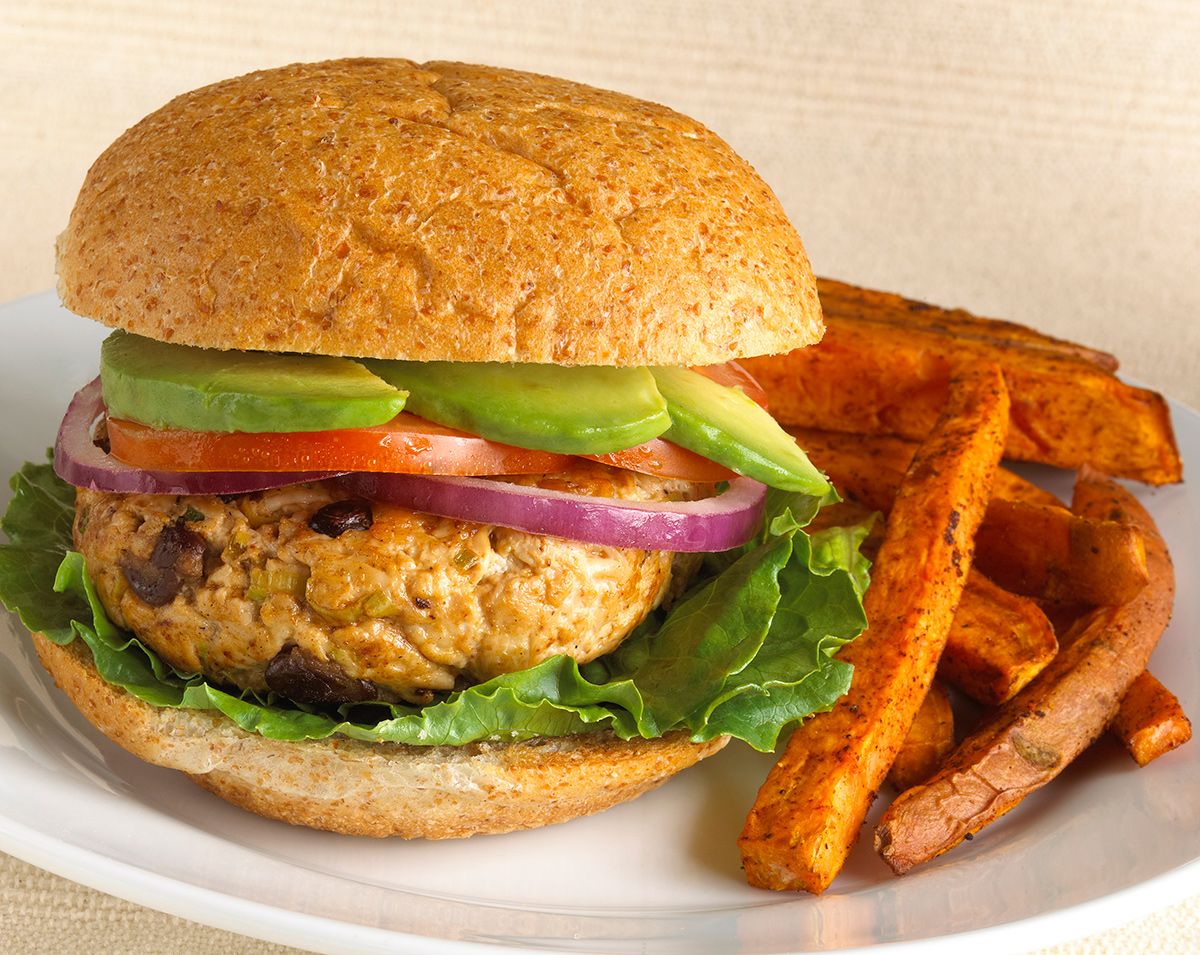 Southwest Turkey Burger and Sweet Potato Fries
Servings: 4

Ingredients:
Southwest Turkey Burger
1 lb. extra-lean or fat-free, ground turkey (95-99% lean)
1/2 cup canned, lower-sodium black beans (drained, rinsed)
3 green onions (finely chopped)
1/2 tsp. garlic powder
1/4 tsp. ground cumin

3/4 tsp. chili powder

1/4 tsp. black pepper

non-stick Cooking spray

1 small avocado (thinly sliced)

4 whole-wheat hamburger buns

2 cup romaine lettuce (shredded)

4 slice tomato (about 1/2 of 1 medium tomato)

1/4 red onion (thinly sliced)

Sweet Potato Fries
2 sweet potatoes (cut into bite-size strips)
2 tsp. vegetable oil

1 tsp. chili powder

1/4 tsp. black pepper

Directions:
For the Southwest Turkey Burger
Preheat oven to 450° F.
In a large mixing bowl, combine turkey, black beans, green onion, garlic powder, cumin and chili powder and gently fold together by hand. Separate into 4 equal size patties (approx. 4.5 ounces each). Season with pepper.

Heat a medium sized skillet and coat with cooking spray over medium heat. Place patties in skillet and cover. Cook 3-4 minutes on each side.

Place on bun and top with lettuce, tomato, avocado and red onion.


For the Sweet Potato Fries

Combine sweet potatoes, oil, chili powder and remaining pepper. On a baking sheet, spread fries in single layer. Cook for 20 minutes, flipping once.


(Source)
Crunchy Chicken with Oven-Roasted Broccoli
Servings: 4
Ingredients:
Crunchy Chicken
Whole chicken OR two boneless skinless chicken breasts
2 Tbsp Dijon mustard
2 cup multigrain cereal flakes (crushed)
1/4 tsp salt
1/4 tsp black pepper
Oven-Roasted Broccoli:
1 lb fresh broccoli crowns (rinsed, trimmed)
1 1/2 tsp minced garlic
2 tsp jarred, minced garlic
2 tsp low-sodium soy sauce
1/4 tsp black pepper
1 tsp extra virgin olive oil
3 Tbsp chopped, unsalted, uncoiled nuts (almonds, pecans or walnuts suggested)
Directions:
For the Crunchy Chicken
Heat oven to 400 degrees F. Rinse chicken and pat dry. Remove giblets and neck and discard. Quarter chicken and remove and discard skin.
In a medium bowl, toss the chicken and mustard to coat. If you're using chicken breasts, just rinse and pat dry.
In a large bowl, mix the crushed cereal, and 1/4 teaspoon each salt and pepper. Coat the chicken with the cereal mixture and bake on a baking sheet until golden and cooked through, 45 to 50 minutes.
For the Oven-Roasted Broccoli
Heat oven to 400 degrees F (or can use same oven as chicken). Rinse broccoli, trim stalks into 1/8 inch-thick chunks and cut florets into bit sized pieces. Place in a mixing bowl and toss with soy sauce, oil, pepper, and garlic.
Sprinkle the chopped nuts evenly in to a 9x13 inch casserole dish. Place in the oven 3-4 minutes until lightly toasted. Remove from oven and toss in to broccoli mixture.
Transfer broccoli mixture to casserole dish and roast 10-12 minutes until broccoli is tender. Serve warm.
(Source)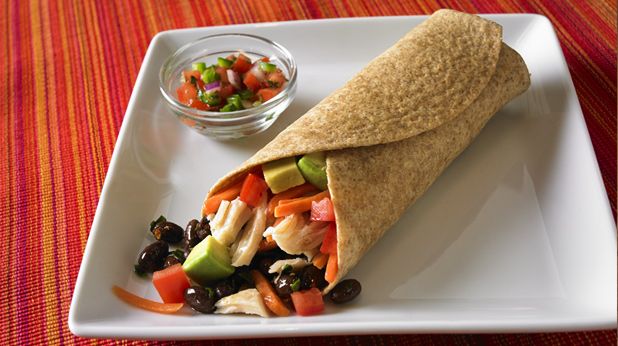 Tex-Mex Black Bean and Chicken Wrap
Servings: 4
Ingredients:
15 oz. canned, no-salt-added black beans, about 2 cups, drained, rinsed
1 tsp. chili powder
1/2 tsp. ground cumin
1/4 tsp. black pepper
1/4 tsp. red chili pepper flakes
4 Tbsp. fresh cilantro (finely chopped)
4 whole-wheat wraps or tortillas, 8 inches in size
8 oz. all white meat chicken, canned or grocery store rotisserie, shredded
1 medium carrot, about 1 cup, shredded
1 small tomato, about 1/2 cup, cut into 1/2-inch pieces
1 avocado, about 1 cup, cut into 1/2-inch cubes
Directions:
In a large bowl combine and mix together beans, chili powder, cumin, black pepper, red chili flakes and cilantro.
Cut unpeeled avocados in half, remove the pit and slice lengthwise, then across, to make cubes.
Using a large spoon, placed near the avocado skin, remove the avocado pieces from the cut halves into a bowl.
You can use fresh or frozen whole wheat tortillas or wraps, wrapping them in a kitchen towel and microwaving them or heating them one by one on a dry skillet to soften them.
Keep tortillas warm and soft by wrapping them in a kitchen towel and taking them out one at a time as you make the wraps.
On a clean, dry, flat surface, place one wrap at a time. Add ¼ each of the bean mixture, chicken, carrot, tomato and avocado, in that order.
Fold up the bottom until it covers the bottom of the filling, then bring each side of the tortilla one at a time towards the middle, overlapping them over the filling to make the wrap snug. You can also secure it with a toothpick, being careful not to bite into it later.
(Source)
Sweet Potato Shepherd's Pie
Servings: 4
Ingredients:
1 lb sweet potatoes OR 45 oz. canned, unsweetened sweet potatoes, rinsed
1/2 cup skim milk
1/2 tsp. ground cinnamon or nutmeg
non-stick Cooking spray
1 medium onion (any color), chopped
1 bell pepper (any color), seeded, chopped
1 lb. extra-lean, fat-free, ground turkey (95%-99% lean)
1/2 tsp. dried thyme or basil
16 oz. frozen vegetable medley (green beans, corn, and peas), thawed
1 cup low-sodium beef broth
2 tsp. cornstarch
Directions:
Preheat the oven to 400° F.
Wash and peel sweet potatoes. Chop into 1-inch pieces.
Add to a large pot and cover with water. Bring to a boil over high heat. Cook until potatoes are very tender, about 12 to 15 minutes. Drain in a colander.
Return sweet potatoes to pot. Add milk, cinnamon, or nutmeg. Mash with a fork or potato masher until smooth.
Spray large pan with cooking spray. Add chopped onion and bell pepper and cook over medium-high heat until softened, about 5 minutes. Add meat and thyme, cooking until done, about 5 more minutes.
Add vegetables, beef broth, and cornstarch, stirring to combine. Cook a few minutes until sauce has thickened. Remove from heat.
Add beef mixture into an 8- or 9-inch baking dish. Spread the sweet potatoes evenly on top of the beef and vegetables. Cook in oven until entirely heated, about 15 minutes.
(Source)
Taking care of your cardiovascular system is something to be proactive about. Reid Heart & Vascular Center brings full-service cardiac and vascular care to the East Central Indiana and West Central Ohio areas. We are confident that our cardiologists, vascular surgeons, cardiothoracic surgeons and their support teams can help address any of you or your family's concerns.