Parents Blog
At Reid Health we are at the forefront of patient care and innovation. Not only are we here for your child, but we are here for your family as well. We believe wholeness - in body, mind and spirit - is basic to fulfillment of human potential.
Recommended School Immunizations
Vaccination is one of the best ways parents can protect infants, children, and teens from 16 potentially harmful diseases that can be very serious, may require hospitalization, or even be deadly. Because of vaccines, some diseases (like polio and diphtheria) are becoming rare in the U.S.
And immunizations are not just for children. Protection from some childhood vaccines can wear off over time. Adults may also be at risk for vaccine-preventable disease due to age, job, lifestyle, travel, or health conditions.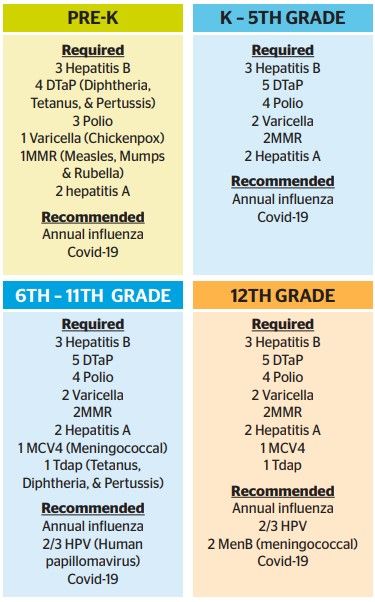 The Centers for Disease Control and Prevention offer a table for Recommended Vaccines by Age. You may discuss vaccinations with your healthcare provider during any appointment.
Dosing Charts
Children's medicines are formulated to deliver the right amount of medicine to your little one. No matter the medicine or brand, always read and follow the label before giving a dosage.

Only the dosing device provided with the product should be used to measure the proper amount of medicine.
Do not use more than one product containing acetaminophen at the same time. Ask your healthcare professional about dosages for children under 2 years of age.
If possible, use weight to dose, otherwise use age. Do not exceed more than five doses in 24 hours.

Acetaminophen Dosage For Infants And Children
Ibuprofen Dosage For Infants And Children