Occupational Therapy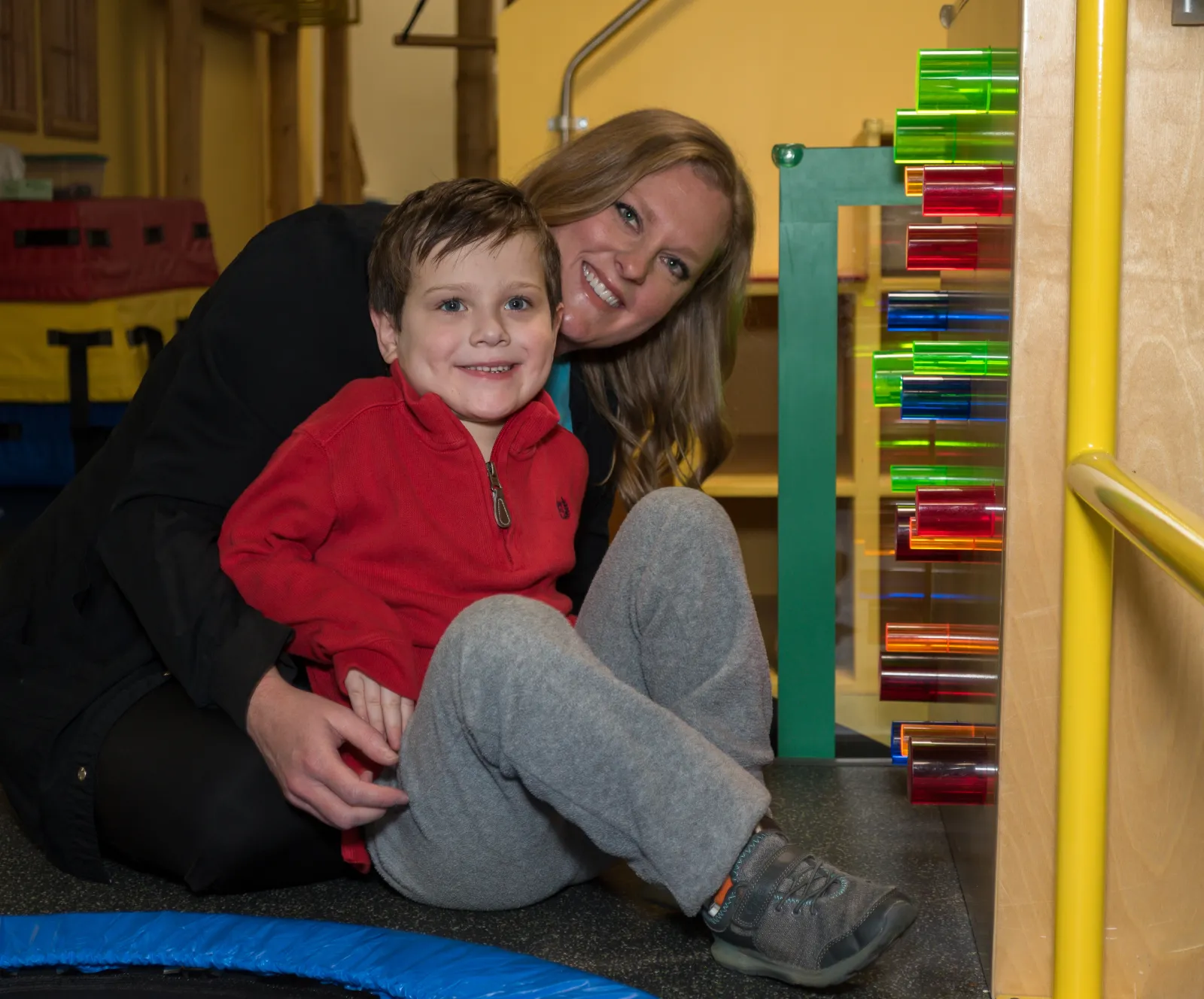 Our occupational therapists guide children to reach their maximum potential and independence in all areas. The "occupation" in occupational therapy refers to the meaningful activities that fill a person's day, and for a child, their primary occupation is PLAY, thus, the occupational therapists (OTs) at Reid will address skill development in the context of play.
Occupational therapy is a broad profession that can address most issues that are preventing a child from participating in what they love. For example, an occupational therapist may address sensory concerns when a child has difficulty participating in bath time. If a child has difficulty keeping up in school the occupational therapist may assess the child's functional vision skills. For a little one that is not yet grasping or manipulating objects, the occupational therapist may focus on developing a child's grasp and fine motor development, implementing adaptive materials and/or splints as necessary to assist a child to reach their goals. A child that has problems at mealtime may need to work on feeding with their therapists, (often a collaboration between occupational and speech therapy), to address deficits in oral motor coordination and sensory aversions.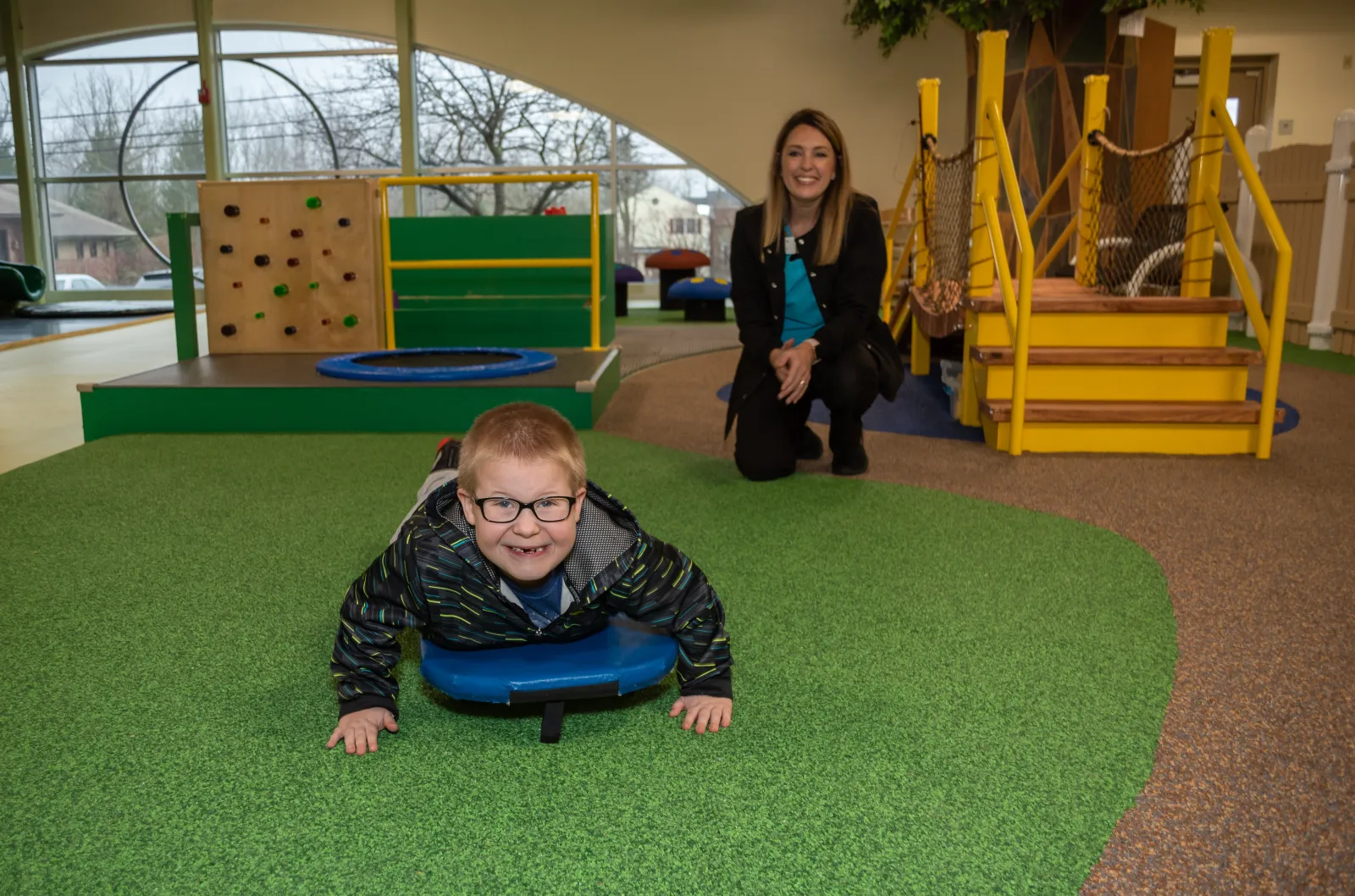 To prepare for the occupational therapy evaluation think about the daily activities that are difficult for you and your child to manage. These difficulties will likely become the foundation of your child's plan of care.
0-3 Months
Reflexive grasping of toys placed in hand
Batting at objects dangled overhead
Visually tracks toys within 12 inches from child's face
Lifts head 45 degrees while on tummy, may be wobbly
3-6 Months
Maintaining grasp on toy 30 seconds
Bringing hands and toy to midline
Sits with parent support
6-9 Months
Starting to bang items together
Ring sitting
Begins to roll ball back and forth
Beginning to use spoon
Begins to hold bottle
Clapping hands
9-12 Months
Turns pages in a thick book
Removes objects from containers
Can pick up small items with pinch grasp
Beginning to throw balls
12-18 Months
Opens and closes containers
Places objects in and out of containers
Begins removing clothes
Marks on paper with crayons
Beginning to stack objects
18-24 Months
Inserting shapes, simple puzzles
Scribble on paper
Spoon feeds independently
Helps take clothes off
2-3 Years
Dresses self with help.
Will imitate drawing lines and circles on paper
Builds a tower of 6-8 blocks
Identifies need to use toilet
Begins to pull up zipper
Begins to use scissors with supervision (snipping paper)
3-4 Years
Completes 4-5 piece interlocking puzzle
Draws person (typically a head with limbs)
Places bead on string
Cuts lines and circles in paper
Shows signs of dominant hand
Uses fork and spoon independently
Dresses self independently
Toilet trained
5-6 Years
Learning to tie shoes
Completes up to 20 piece interlocking puzzle
Writing numbers 1-10
Completes cut and paste projects
Cuts out intermediate figure shapes
ADLs
Activities of Daily Living (ADL) refers to our essential daily tasks. This is the foundation of what an occupational therapist will address! The kids we see may have difficulty completing these necessary tasks for many different reasons including deficits in motor skills, differences in sensory processing, or difficulties with executive functioning/cognition. The pediatric OTs at Reid will work to find the root cause of the obstacle and work with you and your child to make lasting changes such as recommending modifications for your environment or working with your child on activities and exercises to aid their development of adaptive behavior.
Fine Motor and Grasping Skills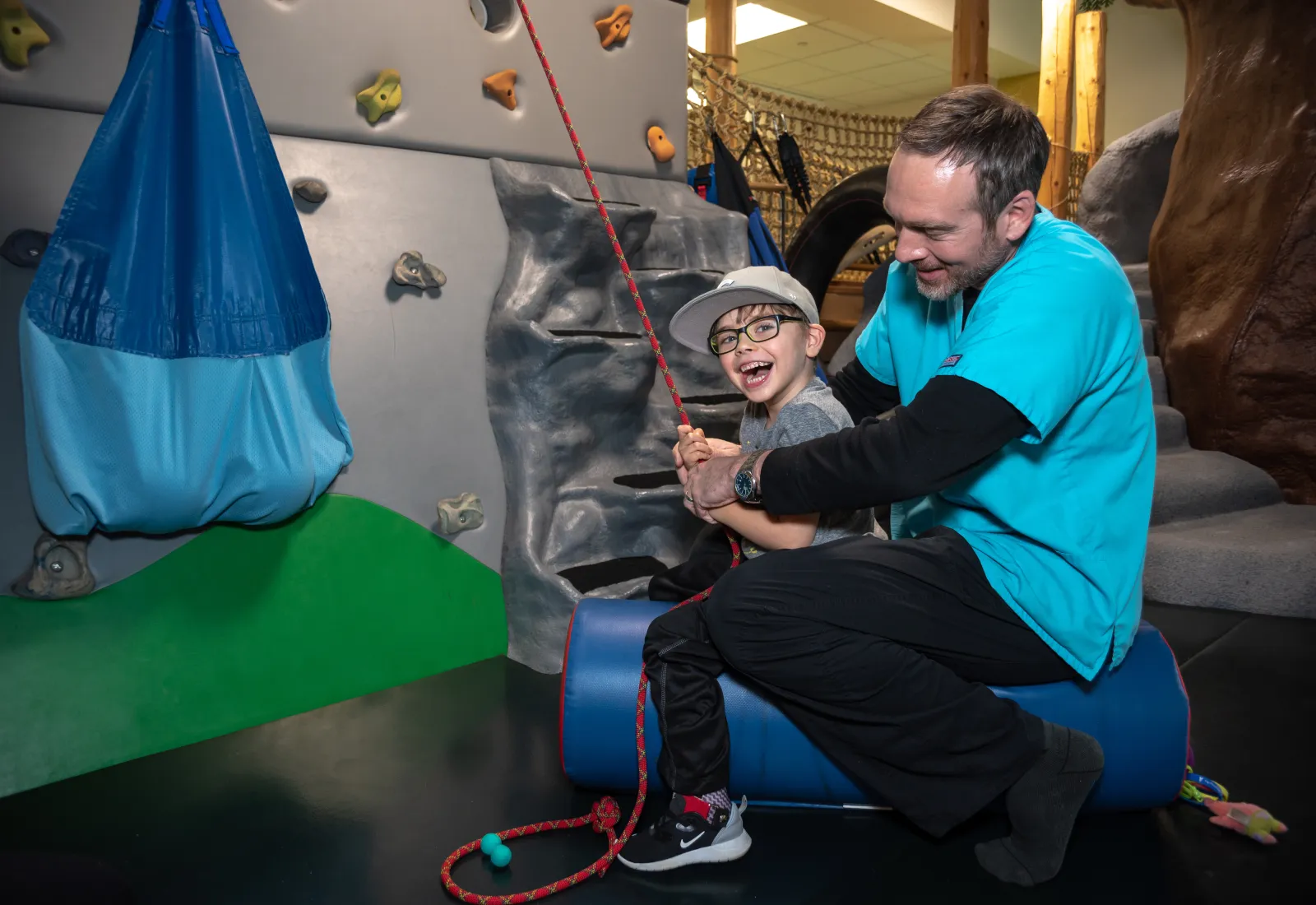 Fine Motor skills refer to the ability to perform coordinated and precise movements needed for many common activities such as pulling a zipper, picking up a coin, turning a screw, using scissors, or stacking blocks. When a child has difficulty completing tasks of this nature, there is often an underlying deficit in the strength of these small muscle groups and a lack of coordination between the hands/fingers and eyes. Without the necessary strength or coordination to perform fine motor activities, children could be dependent on caregivers to complete daily tasks, such as dressing and feeding. Deficits in fine motor coordination also typically contribute to impairments in education tasks that involve handwriting.
Delays in the development of age-appropriate grasping patterns are one indication that a child may need additional help from an OT. As a child grows and develops, there is a series of specific grasping patterns that they will develop. Each grasp pattern plays a role in helping the child complete more complex and dynamic activities.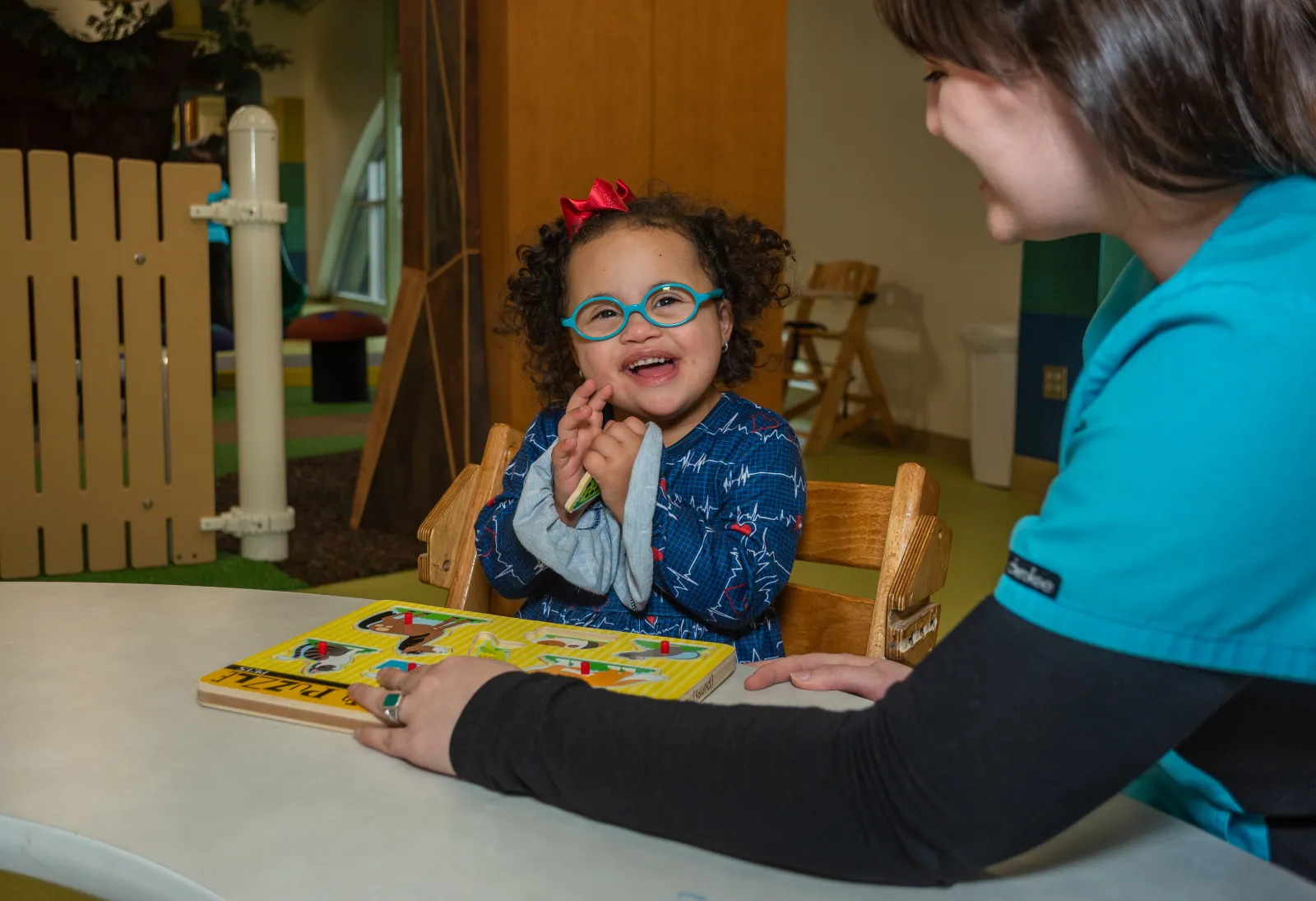 OTs will work with your child to help develop the strength or coordination necessary to develop age-appropriate grasp patterns and fine motor skills. There is also the possibility to provide adaptive equipment specific to your child's situation, such as built-up handles on writing utensils or spring-loaded scissors, to make fine motor and grasping tasks easier to perform.
Sensory Integration
Every single person has sensory needs and sensory preferences. We see this every day, people who like to snack or like to listen to music versus others who enjoy peace and quiet, some people enjoy roller coasters while others can't stand them. Preferences are normal, and in general, kids are more inclined to "seek" sensory input than adults, but when these preferences are paired with a strong emotional reaction (such as meltdowns), or cause us to act in unsafe ways (such as running, and crashing) it is appropriate to seek the help of an OT.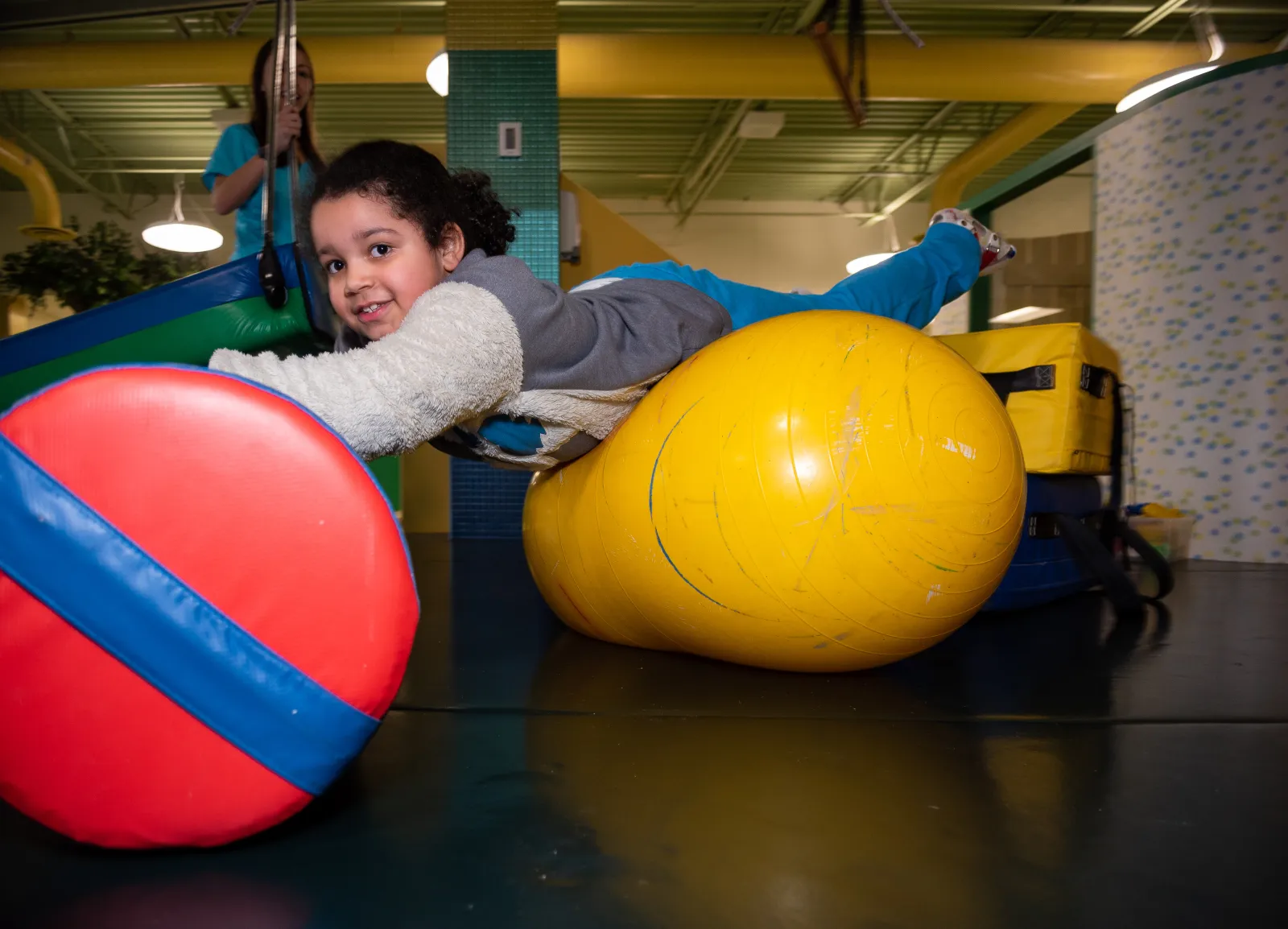 Many kids struggle with the processing of sensory information. Children may "seek" out additional input, this may look like: overexcitedly grasping all nearby objects, frequent spinning, or running and crashing into furniture. Children may also "avoid" certain types of input, which may look like: strong clothing preferences, frequently covering their ears to block out noises, or meltdowns during bath time.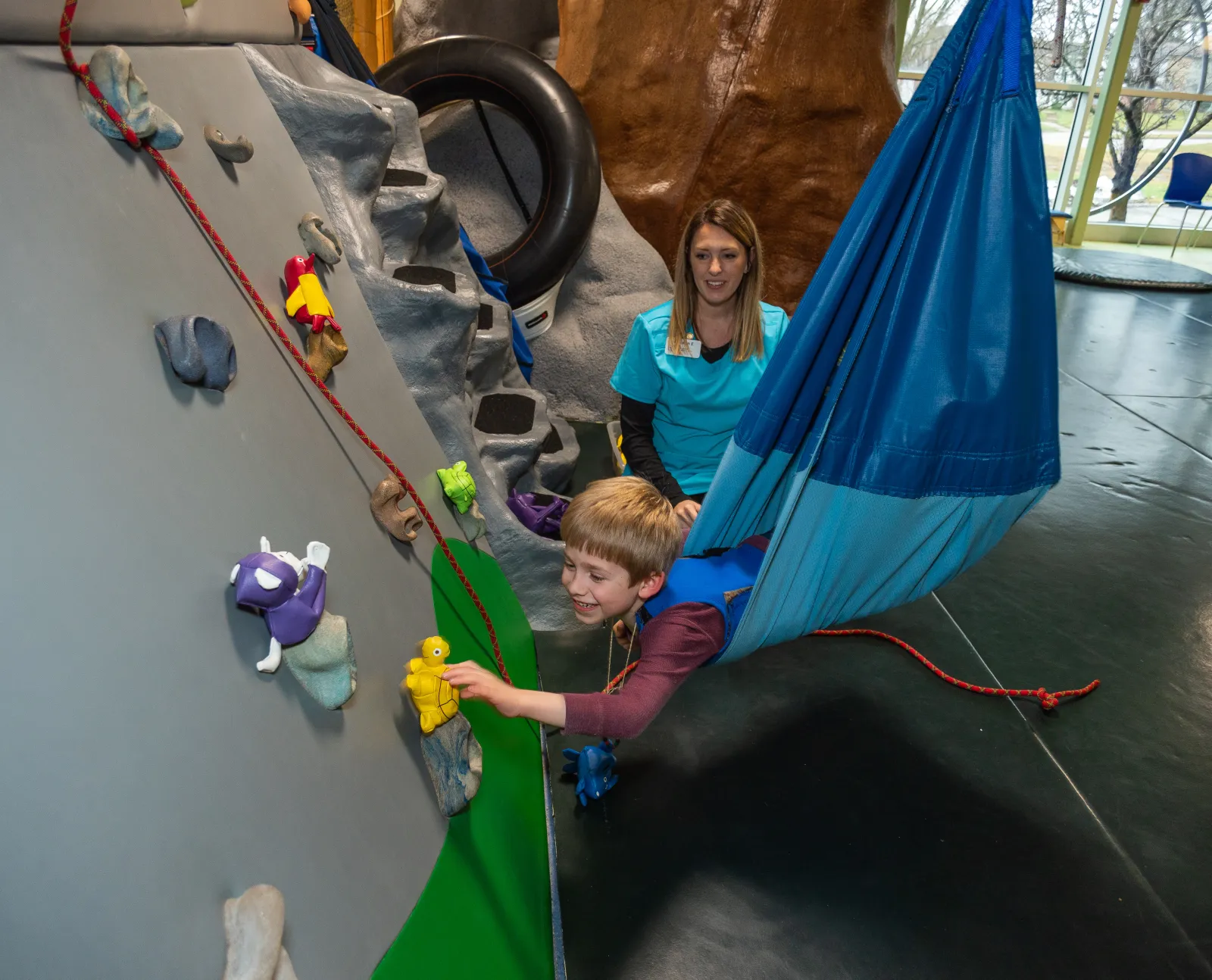 The solution is not that these preferences "go away", but that the child develops adaptive behavior. Adaptive behavior may include asking for a wipe to clean their hands versus having a meltdown when they are messy at mealtimes. We work with families to provide kids with appropriate sensory input that helps to regulate their bodies throughout the day, so that there are fewer avoidance or seeking behaviors.
Functional Vision
Here at Reid we can complete a screening of vision, this gives us information to know if further recommendations are required. This can help to know if a child is plateauing with progress due to vision problems, and treatments can be adjusted appropriately. We often include visual perceptual activities in our treatments to improve overall function. If vision deficits are present after assessment, the OT will develop a specific treatment plan aimed at the needs of that specific child that could involve environmental modifications, exercises aimed to try and improve visual skills, and alternatives for meeting developmental milestones in spite of visual deficits.
FES (Functional Electrical Stimulation)
The therapists at Reid have received training through Restorative Therapies and are excited to treat our patients using the Xcite system, which assists with proper motor sequencing during completion of functional movement tasks and the RT300 iFES "bike" for arm, leg, and core activation while benefitting muscle tone. Restorative Therapies is an Industry leader for functional electrical stimulation, and these products are considered the standard of care in neurological rehabilitation.
Functional electrical stimulation (FES) works by using "safe, low-current electrical pulses to activate paralyzed or deconditioned muscles for functional movement". While using the FES equipment our therapists have the ability to stimulate up to 40+ muscle groups while engaging the patient in a functional task. Both of these systems provide real-time biofeedback and specific progressive resistive exercise (PRE) to recondition weak or neurologically impaired muscles.
FES has been cleared by the FDA to:
Reduce muscle atrophy

Reduce muscle spasms

Improve local circulation

Maintain or increase range of motion

Facilitate muscle re-education
Pediatric therapy and Specialized Hand Therapy
Working as a collaborative team, our pediatric occupational therapists and certified hand therapists can work together to help patients with complex or post-operative diagnoses improve their function and quality of life.

With collaboration and direction from each patient's surgeon, immobilization protocols may be modified to include skilled and functional therapy interventions throughout the healing process in order to improve functional outcomes.

Diagnoses treated in this manner include:
Nerve grafts such as in brachial plexus surgery
Hemiparesis
Tendon transfers
Trigger finger
Replantation of digits
Pediatric patients post orthopedic and/or neurosurgery
Splinting & Hand Orthotics
Hand splints are a therapeutic tool used to benefit a child's hand position to facilitate improved hand function. A splint may provide extra support to a weak joint or promote a neutral position to a hand with abnormal muscle tone.
In this photo, the child's thumb is splinted in a neutral position during weight bearing tasks. He is now getting the stretching and strengthening benefit of this activity that will lead to more balanced muscle tone throughout his affected limb. By crawling through his natural environment, with proper use of a splint, he is working on building a foundation to allow for more voluntary control of his hand.
Sometimes one size does not fit all. For kids with complex hand presentations, or with a goal to access something specific in their environment, a custom splint may be created. Our pediatric occupational therapists are skilled in creating adaptive devices to increase your child's comfort and independence.
Our therapists can work to find a splint that has a good balance between stability and mobility to help your child reach their goals. This may include ordering a pre-fabricated orthosis or creating a custom orthosis at the clinic.
Constraint Induced Movement Therapy
This scientifically supported method is considered one of the most effective treatment options for improving function for a child with hemiparesis. Children with hemiplegia (impaired use of one arm) often compensate for these deficits by completing tasks one-handed. Left unaddressed, this unilateral approach to life will lead to permanent changes in brain development and decreased independence with life skills. In constraint induced movement therapy (CIMT), a child's unaffected limb is casted in order to reverse the symptoms of learned non-use and promote increased functional movement of the affected limb during functional play and everyday tasks. Patients that participate in CIMT show improved bimanual abilities (the use of both hands) during desired tasks. The high incidence of repetition in play strengthens neural pathways and leads to increased independence in the child's natural environment.

CIMT may be indicated for diagnoses such as:
Cerebral palsy
Traumatic brain injury
Brachial plexus injury
Other neurological diagnoses leading to unilateral upper extremity paresis
CIMT Camp
Myofascial Release
Myofascial refers to the fascia of muscles, or the connective tissue that is interwoven throughout our body. This tissue can become tight and restrictive preventing function, mobility, and even circulation. Myofascial Release is a hands-on technique that involves applying gentle sustained pressure to the connective tissue in the body to eliminate pain, reduce tight muscles and associated spasticity, improve blood/oxygen flow, restore/improve motion, and reduce overall body tension. This technique has been found to be helpful in relieving symptoms for many diagnoses such as chronic pain, migraines, fibromyalgia, anxiety, poor posture, loss of flexibility, and for post-surgical rehab.
Specifically in children, tension in the connective tissues in the body can cause children to become easily agitated and upset for seemingly no reason. This tension can make it difficult to physically participate in the child's meaningful and daily activities. The therapists here at Reid can use myofascial release techniques as a part of their treatment to release these tensions and make the child more comfortable and willing to participate during the session and at home.
Wheelchair assessments
Here at Reid we offer a comprehensive mobility assessment and follow-up care to address your child's needs as he or she grows. We can make recommendations for modifications of a wheelchair and can make adjustments to a patient's existing wheelchair to improve positioning and comfort. The wheelchair does not have to have been ordered through our providers to be assessed at Reid.

In order to complete a wheelchair assessment, you will need an order from a physician via fax or phone requesting a wheelchair assessment. Reid will then contact the family to set up an appointment. It is not required to be an existing patient at Reid Health to receive the assessment.
Occupational Therapy Common Diagnoses
Prematurity
Intrauterine drug exposure
Feeding Difficulty
Pediatric stroke
Cerebral Palsy
Traumatic Brain Injury
Brachial Plexus Injury
Orthopedic injuries
Motor skill deficits
Ataxia
Developmental Delay
Fine Motor Delay
Autism
ADHD
Sensory Processing Disorder
Down syndrome
Rhett Syndrome
Genetic disorders
Life skills for young adults with developmental disabilities