Our GEMS: Staff going the extra mile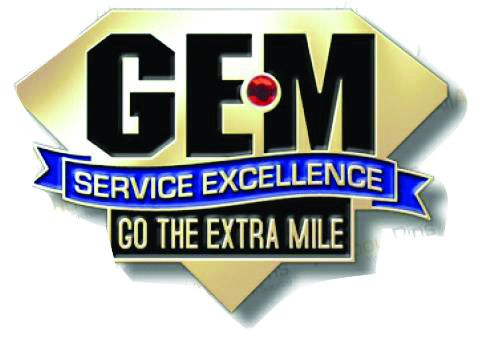 Many of our patients and families express deep appreciation for the care they or a loved one received at Reid Health. Often, they wonder how they can say "thank you" in a special way to someone who has cared so much… the one who was their GEM.
These nominations from patients and from staff become a pool of great stories that illustrate the willingness of our team members to Go the Extra Mile on behalf of patients and families. Each month, a GEM is celebrated in our ceremonies where we also celebrate employees with five or more years with us.
Nominate someone using this form; see our GEM stories below of GEMs celebrated so far this year.
Recognize a G.E.M.
Want to recognize someone who went the extra mile? Complete this form to thank a Reid Health employee or volunteer.
September 2021: Kristen K., Erin S., Nursing 5 North
Kristen K. and Erin S., Nursing 5 North, helped make a special anniversary dinner happen. A patient who had been hospitalized was missing his home and family. His wife recently was admitted to the ARU, so Kristen went to the gift shop and bought flowers (yellow, his wife's favorite color) while Erin bought a card. Kristen helped the patient fill out the card to give to his wife. The couple then were able to have dinner together in her room to celebrate their 50th anniversary.
August 2021: Abby C., Environmental Services
Abby C., Environmental Services, was asked if she could fix a patient's hair since other team members were unsure how to do it. Abby came right away, was very nice, and even stayed to make sure the patient's hair was to her liking. Abby took time away from her everyday routine to care for a patient who was on a different floor than her, and Abby did it all with a smile.

July 2021: Billy T., Reid Health Police Department
On his day off, Billy T., Reid Health Police Department, picked up fountain drinks for all the staff working at the Kuhlman Center COVID-19 Vaccine Clinic and insisted on paying for it himself.

June 2021: Chelsi D., Reid Oncology
Chelsi D. was working with a patient who was having a difficult time. The patient had received a new cancer diagnosis, met a new doctor and a new cancer navigator, and needed to start chemotherapy treatment soon, so she was feeling overwhelmed. Chelsi worked to accommodate the patient's schedule as best she could, rearranging it and even making a very detailed calendar so the patient would know exactly where she needed to be and when. Chelsi then called the patient and spent a lengthy amount of time explaining everything and reassuring her. At the end of the conversation, the patient couldn't thank Chelsi enough for taking the extra time to make the calendar and call her. "You've shown me the light at the end of this dark tunnel. Thank you," the patient said.

April 2021: Brian B., Reid Health Police Department
What could have been a very bad interaction instead had a very positive outcome thanks to Brian B., Reid Health Police Department, taking the time to use HEART. Brian was on the fourth floor of the hospital and noticed a male patient who was upset. The man wanted to go outside to smoke but had been told if he did so, he would have to come through the Emergency Department for readmission when he returned. Brian and another officer left when the man went back into his room. About an hour later, officers saw the man walking up the main drive to the ED after smoking. As the patient neared the ED entrance, he made a rude gesture to one of the officers before sitting down on a bench. Brian and another officer went out to talk to him, and Brian was able to develop a relationship with the man, in part thanks to their shared military backgrounds. Brian was able to explain Reid policies and why they are in place. The man listened and eventually understood the reasoning. The patient said he was waiting for his release paperwork and a ride home from his son. At that point, Brian escorted him into the ED where he could wait. The man thanked Brian several times, shook Brian's hand and wanted to apologize. When the patient's son arrived, Brian went out to talk with the man and his son, which resulted again in apologies and handshakes.

March 2021: Laura F., Pediatric and Internal Medicine
A 6-year-old came to Pediatric and Internal Medicine one morning with his beloved stuffed monkey, Georgie, which he has had since birth. Before being called back, the child accidentally pulled off one of Georgie's legs. The child was upset and asked if we could fix Georgie. Laura F., Pediatric and Internal Medicine, gave Georgie a full surgery. She sewed his leg back on as well as an open spot on his foot. She gave Georgie the full treatment with lots of bandages. Both the boy and his mom were grateful. "Thanks, Laura. You are awesome," the nominator wrote. "I will now know who to go to for any of my surgical needs."
February 2021: Teressa W., Emergency Services
Teressa W., Emergency Services, encountered a patient who visited the ED because she was having thoughts of self-harm and depression. The patient was scared, feeling ashamed and was questioning whether she was doing the right thing. Teressa comforted her, telling the patient how brave she was, how proud Teressa was of her and that Teressa would pray for her. "This was a total stranger who completely validated that I was in the right place at the right time. I want her to know how much of an impact her interaction made not only on my stay at the hospital but on my heart. I hope everyone in a difficult situation at Reid's ED gets to experience a Teressa," the patient wrote.

January 2021: Cindi W., Acute Rehab Unit
Cindi W., Acute Rehab Unit, was talking with a visitor at the hospital while the two were in line to get coffee. During the conversation, she asked the gentleman if he was a veteran and he said "yes." They talked a bit more before Cindi offered to buy the man's coffee, saying it would be an honor to do so. "This warmed my heart and was the perfect example as to what Reid exemplifies," the nominator wrote.

December 2020: Michael R., Adam W., EMS Trauma
Michael R. and Adam W., EMS Trauma, were transferring a minor to Riley Hospital with the child's father following their ambulance when they noticed the father had pulled off the road. Wanting to make sure everything was OK, they turned around and found the father had a flat tire. They offered to have him ride in the ambulance the rest of the way to Riley, but the father wasn't comfortable leaving his vehicle behind. Instead, they helped him change his tire.

November 2020: Bryanna J., Urological Care
Bryanna J., Urological Care, found out her patient's mother passed away the same day the patient had surgery. When the patient came in for a follow-up appointment, Bryanna purchased and gave her a figurine in remembrance of her mother. The patient really appreciated and was touched by Bryanna's thoughtfulness.
October 2020: Karen S., 4 North
Karen S., 4 North, had a patient being discharged who didn't have money for the co-pays for her prescriptions. The patient's husband had passed away a few months before, and the patient was struggling. Karen arranged to pay the co-pays without the patient knowing who did it, and the patient was able to be discharged with the medicines she needed.