Our GEMS: Staff going the extra mile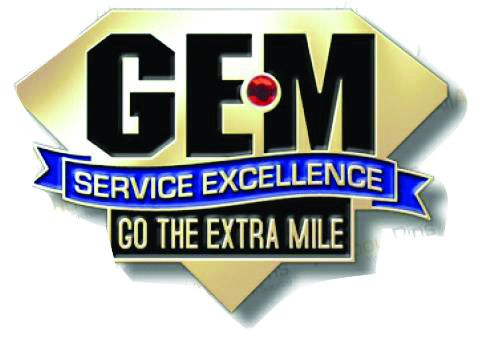 Many of our patients and families express deep appreciation for the care they or a loved one received at Reid Health. Often, they wonder how they can say "thank you" in a special way to someone who has cared so much… the one who was their GEM.
These nominations from patients and from staff become a pool of great stories that illustrate the willingness of our team members to Go the Extra Mile on behalf of patients and families. Each month, a GEM is celebrated in our ceremonies where we also celebrate employees with five or more years with us.
Nominate someone using this form; see our GEM stories below of GEMs celebrated so far this year.
Recognize a G.E.M.
Want to recognize someone who went the extra mile? Complete this form to thank a Reid Health employee or volunteer.
March 2023: Lauryn B. and Veronica F., Reid Neurology Associates
A patient at Reid Neurology Associates was very concerned he might not be able to find food to eat until he got paid the following week. After their work hours, Lauryn B. and Veronica F. bought groceries for the patient, delivered them to him, and made sure he was OK. The patient was so happy they took the time to not only listen to him but to help with his problem. They are the definition of a true GEM.

February 2023: Amy H., Respiratory Care
Amy H., Respiratory Care, took it upon herself to go down to the Emergency Department and find children's toys for a developmentally disabled patient to play with. Amy also printed off coloring pages and then sat with the patient and colored with her. Amy takes great care of all her patients but definitely went above and beyond for this one.

January 2023: Darryl G., Information Technology
A young man was in the hospital for two weeks, away from his family and missing his friends. The patient enjoyed playing his gaming system online with friends but was having difficulty maintaining an internet connection. Darryl G., Information Technology, loaned the patient his phone to use as a hot spot for his entire shift on two different days. There was a marked change in the patient's demeanor. This act of kindness really impacted the young man.

December 2022: Chris C., Reid Urgent Care
A patient came to Reid Urgent Care seeking treatment for multiple complaints, including pain in his feet. The patient was homeless, and his only belongings were the clothes he was wearing. The patient's feet were covered in blisters, and a few appeared infected. The patient said his lone pair of socks would become wet and although he tried to let them dry as much as possible, he wasn't always able to do so. When Chris C. found out we didn't have any dry socks/footies at Urgent Care to give the patient, he quickly went to the store to purchase the patient a full pack of socks with his own money. When Chris returned and gave the patient the socks, the patient began to cry. It might have seemed like a small gesture, but to the patient, it was the world!

November 2022: James Hunter, Reid Health Comprehensive Bone & Joint Center
A patient who came into the office for an injection brought along their granddaughter. The granddaughter had a stuffed Elmo doll that James Hunter, PA, took the time to give a full check-up and its own injection. The granddaughter was over the moon that James took the time to check on her stuffy. The patient and granddaughter left extremely happy and with giant smiles.

October 2022: Dr. Jeffrey Haist, Richmond Cardiology Associates
Jeffrey Haist, MD, Richmond Cardiology Associates, noticed several things weren't right with a patient, but there was no physical reason for her symptoms. As he delved deeper, the patient eventually revealed she was in an abusive relationship and had no money, no relatives, and no one she could turn to for help. Dr. Haist took it upon himself to call several places in Muncie and Richmond for her. Unfortunately, all the places required the patient's dog be placed in a kennel, and the patient refused to take further action. Dr. Haist chose to take care of the dog so the patient would be able to get the help she needs.

September 2022: Lara R., Nursing Critical Care
Recently, the decision was made to withdraw care for a patient, and the family chose not to be at their bedside at that time. Lara R., Nursing Critical Care, was there and held the patient's hand in those final moments until they passed.

August 2022: Kristine W., Patient Continuum of Care
Transportation issues forced a patient to delay care, and by the time she was finally able to make an office visit, she needed to be sent to the Emergency Department instead. The patient later returned to the office for a follow-up appointment, still having transportation issues. Kristine W., Patient Continuum of Care, paid the person who provided transportation for the patient. Kristine is very caring and does everything she can to care for patients. She finds all the programs she can to help patients achieve their best possible health outcomes.
July 2022: Robbin S., Reid Health Comprehensive Bone & Joint Center
A patient who has dementia recently visited the Reid Health Comprehensive Bone & Joint Center. Although she has visited the center previously, the patient often cries because she's confused and only wants to go home. At the end of the patient's recent visit, Robbin S. was gentle, patient, and sweet with her. The patient took an interest in a stuffed gnome that Robbin kept at her desk, and Robbin gave the patient the gnome without a moment's thought. This instantly turned the patient's mood around, and she left without crying, extremely happy to have a new friend to take with her.
June 2022: Tara B. and Kylie M., Urological Care
A Urological Care patient couldn't afford stoppers or tennis balls for their walker, causing the walker's feet to loudly drag and scrape the ground. Tara B. and Kylie M., Urological Care, split the cost to buy tennis balls and put them on the walker. According to the nomination, "This absolutely made the patient's day!"
May 2022: Terry G., Reid Outpatient Surgery and Endoscopy
A patient was having surgery to remove cancer from their ear and have a skin graft. Terry G., ROSE, noticed the numbing shots to the ear were quite painful for the patient, so he held their hand and talked with them throughout the procedure. "My words cannot express how these simple gestures really calmed me and helped me," the patient said. "Thank you, Mr. Garrett."
April 2022: James C., Food and Nutrition Services
On a recent day when there were 169 patients in the hospital, one had special needs for her diet. James C., Food and Nutrition Services, came in on his day off to cook lunch and dinner for that one patient. "This really goes above and beyond to meet the needs of the department and hospital," the nominator wrote. "Thanks, Chef, for such a caring spirit."