Tattoo Removal
Tattoo removal is a technique used to remove ink from under the skin. At Revive Spa & Skincare, we use the PicoSure laser to break down the ink, causing it to diminish. To fully remove a tattoo you may need to schedule multiple sessions due to the layering of the ink. Unlike traditional tattoo removal, the PicoSure laser uses impact and stress to remove the tattoo instead of using heat. This allows for minimal pain throughout the treatment.

---
Request an Appointment
Before & After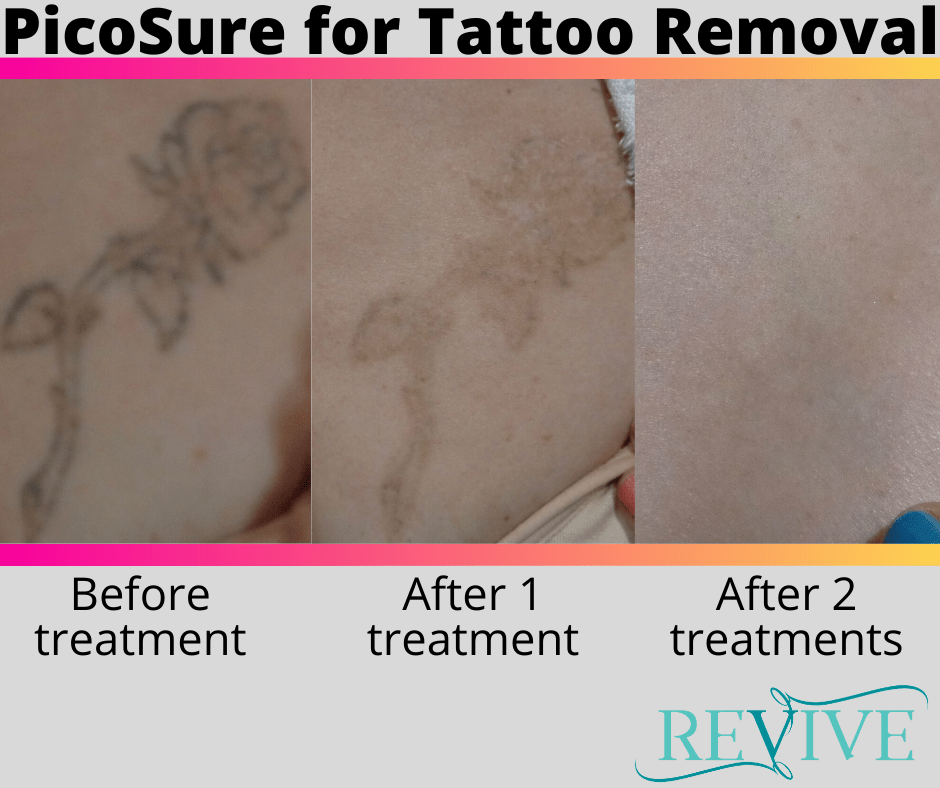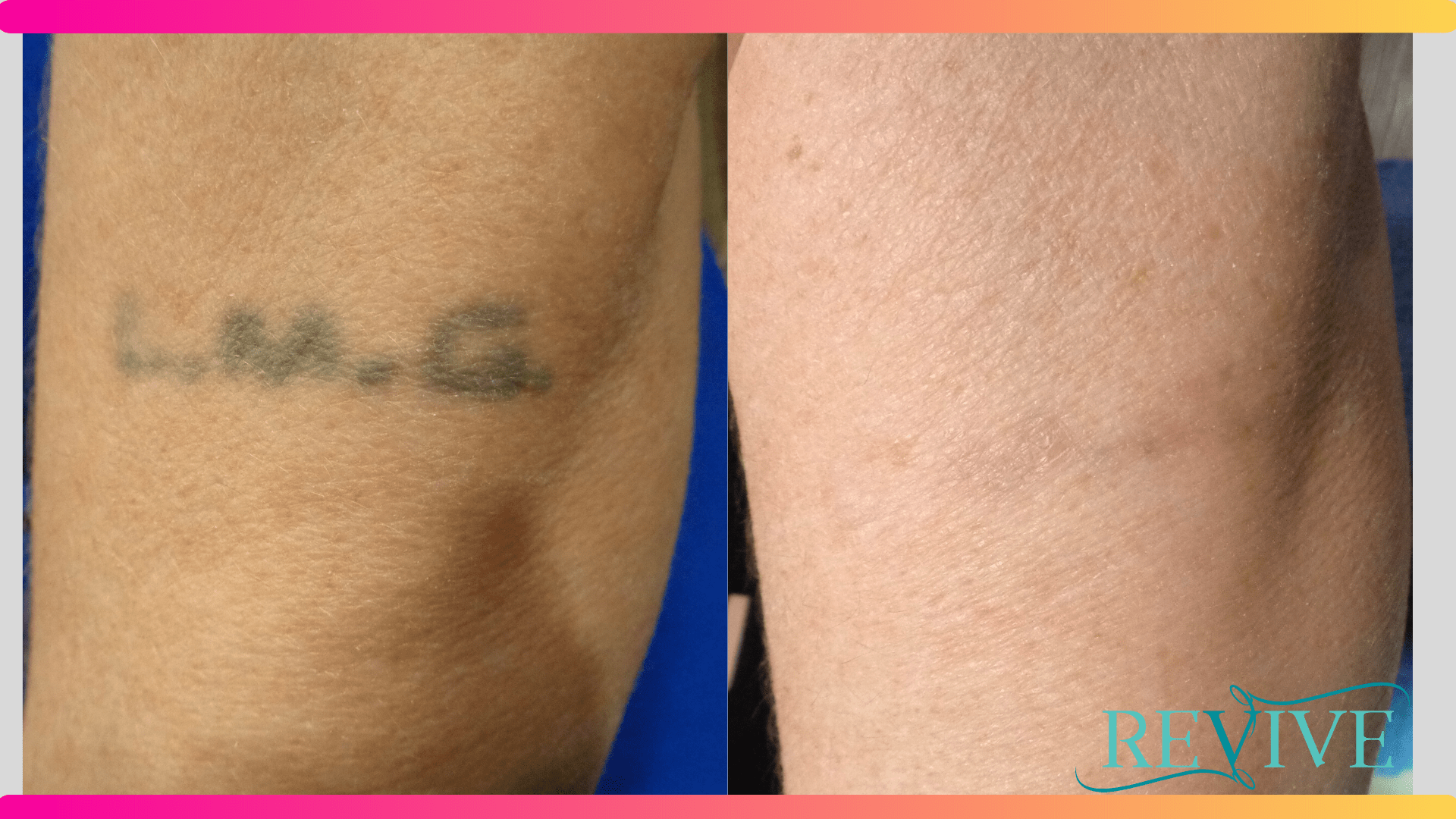 FAQs
Who is a good candidate for tattoo removal?
Anyone who is not happy with their tattoo! We know that overtime tattoos undergo a natural aging process and they can lose their appeal. Tattoo removal can remove unwanted ink and give you a clean slate.
How does our laser differ from other forms of tattoo removal?
The PicoSure laser uses photomechanical impact and stress (instead of heat) to shatter ink into the smallest of particles. Other tattoo removal options use heat as their main removal method.
Does it hurt?
Patients who have had this treatment performed describe the pain level as tolerable. Much like getting a tattoo, the pain level can increase or decrease depending on the size and location of the tattoo.
What does it feel like?
For many patients, the feeling of laser tattoo removal has been compared to what it feels like when getting a tattoo, however it is very fast. Your practitioner will work with you on the best comfort option based on your individual situation.
How long does it take?
Depending on the tattoo, plan on each treatment taking up to 1 hour.
Will I need multiple treatments?
After the first treatment you will come back for 3-7 treatments. This is based on the condition, placement, and size of the tattoo. While it typically takes 4-8 weeks for the body to absorb the ink particles, every patient and tattoo responds differently. Following the recommended post treatment protocol will likely improve the results and reduce the chance of small adverse events.
How does it work?
The PicoSure laser uses impact and stress to shatter ink into small particles. Pink, green, or yellow ink requires multiple wave lengths. This will require an upcharge of $100 per treatment for tattoos with those colors. Each area is treated with one tight pass, and uses interlocking pulses that don't overlap. With PicoSure, laser energy is delivered to the tattoo, targeting the ink and breaking it down into smaller particles. The particles are eliminated through the body's natural processes resulting in a lightening of the tattoo ink.
How will my skin look after the laser treatment?
The ideal clinical endpoint for the tattoo treatment is an immediate slight whitening or "frosting" of the skin, however that will subside immediately after the treatment is complete. Other observable effects include mild swelling and redness. Your practitioner will direct you on how best to keep the area moist.
How long will my results last?
Your results are long term, but you may need touch ups.
How long is the recovery period?
The down time for tattoo removal is short, but not instantaneou. You will leave the office with some light dressing on the skin of the affected area, and will experience warmth at the affected area for about an hour after the treatment. The recovery process is short, but you will need to be sure to wash the affected area with non-irritating soap and water per your after care directions. Please do not soak or apply lotions to the affected area.
My tattoo was treated with a laser in the past and didn't clear, why would I try again now?
Until the launch of PicoSure, Q-Switched lasers had been considered the gold standard for removing tattoos. Q-Switched laser treatments use thermal energy to heat up and break apart the ink particles. Now with PicoSure, ultra-short pulses hit the ink particle with a pressure so great, the ink shatters into tiny dust-like particles. Because the particles are so small, they are more readily absorbed and eliminated by the body. PicoSure has been proven success in treating even dark, stubborn blue and green inks, as well as previously-treated, stubborn tattoos that were not successfully cleared in the past.
Can I lighten the tattoo to have another one put on top?
Tattoos can be lightened in preparation for a cover-up tattoo. Your practitioner may have you wait six weeks between your last treatment and when you have the new tattoo completed.
What are the side-effects?
The side effects include: discomfort, redness, swelling, pinpoint bleeding, blistering, scabbing, crusting, bruising, darkening (bronzing) of skin, acneiform papules, pustules, skin burns, hyperpigmentation, hypopigmentation, scarring, infection, and allergic reaction.
How much does this cost?
A tattoo removal covering a small area may cost about $250 per treatment. A tattoo removal covering a medium area may cost about $350 per treatment. A tattoo removal covering a large area may cost about $450 per treatment. An extra large area is defined as an entire sleeve or entire back tattoo removal. This will cost approximately $750 per treatment.
You will need 3-7 treatments for removal of your tattoo. Depending on the size and location of your tattoo, the price can vary. An additional $100 per treatment will be charged if the tattoo contains pink, green, or yellow ink.
Request an Appointment