Yoga
More than 5,000 years old, yoga is a practice that brings together the mind and the body through various forms, all which have different goals and outcomes.
Here at Reid Health Medical Fitness, we strive to deliver a variety of group classes for all ages and skill levels. Try out a class today to learn more about the health benefits of yoga.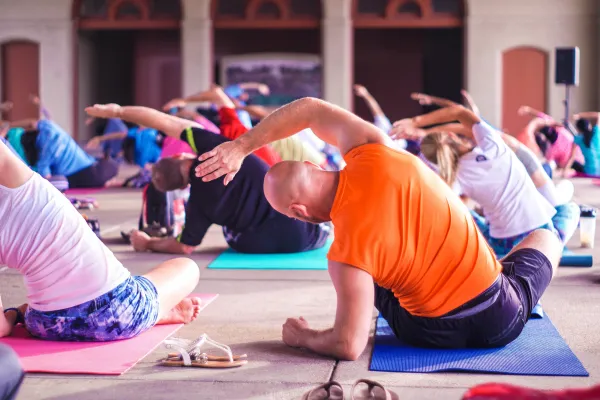 Decrease stress
Several studies have shown yoga may help reduce stress. Yoga can enhance your mood and overall well-being.
Relieve anxiety
Yoga encourages relaxation in both mind and body. This relaxation helps relieve anxiety and promotes overall peacefulness.
Reduce inflamation
Studies have shown a reduction in inflammation while practicing yoga thanks to better blood flow from increased physical activity.
Improved quality of life
Yoga promotes improved fitness and is often an exercise program anyone can do. Improved fitness can lead to an overall better quality of life. Yoga has been shown to improve symptoms of several chronic conditions.
Depression
An improved overall mindset can help fight depression. Yoga is able to help reduce the levels of cortisol, a stress hormone that influences the levels of serotonin. Serotonin is the neurotransmitter that is often associated with depression.
Chronic pain
Improving flexibility and strength can work to reduce chronic pain. The poses that promote flexibility help relieve tension, which alleviates pain.
Sleep quality
Yoga has been shown to increase your amount of melatonin, the hormone that regulates sleep and wakefulness.
Flexibility and balance
The poses/postures utilized in yoga are designed to increase strength and flexibility. They range in difficulty with the goal of achieving relaxation and stretching you beyond your physical limits. Poses also can be designed to promote balance.
Which class is right for me?
Vinyasa is a higher-speed class that incorporates some intermediate poses.
The chair class focuses on balance and stability.
LoveYourBrain is geared toward those with a TBI or who have previously experienced a stroke.
Classes are open to any age with no previous yoga experience required.
Class information
Class schedule: Vinyasa is Tuesdays 5:30-6:30 p.m. while the chair class is Thursdays 1-2 p.m.

Pricing: $5 for each 1-hour class session
Where: In the multipurpose gym/boxing gym located at the 2021 Chester Blvd. Building (outpatient rehabilitation building)
Equipment: You are free to bring your own equipment, but we have mats, blocks, and bolsters available for you to use during the class.
Masking: Reid Health is requiring all patients/clients wear a surgical mask while entering any hospital-owned building. This means masks are required for all classes.
How to sign up: If you are interested in participating in a class, please call (765) 983-3092 and ask for Matthew Wright or Savannah Doherty to save a spot in the class. Or you may complete the form below.