Cardiopulmonary Rehabilitation
Overview of Cardiopulmonary Rehabilitation
Rehabilitation for both cardiac and pulmonary patients is designed to improve quality of life for chronic lung patients and help cardiac patients successfully recover after a heart event such as a heart attack. The rehabilitation process includes strength-building activities, health education, nutrition counselling, and hands-on support for patients dealing with heart or lung conditions.
Benefits of Cardiopulmonary Rehabilitation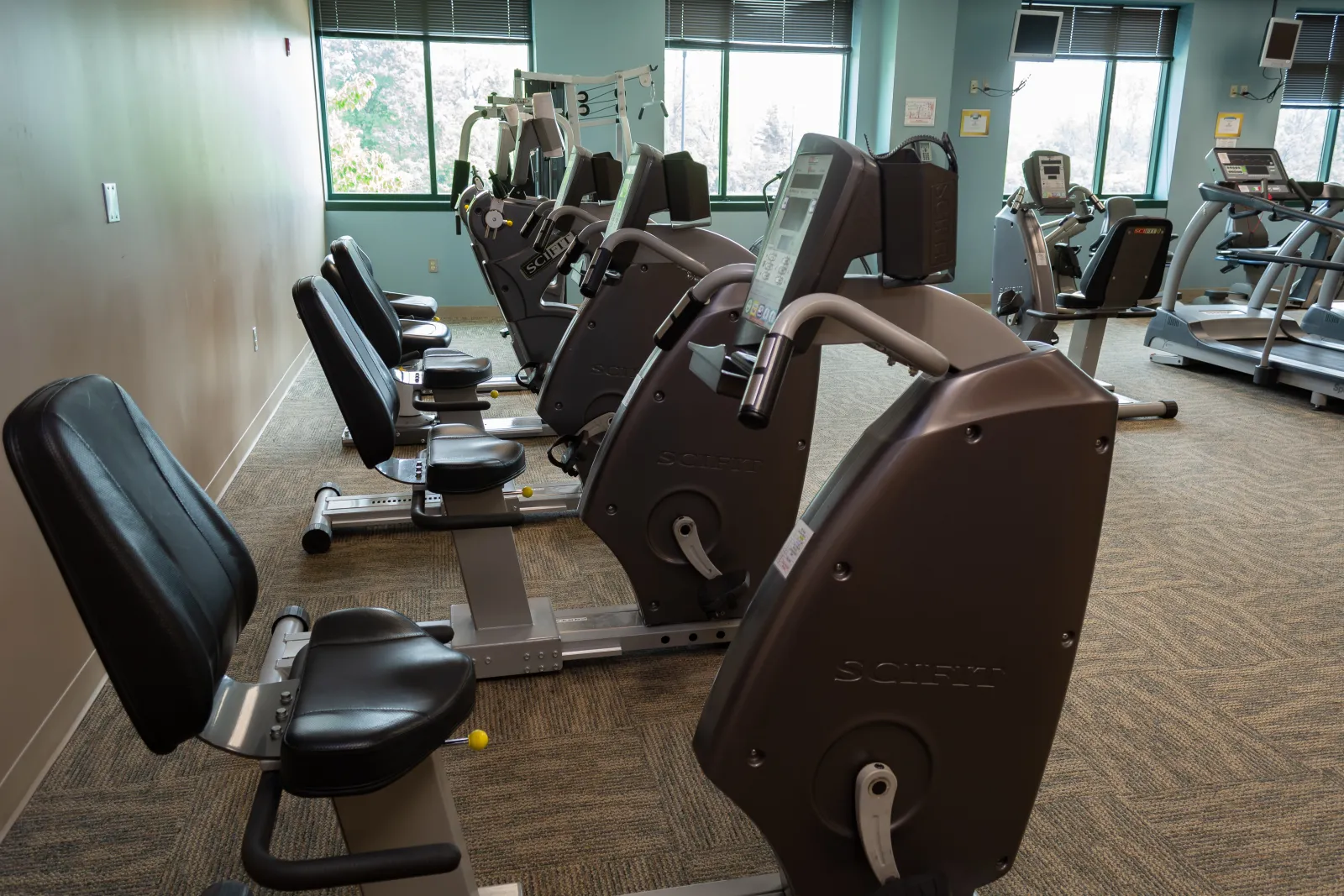 The CDC has reported cardiopulmonary rehabilitation decreases by about 35% the likelihood a patient will become ill again or pass away 5 years after a heart attack or bypass surgery. Lung patients are able to build strength and resilience from daily activities that normally would leave them breathless.
Both modes of rehabilitation are part of a collaborative, patient-centered care approach in which providers team up with therapists, nurses, nutritionists, dietitians, pharmacists, primary care physicians, and other healthcare experts to devise a plan that will help patients quickly recover and become stronger.
Request an Appointment
Cardiopulmonary Rehab: Heart Patients
Physical activity is essential to recovery after a significant heart event such as surgery, bypass, or a heart attack. Whether you've had open-heart surgery, angioplasty, or stent procedures, your heart muscle requires appropriate exercise to heal and regain strength.
Reid Heart & Vascular Center cardiopulmonary rehabilitation combines physical activity, health education, nutrition counseling, and hands-on support for patients dealing with heart disease. The program helps you establish a safe level of exercise and encourages you to make healthy choices.
Cardiac rehabilitation can help those who have:
Had a heart attack
Had heart bypass surgery
Had an angioplasty or stents
Had valve repair or replacement
Had a heart transplant
Congestive heart failure
Benefits of cardiac rehabilitation include:
Increased endurance and stamina
A stronger heart muscle
Weight control and reduction
Lowered blood pressure and heart rate
Improved blood sugar management
Assistance with smoking cessation
Education and training about making healthy lifestyle choices
Have questions? We can help.
Cardiopulmonary Rehab: Pulmonary Care
The focus of Reid's pulmonary rehabilitation program is to improve the quality of life for people with chronic lung disease through individual health education, relaxation techniques, nutrition counseling, physical activity, and hands-on support.
The process includes educating the patient and others who are a significant part of the patient's life. Understanding a chronic disease is the first step in developing a positive self-image and leading a more productive and enjoyable life.
A team of care providers are behind our patients to help them manage their condition. From respiratory therapists to nurses, primary care providers to pharmacists, all are integrated into each patient's collaborative care team.
Pulmonary rehabilitation can help patients who:
Get breathless performing simple tasks
Have asthma
Have emphysema
Have chronic bronchitis
Have bronchiectasis
Have pulmonary fibrosis
Have recently had lung surgery
Have experienced environmental or occupational lung disease
How to get started with pulmonary rehabilitation:
You will need a signed program referral or prescription from a doctor to be enrolled. The referral and other information about your physical condition links us to your doctor so we can work as a team to provide your care. You could need a limited physical exam and diagnostic tests. Your physician might order any or all of the following:
Chest X-ray
Exercise stress test
Pulmonary function test
Electrocardiogram
Basic blood test
More about the pulmonary rehabilitation program:
The outpatient program can include up to 36 sessions. The sessions are one hour twice a week. A friend or family member is encouraged to accompany you. A maintenance program will follow based on your needs and your doctor's recommendations.

Visit Reid Health Pulmonology