Work continues to start construction on new campus in Connersville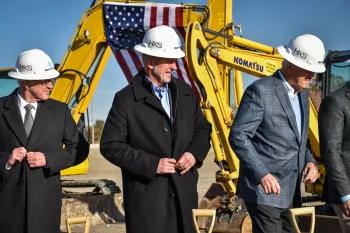 Reid Health President/CEO Craig Kinyon (center) and others prepare for the ceremonial groundbreaking at the site of Reid's new campus in Connersville on Oct. 19, 2022.
May 17, 2023 -- Last fall, Reid Health administration and staff gathered with residents and community leaders from Connersville and Fayette County to celebrate Reid's decision to build a new state-of-the-art facility in the city. Although construction hasn't formally started yet, a great deal of behind-the-scenes work occurs each day to move the project forward.
When Reid announced it would build a new $100 million campus, it was noted many aspects of the facility were yet to be determined. Over the past few months, Reid has been working with its construction partners -- architectural firm HKS, Skanska USA Building Inc., and Shook Construction -- to finalize the design of the new building.
"We're excited to get started," said Craig Kinyon, Reid Health President/CEO. "We promised to build a $100 million facility in Connersville, and that's what we're going to do. You can count on us."
Reid and its partners have been working with city and county officials to ensure the health system is taking all the proper steps to get construction started and be sure it can avoid any potential hurdles that might slow work once it begins.
Jeff Cook, Director of Engineering at Reid Health, said the city, county, and economic development leaders have been very helpful throughout the process.
"Projects like this take a long time to get everything in order, and we appreciate all the time and effort community leaders are putting into this," Cook said. "Everyone has been very helpful and patient."
Kendall Ruhberg of HKS affirmed Reid is taking the proper steps to ensure the project is successful.
"This is a normal part of a complex, comprehensive process," he said. "As with any project of this magnitude, there are numerous decisions that must be made before plans on paper can begin to become a reality."
"We're excited to get started. We promised to build a $100 million facility in Connersville, and that's what we're going to do. You can count on us." -- Craig Kinyon, Reid Health President/CEO
"Projects such as this have cycles in design," said Dan Balow of Skanska USA Building Inc. "We're working together as a team to review each aspect and put together a great project.
"Among other things, we want to be mindful of supply chain issues and other factors that could cause delays down the road if we don't work to take them into account now."
Cook is in contact with the HKS and Skanska/Shook teams daily. He said Reid administrators meet with those teams each week to receive updates, fine-tune design plans, establish timelines, and ensure the project is moving forward.
"This project is top of mind for everyone at Reid. We want to build the very best facility we possibly can for Fayette County, and we're making sure everything is lined up for that to happen," he said.
The new facility at 2500 Park Road eventually will replace the current campus at 1941 Virginia Ave. The $100 million investment is the latest demonstration of Reid's intention to honor a commitment to the community Reid made when it acquired a substantial portion of the assets of Fayette Regional Health System in July 2019 after Fayette Regional filed for bankruptcy.
It's expected to be another three months or so before everything is in order and construction can get underway.
"We promised transparency throughout this project, and we keep our promises," Kinyon said. "Like with everything we do, we want to be fiscally responsible in building this new facility. We're doing our due diligence and working hard to ensure we can meet the healthcare needs of the community."