2017 Rhoads honoree makes melodies with patients, sees some at home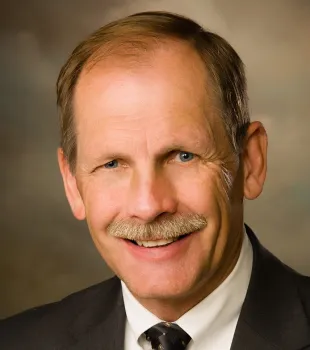 Daniel Wegg M.D.
September 30th 2017
From serenading them with song to visiting some in their homes the 2017 Paul S. Rhoads Humanity in Medicine Award winner is known for treating his patients like family with an unyielding focus on trying to make them better.
Daniel Wegg M.D. family care is quick to play down compliments or being cited for his compassion and skill. "I'm a guy with a burning urge to fix things" he said be it the brakes on a car or a patient with a health issue. "If it's broken I have to fix it" he said.
Dr. Wegg's selection as this year's winner was announced at the annual medical staff appreciation and new physician reception Saturday evening. Nominations for the Rhoads award are solicited each year from physicians patients and health care workers in honor of the late Paul S. Rhoads M.D. who received the first award in 1983.
Jon Ford Reid Health Governing Board Chairman said Dr. Wegg's relationships with his patients illustrate why he was a great choice for this recognition. "Dr. Wegg will tell you his life is all about his family and his patients" Ford said. "With patients his actions prove this is true in how he goes about caring for them. He meets them where they are even in their homes and has earned their respect appreciation and admiration."
Craig Kinyon Reid President/CEO said Dr. Wegg is a skilled problem solver. He's established that reputation in his service on the Reid Health team as a leader willing to roll up his sleeves and thoughtfully work on the many issues affecting health care Kinyon noted. "But of all his notable skills and talents he has a gift for understanding people and a gift for listening."
Dr. Wegg's interactions with patients definitely involve listening but it goes further than that. He brings his sense of humor and his love for music into the exam room with him. "Everybody inspires a song for me. So I'll sing a song to them" he said sometimes having patients join him in harmony. "That's the fun part of the day."
Rohit Bawa M.D. who chairs the RHPA Network Operations Council said Dr. Wegg leads by example. "For him it's all about patient care. He always pushes us to think outside of the box."
Reid Health Vice President Angie Dickman helped bring Dr. Wegg onto the team in 2013. She said his questions were all about what it would mean to his patients. "He wanted to know what our values were as an organization. He's about the patient — whether it's a home visit or a traditional visit. He's willing to do whatever it takes to please his patients to make it easy for his patients."
Though he downplays referring to himself as "compassionate" his patients and colleagues bring up that word in describing him. "Dr. Wegg is very compassionate when he talks about his patients. He brings a practical sense to medicine which is calming and reassuring and the definition of what humanity in medicine is" said Billie Kester Reid Health Vice President/Continuum of Care.
Dr. Wegg credits the compassion that he has to his wife Mardy and his children – Lindsay Wegg-Uzunlar M.D. a pediatrician in Chicago; Jessica Wegg an attorney in Indianapolis; Genevieve Murray who works at Randolph Southern School Corp.; Daniel Wegg an attorney also of Indianapolis; and Andrew Wegg who is in school in Indianapolis. They have six grandchildren and are expecting a seventh at Christmas.
Dr. Wegg has served patients in the Randolph County area since moving from his native country of Canada in 1995. He was born in Calgary Alberta Canada and practiced there from 1979 to 1995. He obtained his M.D. from the University of Alberta Canada in 1977 and a master's in public health from the Medical College of Wisconsin in 2006.
He said he intended to be a chemist then a surgeon before realizing that family practice was his true calling. "What I really like doing is talking to people. Primary care is what I am."
"What I really like doing is talking to people. Primary care is what I am."
The Humanity in Medicine award and celebration authorized as an annual event by Reid's governing board in 1983 honors the memory of Dr. Rhoads for his service to patients and medicine. He was the founding director of Reid's Medical Education Department helped organize the hospice program and the Wayne County adult clinic for the indigent.