Reid PA named IAPA Physician Assistant of the Year
Nov. 14, 2023 -- Brandon Guth looks beyond the illness to see his patient as a person. The Reid Medical Associates Physician Assistant (PA) is passionate about providing care and fulfilling the needs of others and his community.

In recognition of his efforts, Guth was the recent recipient of two prestigious awards.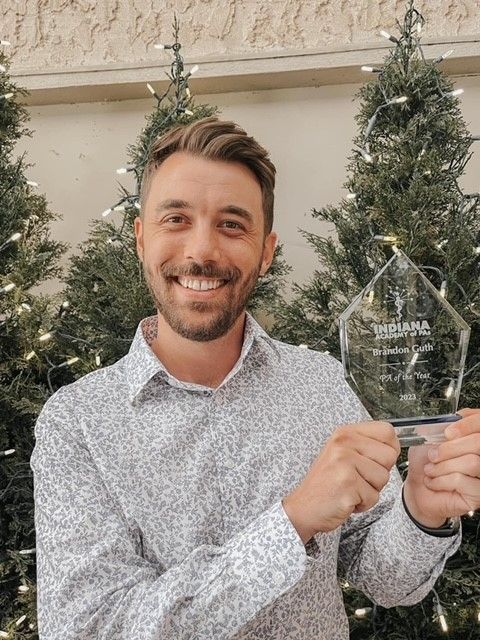 Guth was named the Indiana Academy of Physician Assistants (IAPA) Physician Assistant of the Year for his achievements and the positive impact he has on the lives of patients and colleagues. The IAPA presented the award at its conference on Nov. 3 in Greenwood, Indiana.
He also received a 2023 William H. Marquardt Community Health Access Fellowship from the Physician Assistant Foundation at the end of October.
Guth said it's an honor to be nominated and chosen to receive both awards, which serves as further motivation.
"I'm humbled by it. Excited by it," he said. "But it's an accumulation of doing my best to care for people and for the community of Richmond, which I grew up in and I'm passionate about."
The IAPA award recognizes an exemplary PA who has consistently demonstrated exceptional patient care, clinical expertise, and a commitment to advancing the healthcare profession. It celebrates their outstanding contributions to patient well-being, dedication to continuous learning, and compassionate approach to healthcare.
The William H. Marquardt Community Health Access Fellowship awarded $2,500 to four PAs who serve in mentoring and precepting roles dedicated to promoting accessible primary and preventive healthcare among underserved populations. Guth was the only Indiana fellowship recipient this year.
Guth received nominations for his work at Reid and within Wayne County as well as his role as an adjunct faculty member for the Indiana University Physician Assistant Studies program in Indianapolis and as a preceptor providing supervision for PA students during their clinical experience.
Kodi Jones, Practice Supervisor for Reid Medical Associates, said Guth starts and ends each day with a smile, which permeates the office and creates a great work environment for everyone.
"Brandon goes above and beyond for each of his patients and provides care at their level with empathy and professionalism," Jones said. "Never afraid to take on additional tasks, he welcomes complicated situations and is always willing to adjust his schedule to accommodate the needs of our patients."
Amy Dixon, Medical Assistant for Reid Medical Associates, said Guth is never afraid to roll up his sleeves and help with any task.
"I have the joy of watching him educate students almost daily, giving every student the opportunity to learn from one of the best," Dixon said.
"Brandon goes above and beyond for each of his patients and provides care at their level with empathy and professionalism." -- Kodi Jones, Practice Supervisor for Reid Medical Associates
Before joining Reid in 2023, Guth was a primary care provider at Well Care Community Health, formerly part of the Wayne County Health Department. While there, he began the county's first hepatitis C treatment program at a primary care office, treating more than 60 patients within the first few years. Then recognizing a connection, he followed that program with a medication-assisted treatment for opioid use disorder.
"There's a large population that suffers from substance use disorder everywhere, and it's prevalent in Wayne County," Guth said.
When the treatment programs started, Wayne County was the top county in the state for hepatitis C cases, he said. Now additional outpatient and inpatient treatment facilities are available.
After joining the Reid team, he continued the treatment programs. Addiction medicine and hepatitis C treatment aren't typically offered in a family medicine setting, he said.
"I look at it as talking with these patients and learning about their lives," he said. "I want to do all we can in the family medicine office versus needing to send these people to a specialist or to Indianapolis, which is classically what's been done with hepatitis C."
He expanded his efforts by helping to train others in healthcare to provide treatment. He also incorporates opioid disorder and hepatitis C treatment topics into his courses.
"I'm passionate about serving the underserved and helping those who need help the most," Guth said. "I just encourage anyone who's in a position to make a change, or who sees a change that needs to be made, to step up and do it."
Guth has a master's degree in physician assistant studies and a bachelor's in health science from Indiana University. He's a 2011 graduate of Richmond High School. He lives in Richmond with his wife and three children, ages 6, 3, and 7 months.
About the Indiana Academy of Physician Assistants
The Indiana Academy of Physician Assistants is the definitive and authoritative voice of physician assistants. IAPA advances quality healthcare that's cost-effective and accessible as well as fosters the best practice environment for PAs. The association supports more than 1,500 PAs across the state and promotes the profession through legislative advocacy, continuing medical education, and community health support.
About the Physician Associate Foundation
The Physician Associate Foundation is a national nonprofit organization that promotes better health and wellness by providing PAs and PA students with philanthropic opportunities and resources. It's the philanthropic arm of the American Academy of PAs. The William H. Marquardt Community Health Access Fellowship was established by long-standing PA Foundation supporter and volunteer leader, William H. "Bill" Marquardt, MA, PA-C Emeritus, DFAAPA.