Reid Health receives Gold Level certification as an Adolescent-centered Environment
Oct. 31, 2023 -- After an 18-month process of self-evaluation and teen-focused improvement, Reid Health and Reid OB/GYN have received a Gold Adolescent-centered Environment Certification.
The recognition is based on the Adolescent Champion Model, which was developed and facilitated by the Adolescent Health Initiative (AHI) at the University of Michigan. This opportunity was presented in partnership with the Indiana Department of Health.
To achieve this designation, Reid OB/GYN made improvements to its environment, policies, and practices to ensure all aspects of a patient's visit are adolescent-centered. All 11 requirements had to be met to earn the gold designation.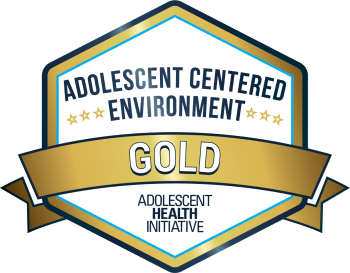 Reid OB/GYN focused their efforts on providing adolescent-friendly educational material in their waiting rooms, offering clinic hours after school to increase accessibility, and providing training for all staff on topics related to adolescent health. Training topics covered adolescent brain development, confidentiality, cultural responsiveness, nonverbal communication, and strategies for being youth-friendly. Reid joins 150 sites in 44 states to receive AHI certification.
Team members working on the certification included Marla Evans, Nurse Practitioner; Karen Bolser, Medical Assistant; Britney Johnson, Sonographer; Dakota Conley, Practice Manager; Ayren Staton, Director of Women's Services; and Victoria Osayi, Nurse Practitioner.
Evans said the achievement was a team effort that took a willingness to place themselves in the circumstances of teens.
"We had to ask ourselves what we would've wanted to see as teens or imagine how we want our children to be treated, making sure to keep an open mind and to remember not everyone has the same support and lack of financial constraints," Evans said.
During adolescence, youth have disproportionately high rates of mental health issues, substance use, sexually transmitted diseases, and unintentional injuries that can lead to significant morbidity and mortality.
Adolescents' healthcare needs are unique from other patient populations. Young people might avoid accessing the services they need for various reasons, including concerns about confidentiality, fear of judgment, and inconvenient hours and location.
"I have always loved working with teens, so this project really excited me, especially in light of the percentages of teen pregnancies and Sexually Transmitted Infection (STI) rates in the area," Evans said. "I wanted to reach more teens and let them know there is a safe place to come and get accurate, unbiased information and care."
Health centers completing the certification show improvements in their ability to provide adolescent-centered behavioral health services, improvement in understanding confidentiality laws and practices, and widening the scope of reproductive health services specific to adolescent best practices.
Adolescent-centered environments effectively provide comprehensive services for adolescents, ensuring they feel well cared for. The environment is inclusive of, informed by, and responsive to the needs and values of adolescents.
"This program empowered me to ask parents to step out briefly so I could talk one-on-one with the teen. I was surprised to find most parents were understanding of this request especially once they had met me and established a rapport," Evans said. "After completing the training, I also have a better understanding of the legal rights of teens in Indiana as well as the recommendations for STI testing, screening for adverse childhood events, and screening for addictive substances.
"In essence, I think we created a more welcoming environment, hopefully demonstrating Reid OB/GYN is a place adolescents can get the care they feel is thorough and inclusive." - Marla Evans, Nurse Practitioner