2019 Rhoads winner a 'role model' known for attention to detail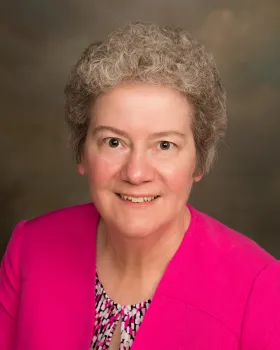 Loretta Ryan, M.D., 2019 Rhoads Honoree
The 2019 Paul S. Rhoads Humanity in Medicine Award winner is known for her attention to detail and her ability to communicate and educate young patients.
Loretta Ryan, M.D., with Reid Pediatric & Internal Medicine, was presented the recognition Friday evening at an annual medical staff appreciation and new physician reception in Richmond. Nominations for the award are solicited each year from patients, physicians and health care workers in honor of the late Paul S. Rhoads, M.D., who received the first award in 1983.
"Pediatricians have a really unique role in medicine that further expands their skills into parent education," said Craig Kinyon, Reid Health President/CEO, of Dr. Ryan's selection, noting that pediatricians often are treating patients who aren't old enough to speak for themselves. He also noted that for the same reason, the doctor is also dealing with more family members, including parents and grandparents, and they do a great deal of teaching to a small family group in their exams rooms. "Dr. Ryan is gifted with an ability to zero in on her patients and their needs, utilizing her great clinical skills and experience, while also serving as an advocate and educator on their behalf.
William Black, M.D., who has worked with Dr. Ryan since she came to Richmond in 1998, cited her attention to detail. "One of her best qualities is the attention to detail and the quality of care she provides for the more complicated health needs of some of the children we care for," Dr. Black said. "And a lot of what we do is like being a coach, and she brings that ability and great compassion with each child or teen in her care. She's a role model for consistency."

Paul Rider, M.D., also a longtime colleague of Dr. Ryan, said she's a sought out member of the Reid Health medical staff. "She is always available and someone you want to discuss a difficult case with. She's calm, someone you can always count on."

Tom Hilkert, Reid Health Board Chairman, said Dr. Ryan was a great choice for the 2019 Rhoads recognition. "She is a great example of how quality and compassion combine to provide excellence in care."

Dr. Ryan is a native of Marshall, Ill. She moved to Richmond to join Pediatric & Internal Medicine in 1998. She and her husband, Eric John Tuegel, Ph.D., have two children: Thomas Tuegel, Ph.D., who lives in Savoy, Ill.; and Erin Tuegel, Richmond. They have two granddaughters, Rosie, 23 months, and Maggie, three months.

Dr. Ryan said she was quite surprised by the recognition. "I have always known that I wanted to help people. And I wanted to work with children," she said, noting that when she was a child she believed she'd become a kindergarten teacher. When she interviewed in Richmond in a search for a more family-friendly position, she said she was impressed. "I really liked what Reid had to present."

Rohit Bawa, M.D., who chairs the RHPA Network Operations Council, said Dr. Ryan has been a "quiet leader" who has gained great respect among her peers.

The Humanity in Medicine award and celebration, authorized as an annual event by Reid's governing board in 1983, honors the memory of Dr. Rhoads for his service to patients and medicine. He was the founding director of Reid's Medical Education Department, helped organize the hospice program and the Wayne County adult clinic for the indigent.

Having trouble viewing video? CLICK HERE