Our GEMS: Staff going the extra mile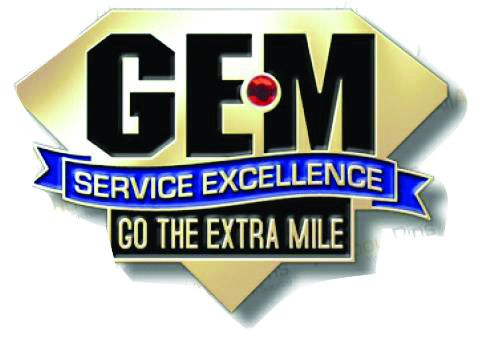 Many of our patients and families express deep appreciation for the care they or a loved one received at Reid Health. Often, they wonder how they can say "thank you" in a special way to someone who has cared so much… the one who was their GEM.
These nominations from patients and from staff become a pool of great stories that illustrate the willingness of our team members to Go the Extra Mile on behalf of patients and families. Each month, a GEM is celebrated in our ceremonies where we also celebrate employees with five or more years with us.
Nominate someone using this form; see our GEM stories below of GEMs celebrated so far this year.
Recognize a G.E.M.
Want to recognize someone who went the extra mile?
September 2020: Sara B., Jessica R.
September's two GEMS of the month are Sara B. and Jessica R. who were inspired by an employee social media group dedicated to providing staff updates on the COVID-19 pandemic. The phrase "Reid Strong" was used often, so they decided to create and order special #REIDSTRONG bracelets to represent and celebrate how team members came together and grew stronger as the Reid Health family as they dealt with the stress of being on the front lines of a pandemic. "This bracelet was just a little reminder that we all could wear and remind us that we are all #REIDSTRONG, and that we were there for each other."
August 2020: Matt S., Radiology
Matt S., Radiology, was working as a door screener and got into a conversation with a woman and her grandson. She shared she'd recently lost her son and her husband had also recently passed away. Meanwhile, the grandson was admiring Matt's shoes, which generated some additional conversation. The grandmother shared her grandson has to wear lightweight shoes because of a disability. They joked that if Matt ever had a garage sale, they would come and buy the shoes. When the grandson was leaving, Matt went out and gave him the shoes off his feet, and really brightened their day!
July 2020: Adam M., Environmental Services
Adam M., Environmental Services, cleans the Oncology Services area and always stopped to say hello to a cancer patient who was in treatment. The patient moved to hospice and was unable to hold her large thermal cup. Adam went to the gift shop and bought her a smaller one. "His kindness and thoughtfulness made my mom's day and put a big smile on her face," said the nominator.
JUNE 2020: Connie H., Environmental Services
Connie H., Environmental Services, is known for going above and beyond for the patients with whom she comes in contact while cleaning their rooms, such as learning details like whether they drink coffee and how they like it prepared. She recently was in a room with a patient who - because of long road of recovery with COVID-19 - was depressed and having some cognitive issues. The patient saw Connie's necklace and asked if she could have it. Without hesitation, Connie took the jewelry off and gave it to the patient. She told staff the patient needed the necklace -- which was a cross -- more than she did during the time of recovery. PHOTO, from left: Connie H., with Scott Rauch, Reid Health Vice President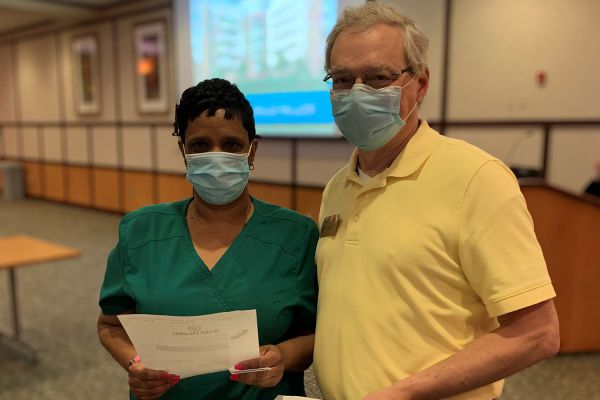 February 2020: Lisa R., Clinical Documentation Improvement
Lisa R., Clinical Documentation Improvement, was in the Reid Health café when she noticed a senior citizen having trouble getting his food. She got his food for him, helped him to the table and then went back to obtain other items he needed. "She made sure he had everything he needed before getting her own needs filled," the nominator said. "It showed heart and a willingness to go the extra mile." Photo, from left: Lisa R. and Jennifer Ehlers, Reid Health Vice President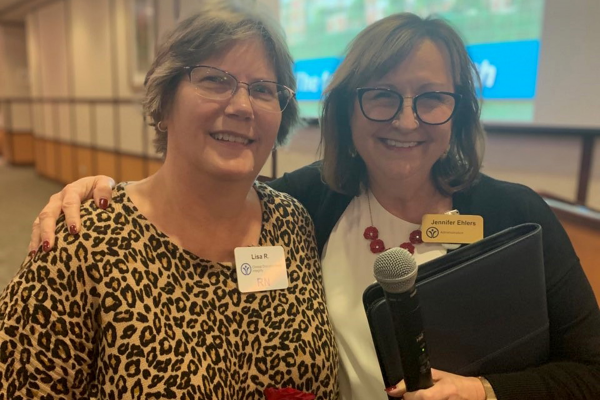 January 2020: Jami P., Reid Health Urgent Care - Connersville
Jami P., NP, at Reid Health Urgent Care - Connersville, saw a child whose grandmother had just become his guardian. Because it had just happened, the grandmother said she only had the clothes he was wearing and didn't even yet have a car seat for him. Jami saw she was stressed and soon organized -- with help from others in the office -- a collection of clothing, a car seat and even some toys and Christmas items for him. She also arranged for the grandmother to pick up the items, where the grandmother "cried tears of happiness" for the gesture. Photo, from left: Randy Kirk, Reid Health Vice President/Foundation President, and Jami P.