Return of Medical Monday will focus on walk-in urgent services for orthopedic patients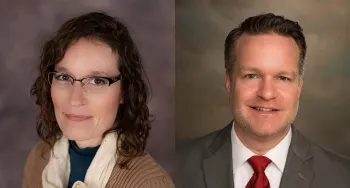 Dorothy Lollathin, PA-C, (left)
and Matthew Revennaugh, PA-C
June 1, 2021 -- After a year off because of the COVID-19 pandemic, Reid Health's Medical Monday event will return this month.
Dorothy Lollathin, PA-C, and Matthew Revennaugh, PA-C, of Reid Health Orthopedics & Spine will present "Expanding Orthopedic Services with New Walk-in Availability."
Medical Monday will begin at 1 p.m. Monday, June 14, at Central United Methodist Church, 1425 E. Main St. in Richmond. To register, call Sharrie Harlin Davis at (765) 983-3000, ext. 4676.
Masks are required to attend.
Medical Monday is supported by Reid Health Community Benefit. Harlin-Davis started the event when she was working for the Minority Health Coalition and maintained it after joining Reid Health. The event has built a loyal following, averaging 40 to 50 guests each month to learn about various health issues and community programs.