Right
beside
you.
Regional organizations team up to combat opioid epidemic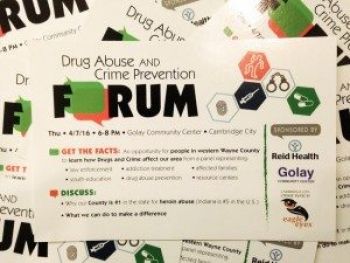 April 5th 2016
By C.J. JORGENSON
for Reid Health
Reid Health's emergency room has treated a growing number of patients for opioid overdose in the past few weeks which is sobering evidence of the continued regional epidemic.
First responders emergency room staff and the county coroner know firsthand that opioid abuse is an epidemic in the Wayne County area just as it is in cities large and small across the United States. "There's just no getting around it; it's everywhere" said Lisa Suttle Director of Reid Health's Psychiatric Service Line.
Fortunately awareness is growing and community organizations are teaming up to empower people with the knowledge to make positive changes. "There's a lot of awareness in our community — a year and a half or two years ago these things would have happened but we wouldn't have heard about it. But now everyone seems to be talking about it."
A forum scheduled at 6 p.m. Thursday April 7 is another example of community members working to educate and fight the problem. Reid Health is co-sponsoring the Drug Abuse and Crime Prevention Forum at the Golay Center in Cambridge City.
Connecting community resources
Reid Health local addiction recovery organizations law enforcement and engaged citizens came together more than a year ago to form the Heroin is Here initiative which meets regularly to address specific issues related to the opioid epidemic such as neonatal abstinence syndrome — the medical term for babies born dependent on an opioid.
At a recent meeting a recovering heroin addict shared his story with attendees and spoke about the successes and challenges he's experienced along the way. According to Suttle the patient is among the first to receive Vivitrol a new drug for treating opioid addiction and alcoholism as an outpatient at Reid Health. The patient has been doing well with his treatment plan.
Every other month the Heroin is Here initiative hosts an information sharing event that is open to the community. "There are a lot of people who have been coming… there is a lot of information and resources in the room" says Suttle. This forum has helped organizations like Reid Health the Golay Center and Cambridge City Eagle Eyes Crime Watch come together to bring more resources knowledge and action into the community.
Getting coverage for treatment
Reid Health's community outreach program works in the community to provide information and support on signing up for insurance getting financial support for health care and enrolling in the Healthy Indiana Plan. "We have been recognized by the Indiana Medicaid directors as having one of the most successful outreach processes in the state" says Sharrie Harlin Reid Health's Community Outreach Coordinator "We go to where the people are." Including Harlin says addiction treatment centers like Cross Road Christian Recovery Center and the Richmond Treatment Center. "It's easier to get help if you have insurance" she says.
Greg Drennen president of Cambridge City's Eagle Eyes community watch program will moderate the Thursday event. "We wanted our forum to be more of a 'here is what you can do' presentation" Drennen says so the focus is on sharing usable information that anyone in the community can use to positively impact our area's fight against the heroin epidemic and related crime.
Panelists speaking at the Drug Abuse and Crime Prevention Forum include:
Jason Bodnar – Principal Lincoln High School
Beth Gibbs and Suzanne Glazer – Guidance Counselors and Lincoln High School
Lisa Suttle – Psychiatric Service Line Director – Reid Health
Tim Alford – Reid Addiction Specialist
Richard Roberts – Chief of Police Cambridge City Police Department
Jeff Shafer – Pastor Cambridge City United Methodist Church
Tom and Wendy Canon – Cross Roads Recovery
Jim Branum – Chief of Police Richmond Police Department
Major John Bales – Deputy Chief Richmond Police Department
The event is free and open to the public.
Community members will have "the opportunity to interact with experts in the field" to gain insight into the issues of drug abuse and crime by asking questions and receiving answers Drennen said from people who "deal with the drug abuse issue on a daily basis. The Heroin is Here initiative was kind of a catalyst for the forum" he said noting the vital role community knowledge-sharing events play in promoting progress and action in the community.
The Drug Abuse and Crime Prevention Forum is hosted by the Golay Community Center 1007 E Main St Cambridge City IN 47327 on April 7th from 6-8 PM. The Eagle Eyes community crime watch Facebook page has more information on upcoming events.
To learn more about the Heroin is Here initiative please visit Reid Health's Heroin is Here page.