New wave of COVID-19 leads to reinstatement of hospital's surge plan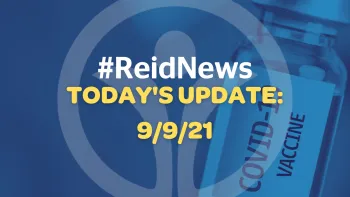 Sept. 9, 2021 -- It was just two months ago that the number of COVID-19 patients at Reid Health Hospital reached zero for the first time since the pandemic began. As recently as mid-July, the weekly average remained as low as two.
Today, the situation looks very different. Hospitalizations from COVID-19 have climbed quickly, leading to updated visitor restrictions and a reinstatement of Reid Health's surge plan as the hospital once again often finds itself on critical bed status.
As the number of COVID patients admitted to the hospital rises, more inpatient containment spaces are needed to care for them. That means moving some non-COVID patients with lower acuity or who are nearing discharge to temporary areas.
To facilitate such a move, outpatient IV and infusion therapy have relocated to Lingle Hall at the hospital, just as those services did last fall during another wave. The surge area created by the switch had 19 patients Thursday morning. Another overflow area on the hospital's sixth floor housed eight patients.
Just three beds were available in the Critical Care Unit.
Safety protocols that were implemented at the pandemic's beginning in Spring 2020 remain in place. Visitor restrictions that took effect recently include a limit of one visitor or companion in most situations and the need to wear a surgical mask instead of a cloth face covering, a new OSHA standard.
The changes are meant to ensure the safety of patients and their families whether they be at the hospital, their physician's office, having lab work done, or using any other Reid services.
Today's COVID-19 stats
Patients in containment areas: 69
Number of those patients who are unvaccinated: 59 (85.5%)
COVID-19 patients in the ICU: 13
Number of those patients who are unvaccinated: 11 (84.6%)
COVID-19 patients on ventilators: 11
Number of those patients who are unvaccinated: 9 (81.8%)
Tests submitted since last update: 300
Lab-confirmed positives since last update: 17 (5.7% positivity rate)
Suspected COVID-19 admissions in the past 24 hours: 20
Reid Health serves an eight-county area, including Wayne, Randolph, Henry, Union, Fayette, and Franklin counties in Indiana and Darke and Preble counties in Ohio. The statistics above represent patients from throughout the service area.
Life on the front line
Reid emergency medicine physician Emily Kraft, M.D., shares her experience of treating the influx of COVID-19 patients in our community.
Key reminders
You should never delay care. Previous surges have seen patients put off necessary care for emergent issues such as chest pain, stroke symptoms, appendicitis, and even symptoms of cancer. Delaying care can have life-altering consequences.
COVID-19 vaccines are free. They are safe. Make an informed decision by consulting sites such as the CDC and FDA.
Indiana residents can find vaccination sites and schedule an appointment by going to ourshot.in.gov. Ohio residents should use gettheshot.coronavirus.ohio.gov.
If you have questions, Reid's COVID-19 hotline is available seven days a week from 8 a.m. to 8 p.m. Call (765) 965-4200 to schedule a test, receive test results, and seek clinical advice, including about monoclonal antibody infusions.
Before you come to a Reid Health site to see a loved one or accompany them to an appointment, be sure to check out our latest visitor policy and screening procedures.
Surgical masks are required in all Reid Health facilities. Cloth masks are not acceptable. Reid will provide you with a surgical mask upon entry if needed.