Even if Omicron proves more mild, high rates of infection will still make emergency worse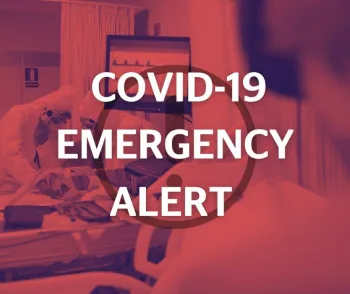 Jan. 4, 2022 -- Since the Omicron variant of the virus that causes COVID-19 was first reported in November, there has been a push to discover as much about it as fast as possible, including how quickly it spreads and how severe it is compared to other variants.
Today, we know Omicron is very transmissible -- even more so than the highly contagious Delta variant -- thanks in part to its ability to at least somewhat evade immunity brought on by prior infections and vaccination.
The severity of the illness caused by Omicron remains under study, but even if it proves to be milder than the Delta variant, Omicron's ease of spread is still expected to create another spike in cases, some of which will lead to hospitalizations at a time when health systems -- including Reid Health -- are already overwhelmed and in a state of emergency thanks to the Delta variant.
The CDC says data from South Africa and the United Kingdom show vaccine effectiveness against Omicron infection for two doses of an mRNA vaccine -- Pfizer and Moderna -- is about 35%. A booster dose moves that effectiveness against infection up to about 75%, but the vaccines continue to perform very well in protecting against severe illness, including hospitalization and death.
Federal health officials strongly encourage COVID-19 vaccination for everyone 5 and older and boosters for everyone 16 and older.
Although the vaccines are the most important layer of protection, even if you're up to date on your shots, there are other things you should be doing to help reduce the spread of the virus:
Wear a well-fitting mask over your nose and mouth in indoor public settings and crowded outdoor areas,
Avoid crowds and poorly ventilated areas,
Stay at least six feet away from others,
Wash your hands frequently with soap and water,
Get tested if you have symptoms or have been exposed to someone with COVID-19, and
Stay home if you're sick.
The COVID-19 vaccines are safe, effective, and FREE. Reid Health is giving out primary doses and booster shots at Lingle Grand Hall on the lower level of Reid's main campus in Richmond. Hours there are 6 a.m. to 5 p.m. weekdays and 9 a.m. to 1 p.m. Saturdays.
Indiana residents can find vaccination sites and schedule an appointment by going to ourshot.in.gov. Ohio residents should use gettheshot.coronavirus.ohio.gov.
Today's COVID-19 stats
Patients in containment areas: 71

Number of those patients who are unvaccinated: 49 (69%)

COVID-19 patients in the ICU: 13

Number of those patients who are unvaccinated: 11 (84.6%)
COVID-19 patients on ventilators: 9
Number of those patients who are unvaccinated: 8 (88.9%)
Tests submitted since last update: 264
Lab-confirmed positives since last update: 19 (7.2% positivity rate)
Suspected COVID-19 admissions in the past 24 hours: 25
Unvaccinated, as defined by the CDC, includes anyone who either has not received a dose or has received only the first of a two-dose vaccine.
Reid Health serves an eight-county area, including Wayne, Randolph, Henry, Union, Fayette, and Franklin counties in Indiana and Darke and Preble counties in Ohio. The statistics above represent patients from throughout the service area.
Key reminders
You should never delay care. Previous surges have seen patients put off necessary care for emergent issues such as chest pain, stroke symptoms, appendicitis, and even symptoms of cancer. Delaying care can have life-altering consequences.
COVID-19 vaccines are FREE. They are safe. Make an informed decision by consulting sites such as the CDC and FDA.
If you need to be tested for COVID-19, Reid offers drive-thru testing at 1200 Chester Blvd. in Richmond and at 2025 Virginia Ave. in Connersville. Appointments are required at both sites. The Richmond location is open 8 a.m. to 4:30 p.m. daily while the Connersville location runs 10 a.m. to 3 p.m. Monday through Friday. To schedule an appointment, call Reid's COVID-19 Hotline.
Those with risk factors for severe COVID-19 illness might qualify for an infusion of monoclonal antibodies, a treatment designed to help your immune system fight viruses. The infusion works best when given within a few days of the start of symptoms and can be given regardless of whether you've been vaccinated. For more information, call Reid's COVID-19 Hotline.
The COVID-19 Hotline staff can assist with scheduling a test, receiving test results, and seeking clinical advice. The hotline is open seven days a week by calling (765) 965-4200. Hours are 8 a.m.-5 p.m.
Before you come to a Reid Health site to see a loved one or accompany them to an appointment, be sure to check our latest visitor policy and screening procedures.
Surgical masks are required in all Reid Health facilities. Cloth masks are not acceptable. Reid will provide you with a surgical mask upon entry if needed.
Safe Pathways to Care: Learn more about COVID-19 and vaccinations