Centerville senior first to receive scholarship honoring Officer Burton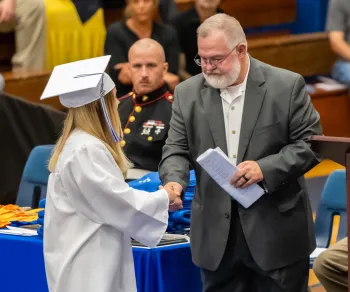 Centerville High School senior Elly Waters (left) receives the Officer Seara Burton and Brev Law Enforcement Scholarship by Reid Health from Reid Health Director of Engineering Jeff Cook during the school's Senior Honors Program on Saturday. Photo by DAJO Photos, LLC.
June 7, 2023 -- A Centerville High School senior who dreams of joining the FBI is the first recipient of a new scholarship that honors a Richmond Police Department officer who lost her life in the line of duty.
Elly Waters was presented the Officer Seara Burton and Brev Law Enforcement Scholarship by Reid Health during Centerville High School's Senior Honors Program on Saturday. The scholarship is a one-time award of $1,000 given to a graduating high school senior from Wayne County who plans to pursue a degree or certificate in law enforcement or first response.
The announcement was made by Reid Health Director of Engineering Jeff Cook, a Centerville alum who recently retired from the RPD reserves. Officer Burton's mother and stepmother, Jennifer and Ami Miller, were on hand for the presentation.
Waters plans to attend Butler University in the fall to double major in criminal justice and psychology with the hopes of one day working for the FBI. She was a member of the Centerville volleyball and basketball teams and is a member of the Fellowship of Christian Athletes. She's the daughter of Ryan and Amanda Chiddister.
"I've been inspired my whole life to help and protect others no matter what circumstances they're under," Waters said in her application essay. "I've always been intrigued by the criminal justice system and have no doubt in my mind it's the right fit for me."
The scholarship honors Officer Burton who was shot in the line of duty on Aug. 10, 2022. Described as a warrior, a hero, and a bright star, she fought for her life for 39 days before she died on Sept. 19, 2022.
Officer Burton was a Northeastern High School graduate. She joined RPD in 2018 and went on to complete the Indiana Law Enforcement Academy in 2019. She later joined RPD's K-9 squad with her partner, Brev.
Reid Health worked with the Wayne County Foundation to establish the endowed scholarship in Officer Burton's name to honor her selfless sacrifice to protect the well-being, safety, and way of life of everyone in the community.
"Through this scholarship, we wish to convey our deepest gratitude for Officer Burton's service to our community and to convey our most sincere sympathy to her family, the Richmond Police Department, and our first responder colleagues," said Craig Kinyon, Reid Health President/CEO. "We mourn with them and hope this scholarship helps Officer Burton's legacy live on through Elly and the students who will receive this award in the future."
"I've been inspired my whole life to help and protect others no matter what circumstances they're under. I've always been intrigued by the criminal justice system and have no doubt in my mind it's the right fit for me." -- Centerville High School senior Elly Waters