Right
beside
you.
YMCA Richmond - $2,960
Reid Community Benefit presented a check to the Richmond YMCA to help fund their Fitness-On-the-Go Program. Director Misty Hollis explains how this program holds exercise classes, like yoga and zumba, all throughout the city.
Community Food Pantry – $2,600
These funds are being used to help replenish food stocks.
Darke Co YMCA – Today - $5,700
These funds were donated to help initiate a new weight-loss management program at the facility.
YMCA of Preble County – $11,450
These funds were donated to provide a new diabetes prevention and LiveStrong program.
Gateway Hunger Relief Center – $5,000
This donation was made to continue running the facility, whose aim is to feed the community.
Gleaners – $7,500
Angela Cline of Reid Health Community Benefit visited Starr Elementary as Gleaners Community Food Bank dispersed healthy produce as part of their Drop & Go Program.
Wayne Co Cardinal Greenway – $11,780
Community Benefit presented the Cardinal Greenway with a check to support various programs, including their Bike Loaner Program.
Amigos – $2,930
Amigos, Richmond Latino Center was awarded a check for $2,930 to help fund a health fair they plan to hold in September.
Richmond Parks Dept – $4,600
The grant will help fund the various activities within the six-week program for students grades 1-6.
Diplomas – $3,500
Community Benefit of Reid Health visited Diplomas at Richmond High School. Angela Cline presented the program a grant award of almost $3,500 to support the work they do in caring for the health of teen mothers and their children.
Cope – $4,000
Angela Cline of Reid Health Community Benefit presented Cope Environmental Center a grant award to help support their new fitness program which allows participants to track their outdoor activities.
Richmond Parks Dept – $3,500
Reid Health Community Benefit presented Richmond Parks and Recreation a grant to support their "Get Healthy in the Parks" initiative. Get Healthy in the Parks program has many components including a walking club of 100 participants.
Richmond Parks Dept – $7,500
Among the construction at Middlefork Reservoir, Angela Cline presented Richmond Parks and Recreation a grant award to assist in the continued revitalization of the park.
Fayette Foundation – $7,000
Community Benefit was in Connersville to present members of the Fayette Foundation a grant award. The funds will purchase equipment for the future site of an all-inclusive playground at River's Edge Park. The playground will be for children as well as adults.
Discover Connersville – $2,500
A grant was awarded to help fund the Fresh-Up Bucks Program for the Connersville Farmer's Market in April. The program doubles the purchasing power for Snap beneficiaries who purchase goods at the market.
Richmond Farmer's Market – $9,350
Angela Cline presented Caleb Smith a check to help fund the Richmond Farmer's Market's Double Bucks Program. The program gives Snap beneficiaries double the purchasing power-being a win-win for community families and local farmers. Mayor Dave Snow was in attendance to acknowledge the Farmer's Market for being one of ten recognized nationally by the USDA for National Farmer's Market Week.
Council on Rural Service Programs – $4,500
Angela Cline of Reid Health Community Benefit visited the Council of Rural Service Program in Greenville, OH. The grant funds will go toward a new fitness program and curriculum for the organizations alternative school and after-school program.
Thump-Jumpers – $7,500
Angela Cline of Community Benefit presented Pam Kirk a grant of $7500 for the Thump Jumpers program. The program seeks to expand its reach to mor schools as it enlists students in the extracurricular team sport.
Birth to Five – $17,600
Angela Cline of Community Benefit presented Birth to Five a check of $17,600 to support their Parents As Teachers Program.
Hope Center – Connersville – $17,080
Angela Cline of Community Benefit visited the Hope Center in Connersville. She presented the clinic with a grant check of $17,080 to help replenish and sustain the center's Blessings Boutique. Clients of the center are able to purchase goods from the boutique after attending certain programs. Items include baby formula and hygiene goods.
Fayette Co. Community Voices – $21,000
Angela Cline and Community Benefit visited Fayette County Community Voices in Connersville to present a check of $21,000. The funds will help their summer program which enlists students grades 2-6 for several activities involving the wilderness. For summer 2019 they will focus on plant life.
B&G Club Wayne Co. – $15,000
Reid Health Community Benefit visited the Boys & Girls Clubs of Wayne County to present them a grant check for $15,000 to help support their Club Fit Program. The program focuses on physical activity and nutrition for their youth members. The Club had a special message for Reid.
A Better Life – Brianna's Hope – $4,500
A Better Life - Brianna's Hope is a statewide faith-based recovery program. Based in Portland, IN, the participant-driven organization provides hope through Christ to those impacted by addiction. The Richmond chapter was awarded $4500 to support its efforts in healing families and communities ravaged by substance abuse.
Achieva Resources – $10,000
For those in our community living with disabilities, Achieva Resources works tirelessly on their behalf. The agency works to serve their clients best interests. Whether its assisting in everyday tasks, to helping them maintain living independtly - Achieva's aim is to be the voice for those who cannot speak for themselves. Their grant of $10,000 will help fund staffing for their guardianship program.
Birth to Five (Healthy Families) – $12,900
Birth to Five caters care for families, focusing on children rendering and mothers. Their Healthy Families program focuses on smoking cessaton for mothers and mental health. Their grant of $12,900 will help fund this program.
Boys & Girls Club – $18,950
Boys & Girls Club of Wayne County has served the Richmond community for many years, gearing our youth to become bold leaders of the future. This year they received $18,950 in a grant to fund their Prevention Plus programming. This program aims to steer children from a life riddled with substance abuse.
Centerstone – $6,000
Centerstone is one of the premier mental illness treatment centers throughout Indiana. In Richmond they do their best to serve citizens of all ages who live with a mental disorder. The funds receieved through this year's grant cycle will equip the agency to initiate a program addressing depressiong among Medicare beenficiaries.
Cross Road Christian Recovery Center – $15,000
The Cross Road Christian Recovery Center is a site for women recovering from drug addiction. The faith-based center received $15,000 to aid in their fight to rebuild lives.
Hillcrest Baptist Church (Celebrate Recovery) – $750
Celebrate Recovery addresses addiction in the community on a local level. The faith-based group seeks to advance its serivecs with the grant it received from Community Benefit.
Home Is The Foundation – $2,000
HIT Foundation is a Eaton, OH-based agency with the mission: "Everyone in Preble County should have a decent place to live." Their focus is to curb the shortage of housing options in the rural Preble Co. area. Their grant of $2,000 will help fund their Senior Home Repair program.
Information and Referral Network (211) – $2,000
Connect 2 Help 211 is a resource database that non-profits and agencies utilize to be aware of the different programs providing services across the Eastern Indiana area. Their grant of $2000 will help fund support in several local counties.
IU East – $7,500
Indiana University East continues being a beacon of education and advancement for the East-Central Indiana area. A stepping stone for those who seek higher ground scholastically. But for some students, those steps are harder to maneuver. A grant of $7,500 will assist in partially funding a student advocate position to aid at-risk pupils from falling through the cracks.
JACY House – $12,000
JACY House is a local advocacy group which fights for child's rights against abuse. They create a safe space for victims and families to retreat in times of need and healing. The agency received $12,000 to continue its work in protecting the most vulnerable. These funds will support JACY's "Speak Up Be Safe" program.
Meridian – $5,600
Meridian Services administers programs to those suffering with addiction. In recent years these needs have intensified, making Meridian's demand as high as ever. The $5600 they were rewarded will help fund enhancements of their residential treatment program.
New Paris Community Food Pantry – $10,000
The New Paris Community Food Pantry is an entity that works out of a local church in New Paris. Pastor Jeff Ginter leads the group in offering many services to those in need. A new initiative from the program deals directly with the opioid epidemic. The group received $10,000 to purchase Narcan kits. These kits are a part of the pantry's certification process to become a Deaths Avoided with Naloxne (DAWN) site.
Open Arms Ministries – $2,675
Open Arms Ministries is a faith-based coalition of churches and other groups in the greater Richmond area. They provide need-based services with the intent to not only provide a need, but transform lives. They received a grant of $2,675 to assist in providing emergency assistance for families affected by drug-related incarceration or treatment.
Richmond High School – $2,000
Richmond High School health teachers saw the need to teach their students about the dangers of alcohol and substance abuse. To demonstrate how impaired one can become on these substances, they applied for a grant to purchase Fatal Vision goggle kits. These kits are used to show teen show their senses are limited when under the influence.
Senior Opportunity Services – $5,000
Senior Opportunity Services is a volunteer-operated agency that assists adults 55 and older in the workforce. Their services help serve the elder community in providing odd jobs to those who cannot handle big tasks on their own. Their grant of $5,000 goes toward their Homemaker & Handyman Program.
Whole Family Community Initiative (House of Ruth) – $27,500
House of Ruth is a transitional residence program assisting formerly incarcerated women. The grant awarded through Community Benefit will assist in their efforts in helping these women matricualte back into society. The funds will staff a fourth house which will house women and their children.
YWCA Genesis – $10,700
YWCA Genesis is a domestic violence shelter for women and children to retreat from harm. They provide services to help break the cycle, as well as outpatient counseling for women who are seeking aid. Their grant of $10,700 will help support the counseling services.
2017 Grants
Richmond Parks Sensory Playground, $25,000
A planned special "sensory playground" receives a major boost in the funds being raised with this grant, which will help fund a special "fall surface" in the facility to be installed at Clear Creek Park in Richmond. When complete, it will be the only such park within 75 miles, said Denise Retz, Richmond Parks Superintendent.
"The park will serve kids and families with physical disabilities or sensory issues that prevent them from using a regular playground," she said. It will also be a fun place for all kids, which will provide socialization activities for all of those who use the park.
Special sensory stations, play equipment and surfaces will also be enclosed, giving parents the ability to better manage supervision during play times. Clearly excited about the project, Retz said it will also create an opportunity to offer a special Just Us Kids Outdoors for kids with sensory development delays or other issues.
Boys & Girls Club, $19,100
The funding from this grant is all about promoting exercise, good nutrition and weight management in the process. Jenny O'Brian, Director of Healthy Lifestyles at the club, said the funds will help purchase sports equipment and also fund an evidence-based physical education and nutrition education program calls CATCH – Coordinated Approach to Children's Health.
The new curriculum, part of the Club Fit Program, will also reach extended family through the participants. "They consider the whole family," she said. She also cited the importance of Community Benefit to the outreach at the Boys & Girls Club and particularly to kids who would not normally be able to participate in the physical activities they teach. "The grants are important."
Diplomas, $3,600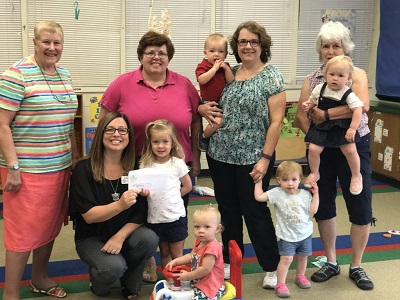 By supporting the child care program for teen moms still in high school, the funding also helps provide education on proper nutrition for mom, her baby and other family members, said Roxann McFarland, Diplomas Director. She said moms learn more about such important things as properly mixing formula, when specific foods should or should not be introduced to the child and when, for example.
Sue Routson, Diplomas Board Vice President, said the program depends on community support because state funding only provides about half what is needed to provide the child care and education services.
Girls, Inc., $6,250
Tammy Savoy, Executive Director of the Girls, Inc., said the funds bring the organization a step closer to being able to install playground equipment in an area already set aside at their new location on South 8th in Richmond. "It will be tying into the Girls Get Fit Program," she said.
Savoy said the partnerships like the one with Reid Health Community Benefit and others illustrate people working together on common goals. "It's very important to have partnerships in the community that support our mission and objectives, coming together to help satisfy the needs. When you invest in Girls, Inc., you are investing in your community."
Richmond Parks - JUKO, $7,750
Just Us Kids Outdoors (JUKO) has received regular support from Reid Health Community Benefit for the summer program that promotes physical activity and educational activities to more than 400 kids, said Denise Retz, Richmond Parks Superintendent.
Retz said the well-established six-week day camp is always full of activities and is provided free to participants. "We also provide field trips – and for some of them, it's the only summer vacations they get to have."
Gateway Food Pantry, $4,900
Linda White, pantry director, said that the funds will be used to purchase healthy food choice items and also a program in which they provide samples and recipes for how to prepare them for the at least 600 families they support each month.
"We got strawberries in one day and made strawberry granola," she said. She expects to be able to offer the sampling and recipe sessions at least twice a month at the pantry, which she noted is moving in October to 711 Sheridan Street in Richmond. "Without Reid Health's help and support, we can't do what we do," she said, noting that the recipes and sampling program helps educate on how to prepare healthy foods in the healthiest way.
Wayne County Cardinal Greenway, $11,450
Brian Schleeper, Wayne County District Director for the Greenway, said the grant funds will aim at encouraging people to be more active through biking, walking or running. Part of the grant will be used to establish a bike loaner program at the Cycling and Fitness Warehouse in Richmond, which is near a Greenway entrance downtown. "People will be able to borrow a bike and use the trail," he said. The bikes will be checked out using identification and by signing a waiver.
"We are also going to be purchasing some bicycle helmets to give to the people and also some pedometers to give to people so that people can keep track of their steps," he said, all of which is designed to encourage some type of physical activity. He said the plan is to also organize some running and walking groups next Spring to culminate in a special 5-K.
Richmond Parks - Farmer's Market, $8,900
Caleb Smith, Farmer's Market Coordinator for the Richmond Parks Department, said the funds will support a program that allows users of EBT cards to double the power of the funds at the market, making the purchase of fresh fruits and vegetables more affordable.
"The idea is to encourage people to buy more healthy, fresh food with better nutrition content," he said. "And it helps the market and the local economy." Denise Retz, Parks Department Superintendent, said the support is important to the program. "We couldn't do it with Reid Health Community Benefit. They continue to support a program that has a major impact on the people and the market."
YMCA of Darke County, $7,750
Sam Casalano, CEO of the YMCA of Darke County in Greenville, said the organization's first Reid Health Community Benefit grant will help expand its "very important" Diabetes Education Classes to reach more residents. "This is very important to us and responds to a community need," Casalano said.
The program involves eight weeks of classes offered free to participants who learn about diet and nutrition, exercise, monitoring and testing, foot and eye care, medication maintenance and making healthy choices. A physical activity aspect also provides a complimentary, two-month Y membership for those who complete seven of the eight classes. He said the program was launched three years ago, noting that it is led by health experts including physicians and dietitians.
Birth to Five, $14,000
The Reid Health grant to Birth to Five will help fund staffing for home visits for the Parents As Teachers program. Linda Irvin, program manager, said staff members conduct 100 home visits a month to help promote good nutrition and exercise.
Irvin said part of the current education program involves providing information about a food "rainbow" that focuses on the colors of the rainbow to encourage families to be sure to eat fruits and vegetables of numerous colors. "We talk about the rainbow and different colors of food." She said the staff is also using a book about Glen Miller Park as a way to encourage family exercise.
Gleaner's Food Bank of Indiana, $10,500
Max Browning, Grant Development Coordinator for Gleaner's, said the Reid Health Community Benefit funds will support provision of fresh produce for 19 mobile pantries in Wayne County. "And also it will support the market style pantries," Browning said. Joe Smith, Jefferson Township Trustee, said at a recent distribution in Hagerstown that their mobile pantry site alone program reaches up to 130 families a month.
"The need for the county is great," Smith said, just after completing a distribution in the rain at a Hagerstown church. Browning and Smith said the service touches other nearby counties as well.
Christian Charities, $3,500
The grant funds for Christian Charities will allow the purchase of "Uncrustables" sandwiches for the "Backpack Blessings" program, said Jon Richwine, President of Christian Charities. The program packs 2400 food bags that are provided as part of the program to six area schools.
The food bags are distributed at the end of the month six times a year. The timing is designed to ensure that participants have healthy food for weekend consumption at the end of these months when it is more likely that the home food supply could run low. He said the bags include two of the sandwiches, fruit and graham crackers.
Red Line EMS & Rescue, $3,850
Red Line's grant is aimed at promoting the health of its team and area volunteer fire departments by providing exercise equipment at their headquarters in Richmond. Travis Ulerick, Red Line Chief, said exercise can be challenging for crews who have long and unpredictable hours. "Heart disease is the number one killer of firefighters," Ulerick said.
The funds will allow them to purchase equipment including treadmills, elliptical equipment and weights that can be used during down time at the station. Team member Josh Taylor said eating healthy and finding convenient times to exercise is challenging. "It's definitely exciting that we will have a place to include a healthier lifestyle here where we spend the majority of our time."
Ulerick said the equipment will be available to his team, other county volunteer firefighters and family members.
Independent Living Center, $14,000
A program that helps provide ramps for people who are disabled has a major impact on reducing risks and helping avoiding potential mental health challenges that they can face, said Jim McCormick, CEO of the Independent Living Center. "One of the biggest challenges that people with disabilities face, particularly those recently acquired, is help to get them out of their home. In many cases, family members or caregivers have to carry someone up or down steps until a ramp is installed," he said.
He said the ramps can mean the difference in dispelling feelings of isolation and depression, sometimes making it possible for the person to come and go on their own rather than depend on others to get in and out of their home. "There's a really significant mental health component to this. There's a social and emotional side." McCormick said ramps can range in cost depending on the situation, noting that they are often able to provide portable aluminum ramps that range in cost from $500 to $700. "With the support of Community Benefit, we should easily be able to do 10 to 15 consumers."
Boys and Girls Club, $15,900
Jenny O'Brien, Director of Healthy Lifestyles for the Boys and Girls Club, said the grant's support of the "Prevention Plus" initiatives will help educate more than 300 kids and youth to prevent substance abuse. The funds assist with the "evidence-based" programs of Too Good For Drugs and Project Alert, that teach life skills designed to head off any tendencies to abuse drugs or alcohol. They also offer "Guiding Good Choices" which focuses on the whole family, O'Brien said.
The programs reach students both in the club and at area schools, she said, and are designed to head off abuse issues before they begin.
Unchained Praises, $16,200
For Susan Sexton-Wood, the Community Benefit grant means important work fighting addiction can continue to be offered at no charge. "It means I can continue to do full-time work to offer our services for free," she said, explaining that any cost can prove a major barrier for someone wanting help. Sexton-Wood has helped at least 100 people dealing with addiction begin plans for recovery.
She works with individuals and gets them connected to other organizations in the region, serving in some respects as their initial "case manager," said Angela Cline, Reid Health Community Benefit Specialist. Unchained Praises serves three counties — Wayne, Randolph and Fayette. Sexton-Wood's program involves scheduling education programs, doing presentations herself as a recovering addict, and one-on-one counseling.
Birth to Five, $10,000
Birth to Five will use their 2017 grant funds to support the Healthy Families program, which is currently serving approximately 60 households. Kendra Allen, Birth to Five Executive Director, noted that the grant also ensures service is not interrupted in periods where they have delays in state funding.
The Healthy Families program involves free weekly home visits and general support based on each family's individual needs and challenges. Staff members help with a range of situations, including the affects of addiction, smoking and other situations that can affect the family's health.
Open Arms Ministries, $8,275
Community Benefit grant to Open Arms will continue to allow the ministry to keep families at risk of eviction or losing utilities in their homes and get bills paid, said Sharlene George, executive director. She said she is thankful for grant funds that provide "critical" support for the organization.
"The grant funds give us stability," she said, noting that other sources of funding include church donations that are unpredictable. Open Arms works closely with other community organizations in their efforts to help families cope with the effects of addiction on the home. If a bread winner winds up in jail or without a job because of going into treatment, Open Arms works to be sure the family unit can remain together.
JACY House, $12,000
Amanda Wilson, Executive Director, said the Speak Up Be Safe prevention program "teaches kids that their body is their body," she said. "It also lets them know what happens to them is not their fault." Wilson said the program has been able to reach more than 4500 children with information aimed at preventing child abuse. Serving Wayne, Union and Fayette counties, Wilson said the support from Reid Health Community Benefit plays a vital role in a program that depends heavily on such support.
"Prevention dollars can be very hard to come by," she said.
Centerstone, $6,573
For Centerstone, the Community Benefit funds make it possible for certifying a Mental Health First Aid trainer and to provide resource education to veterans, their families and the community, said Thelma Chandler, Regional Director of Crisis Access and Military Services with Centerstone.
"Mental Health First Aid is evidence-based. This training breaks down stigmas associated with mental health and addiction, engages family members who suffer in silence and discusses risk factors that veterans and their families face," she said. Early identification and intervention in trauma and mental illness "will save lives and prevent future violence, addiction and additional public health challenges."
Hope Center, $1,000
Jennifer Young, Executive Director of the Hope Center in Connersville, said the support for "Guiding Good Choices" means more parents can receive training that teaches ways to reduce the risks their children will develop substance abuse issues. "We generally have anywhere from four to ten parents who want to go through the program," she said.
Young said there is "clear evidence" that parents' child-rearing practices and their values and behaviors as parents can have a major influence on their children learning to cope as teens and adults. "We emphasize the importance of involving parents in prevention," she said. The grant helps offset the cost of supplies such as paper and ink for the six-week course.
Connect2Help 211, $2,500
Shari Morgan, Director of Resource Development for Connect2Help 211, said funding sources like Reid Health Community Benefit help keep the organization able to offer services in the region. She described the 211 line as similar to a 911 for anyone that needs help "for anything like basic needs, food and shelter, up to crisis situations. We are here 24/7, and people always get a live answer," she noted.
Morgan said the organization gets some state support, but also depends on other grants and funding sources. "Reid Health has been a fantastic partner," she said.
A Better Life - Brianna's Hope, $7,000
Stacy Steele, co-facilitator of the Richmond chapter of the organization, said the funds will be used to help get those dealing with addiction into detox and treatment.
She said just one example of the program's efforts is a man they are trying to help now who needs to go into short-term detox before enrolling in a long-term treatment program that has a waiting list. "But all Richmond area chapters of the organization will be helped by the support," she said.
2016 Grants
Circle U, $11,250
For Circle U Help Center, the grant will fund an additional walk-in freezer to help that organization and other Circle U partners in what could be a good news/bad news situation. The good news: The organization needs more freezer room to help store an increase in food donations and with the grant, they can now get it. The bad news: A growing number of people need the help that Circle U provides by offering hot meals and groceries to the needy, said Eric Weiss, Circle U Executive Director.
"Without the grant, we would not be able to afford this freezer," Weiss said. "We have an increase in food to store, but also an increase in the people who need it." He said the freezer will also help with storage for food for Christian Charities, which also offers programs assisting the needy.
Girls Inc., $5,688
Teaching girls in the formative years the importance of physical fitness and taking care of their health is the goal of "Girls Get Fit" at Girls Inc. Tammy Savoy, Executive Director, said the program allows girls to be introduced to various sports, teaches them the importance of staying healthy and staying active. Lauren Lowhorn, program associate, said the agency's efforts have included a running club and other fitness education and activities.
Savoy said Girls Inc. depends on partnerships with other organizations, such as Reid Health and its Community Benefit program, to offer such programs. "Without these funds, we just couldn't do it."
Richmond Parks & Recreation JUKO, $7875
The Just Us Kids Outdoors program, which has been in existence for several years but expanded in the last two to three, relies on grants and donations. "This is a program that does not receive taxpayer dollars," said Denise Retz, Parks Superintendent for the city. The program benefits hundreds of kids every summer in outdoor activities that encourage kids to leave behind sedentary activities for outdoor fun and exercise.
"There are NO electronics allowed during the summer camp, Retz noted. She said it is also easy to measure its success through the numbers of kids it reaches each year. The department is always "excited and appreciative" of the support from Reid Health Community Benefit, she said. JUKO is a free, six-week long summer camp that fills half a day with activities such as swimming, field trips, talent shows and learning projects for children going into the 1st through 6th grades. The 2016 season benefited 362 campers.
Boys & Girls Club of Wayne County, $20,060
With more than 700 boys and girls coming through the doors daily at the Boys & Girls Club, the Community Benefit funds will have a major impact by supporting the Club Fit program, said Jenny O'Brien, Director of Healthy Lifestyles. The program uses fun activities to help teach good nutrition and healthy snacking. A recent example: Making a "monster" out of sliced apples and other healthy ingredients.
Bruce Daggy, Executive Director, said the club's longstanding partnership and support from Reid Health is having a definite impact on the health of regional youth through activities at three locations in Richmond and one in Hagerstown.
Christian Charities of Richmond, $19,500
The ability to better provide and transport refrigerated food to pantries in the community will be among the improvements with the addition of a freezer trailer for Christian Charities of Richmond, said Guy Guthrie, organization treasurer.
The freezer trailer will help protect the integrity of food that has to be kept cool or frozen for various programs, including the food rescue program, or to transport food to distribution points and events. "A lot of times, we are limited to just having coolers, or other methods of keeping food protected," he said. Christian Charities works with numerous organizations that either provide food to families through pantries or offer prepared meals. The freezer trailer will be especially beneficial to the successful Food Rescue program that saves leftovers from restaurants and makes them available to numerous shelters and organizations.
Richmond Parks & Recreation Farmer's Market, $6,000
Alisha Estabrook, who works with the Farmer's Market for the department, said the funds will help encourage families who receive Supplemental Nutrition Assistance Program (SNAP) funds to be able to get more for their money if they spend it at the Farmer's Market. This, in turn, helps promote better nutrition when families buy fresh produce and home-made items.
"This encourages them to check out the market and pick healthy foods," Estabrook said. The grant funds expand the purchasing power of the SNAP EBT cards at the market. Denise Retz, parks superintendent, said the program "has a nutrition impact all over it."
Community Food Pantry, $4,834
"All of the money will be used to purchase food," said Board President Eldon Harzman. The all-volunteer ministry serves thousands of area residents, he said, including 6,318 families in 2015. The Community Food Pantry has been in operation since 1982 and has a goal of providing food consistent with a balanced diet for at least three days for families in emergency situations.
Besides the support from Reid Health Community Benefit, the pantry is supported by volunteers from numerous area churches. The pantry's efforts include purchasing, transporting, storing and distributing food.
Wayne County Challenge, $2,800
The funds for Wayne County Challenge will help with training for the group's race timing system, used in multiple regional events to track participants, said Ashley Stephen, challenge chairman. "It's how we do the scoring of the races," he said, noting that the system indirectly benefits other organizations because of what he said is a generally more affordable annual fee that allows the use of the system.
The timing system involves chips that are attached to shoes and mats that record when the participant crosses over it. "Wayne County Challenge owns the equipment that each race uses," he said.
Achieva, $22,150
We would not be able to serve the numbers we are serving without the support of Reid Health Community Benefit," said Dan Stewart, President and CEO of Achieva. He said the significant support means being able to provide guardianship for people with mental illness or other mental health issues that sometimes causes them to be in dire situations that can even be life-threatening.
He noted a case recently of an elderly couple whose home had been condemned because they were unable to take care of each other or their home. "She was near death," Stewart said. Today they are doing well in professional care.
He said Achieva has served more than 100 people in the past year and have 91 clients currently in Wayne, Union, Fayette, Henry and Franklin counties.
Birth to Five, $21,525
Tai Muldoon, Development Officer for Birth to Five and Supervisor for the Healthy Families Program, said the program works with home situations with "multiple stressors," such as job issues, drug abuse or neglect, anger management and poverty. The program is designed to intervene and hopefully prevent potential child abuse or neglect issues that could create a need for intervention by Child Protective Services. "It's great to see that people understand there's a need to support programs like this," Muldoon said. She said four full-time workers are involved in the Healthy Families Program, with each one able to assist up to 25 families.
House of Ruth, $31,200
The Connersville-based ministry is nearing its seventh year of helping women 18 and older through an 18-month program to beat addiction. Sharon Cranfill, director, said the funds will help maintain quality counseling services and other administrative costs.
"It enables us to provide the in-depth counseling they need. And we have opened up an education center next door so that people who are struggling with addiction can set up counseling, participate in group meetings – it just gives us the ability to help more people," she said of the Community Benefit support. The program has assisted about 75 women since it opened, she said.
Cross Road Christian Recovery Center, $22,500
Wendy and Tom Canon see great need in their ministry and outreach, including a growing need to help addicted mothers who give birth to addicted babies. Wendy Canon is Executive Director of Cross Road, and Tom Canon is President/CEO of Shepherd's Way Christian Ministries, of which Cross Road is an outreach. "For two consecutive years we have been among the recipients of Reid Health's Community Benefit Grant. Reid's recognition of the validity and success of our program is invaluable to us," Tom Canon said.
"This year's grant was given to sustain and expand our Cross Road Program's ability to serve the needs of our community, providing high quality residential drug and alcohol recovery services to women. Reid Health has recently increased its focus on women who deliver babies addicted to substances," he added, noting that services are free to the women enrolled in their program. "We as a community can be grateful that Reid Health chooses to operate as a non-profit thus freeing them to give back to our community in such substantial and meaningful ways."
Richmond Police Department, $10,000
James Branum, Richmond Police Chief, said the grant makes it possible to add a third police dog and train a handler to provide coverage on all shifts. He noted the canine program means more than just fighting to get illegal drugs off community streets.
"Our canines are cross trained," he said, noting that they are not just trained to track drugs and criminals from crime scenes. "We would use them to track in case where someone robs a store and runs on foot," he said, and to sniff out drugs. They are also used in other ways to benefit the community, such as if someone wandered from a nursing home or a child was lost. "The dogs benefit the community in ways that I think people don't realize."
Circles® Whitewater Valley, $3,000
Circles® Whitewater Valley will use its first Reid Health Community Benefit grant to of $3,000 to help recruit motivated participants for its program to help people out of poverty. "This will cover materials and other expenses for two participant recruitment events with local mental health centers," said Dana Sinclair, Community Outreach Coordinator for the Natco Community Empowerment Center, which administers the program.
She said Circles is a nationwide movement that works to end poverty by providing added assistance to people already taking steps to improve their lives. "This allows us to reach individuals who can truly benefit," she said, noting that the program seeks "highly motivated individuals," including those who are recovering from substance abuse or receiving treatment for other mental health issues — and give them added support.
Hope House, $10,000
For Hope House in Richmond, Community Benefit support like the program's recent $10,000 is a "critical factor" for the program that helps men dealing with addiction and homelessness. "It's not just the money," said Guy Guthrie, Hope House board member. "At the same time, it tells us that the results we are seeing and the service we provide are valued by both the community and Reid Health."
Hope House opened in 2001 and averages from 30 to 35 men in the program, which includes a residential addictions program and homeless shelter. "We've had as many as 50 out there," he said. The recent grant is to help with extra staffing costs when the shelter moves to a new location, hopefully by year's end, Guthrie said.
Boys & Girls Club, $10,000
Reaching and teaching kids about the risks of drug abuse is what the "Prevention Plus" program is all about and how the organization's recent $10,000 grant will be used, said Stacey Steele, Director of Grants and Program Assessment at the Boys & Girls Club.
"This is an umbrella of prevention programs we will be able to offer our members and other youth in our county," she said. "We are looking to reach some additional youth with partner agencies, and this also helps fund the curriculum costs and other things," she said. "The more kids we can reach and the earlier we can reach them, the better chance of them refraining from using."
Centerstone, $10,500
"At Centerstone, we believe that play is the natural language of children and that all healthy children play," said Beth Rodriguez, Director of Advancement for Centerstone of Indiana. "However, when a child is exposed to trauma through abuse and neglect caused by domestic violence or parental substance abuse, significant and potentially long-term damage is done," she said.
The organization's grant will fund supplies for Mobile Play Therapy kits that provide evidence-based and best practice tools to be used by therapists and family support specialists in the field. The kits contain therapeutic books, life skills training materials, games, toys, art materials and senory items that allow a child to express trauma and emotions through play. Meagan Terlap, Regional Director of Child and Family Services for Centerstone, said the grant provides the organization the opportunity to better equip therapists. "Research shows again and again how beneficial play is in helping children heal from effects of trauma, which represents the huge majority of the children and families we serve."
Drug-Free Wayne County, $6,100
Stacey Steele, Executive Director for Drug-Free Wayne County, said the funds will be used to set up training for those involved in working to fight substance abuse in the region.
The training will be offered through the Indiana Prevention Resource Center out of Indiana University in Bloomington. Steele said Drug-Free Wayne County is ramping up to do more to help face the community challenges from addiction and abuse. "Sometimes it is hard to find support and hard to know here to go," she said. "Hopefully, more can continue to be done in the community."
JACY House, $11,250
Amanda Wilson, Executive Director, said the continuing support from Reid Health Community Benefit for the Speak Up Be Safe effort at the JACY House has allowed the program to expand in the region. The child advocacy center teaches child abuse prevention in area public and private schools. "We are now expanding and offering the classes on a regular basis to Fayette County. Last year, we expanded into the middle and high school and this year will do pre-K through 12th grade in Wayne, Union and Fayette counties."
Wilson, who was speaking from a national conference in Dallas, said she had just heard a sobering statistic from a presenter: that the cost of child abuse in the United States is $258 million per day because of mental health and addiction issues that abused children face when they grow up as a result of the abuse. "Our hope is to prevent children from being abused, which will have long-term positive effects on our economy and our society," she said. Community Benefit support means more attention can be focused on their mission, rather than fund-raising. "They have been gracious enough to support us for several years now."
Journey Home Shelter, $12,500
James Garringer, Executive Director at the Journey Home Shelter, said the funds from Reid Health Community Benefit will help cover the costs associated with having a licensed clinical social worker and a case manager to work with the homeless combat veterans in the program. "We also have medical needs. Our guys need medical support, supplies, medications," he said, also citing the critical importance of community financial support like what the organization has received from Reid Health and others.
The home was established in 2014 to specifically serve combat military veterans after a spate of veteran suicides in his county. Garringer said his research has found there are few organizations "that even come close" to doing what the Winchester program does for the men it serves, often helping them transition from being treated by VA facilities before coming into the Journey's transitional housing program. "Many of our veterans have not had the social skills or daily activities that help them keep going with life."
Meridian, $7,300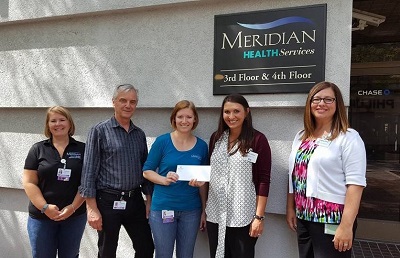 Meridian's first Community Benefit grant will support the costs of a program that makes an interdisciplinary team available to work with the most needy mental health clients served by Meridian, said Nichole Carr, Program Manager for Wayne County Adult Services.
The funds are for the SCIT program – Specialized Community Intervention Team. The SCIT program offers 24/7 on-call services that can help the patients with interventions, which in turn can keep them from ending up in the hospital in the event of a crisis. "The entire program is grant funded," she said, which makes such support so vital in keeping it available. "What a great way to partner with Reid!"
Open Arms Ministries, $7,825
Community Benefit grant to Open Arms will help to keep families at risk of eviction or losing utilities in their homes and get bills paid, said Sharlene George, executive director. She said when a family member is incarcerated or goes into treatment, it sometimes wreaks havoc with the family unit because of financial stresses.
"If someone doesn't help keep them in their current home, it can become a whole breakdown of the family unit. The kids are taken out of school and may end up in foster care," she said.
She said the complications can also make it more difficult for the substance abuser when they return from incarceration or treatment. "They have no home to come to … starting over becomes more difficult. We are not enabling them, but walking next to them so they can grow into a healthier lifestyle."
YWCA Genesis, $10,000
Becky Studebaker, who has spent 15 years as executive director of the YWCA/Genesis program, said she has found that sexual assault and addiction issues are often also involved in cases of domestic violence, which has always been the priority for the Genesis program's outreach. The most recent Reid Health Community Benefit grant will provide funds to help pay for the costs associated with sexual assault support groups, substance abuse programs and curriculum for these efforts.
"Community support is a critical part of our programming," Studebaker said. She cited increases in cases of sexual assault in the state and locally, and said more resources are always needed to help victims. "We are not as a community providing enough services for victims or for prevention," she said. "Community funds are highly important to continue what we are doing here and to offer new or needed additional services."
Unchained Praises, $12,250
For Susan Sexton-Wood, fighting addiction in the region is extremely personal. As a recovering addict, she knows first-hand the importance of having access to help that can be offered quickly and at no cost. The Community Benefit grant, which helps support her salary as executive director, speaking engagements and other program expenses, makes it possible for her to work directly with addicts and those affected by the addiction of loved ones.
"We do events 12 times a year," she said, bringing in a range of speakers including recovering addicts, law enforcement, children of addicts and others. "We try to show at the events the different aspects of what addiction does to the family and the whole community." Sexton-Wood traces her road to recovery when she woke up and found her fiancé deceased from an overdose in 2011. Though she got worse before she got better, she said having someone available quickly and at no cost is key. In her role, besides scheduling programs, doing presentations herself and one-on-one counseling, she also spends some of her time helping at Crossroad, another Community-Benefit supported program of which she is a graduate. "If you choose recovery, your life changes. If you don't choose recovery, you can die."
First Cycle Area 9 — $22,563
Area 9 Agency helps senior citizens and those with disabilities remain independent at home by connecting them with needed services, from home health care to Meals on Wheels. But sometimes, people who need help don't qualify because their income is a little bit too high, or their insurance doesn't cover the cost. That's where funding from the Reid Health Community Benefit program comes in, according to Beth Evans, Agency 9's director of community programs. "These types of clients typically need something like an automated medication dispenser or a medical alert system installed in their home," she explained. "These are small services, but can make a big impact for someone who lives at home and wants to remain independent. This funding will help us establish a care plan for these clients and make sure they get the help they need."
Birth to Five — $22,500
Birth to Five provides home visits, health screenings, parenting groups and much more to help young children in Wayne County reach their full potential. A grant from Reid Health Community Benefit will help the organization's "Parents as Teachers" (PAT) program serve more families in the coming year. "PAT provides free monthly home visits focusing on physical, social and cognitive development until the child turns three years old—after that, visits take place every other month," said Linda Erwin, PAT program manager. "The grant will allow us to serve many more families, starting with those who have been on our waiting list for a while. Reid Health always has been so supportive of Birth to Five, and we are thankful to have their partnership. Together, we are really making a difference in our community."
Communities in Schools — $18,750
Communities in Schools provides children throughout Wayne County with the support they need to stay in school. Site coordinators have "office hours" at almost all schools in Wayne County, talking to students and providing everything from notebooks and pencils to weekend meals and toiletries. "We provide some services ourselves and work with many local organizations that provide ongoing support," said Becky Murray, executive director. "So many children live in poverty in Wayne County, and without funding from Reid Health Community Fund and other local donors, we just couldn't meet their needs."
Diplomas — $10,800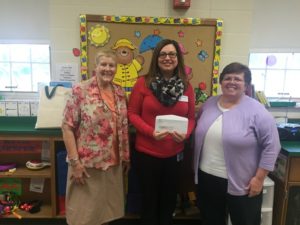 For 22 years, Diplomas has operated a licensed childcare center at Richmond High School. Community support makes it possible for the center to take care of up to 26 babies at a time, allowing parents to finish their high school education. The program is committed to helping participants maintain their grades, obey school rules and not become pregnant again while in school. "Funding from the Reid Health Community Benefit Program will cover the cost of keeping three babies in the nursery for one school year," said Sue Routson, co-founder and board vice president. "Reid really understands our mission and is a great partner for us as we care for the babies and help their parents graduate on time and become independent, productive adults."
Home is the Foundation — $10,000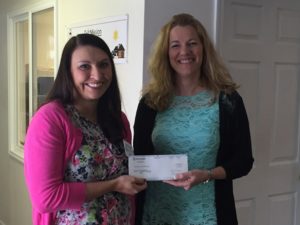 Home is the Foundation provides safe, affordable housing options in Preble County, Ohio. For some older clients, this can be as simple as making a few repairs to their existing home. "It's amazing what people will live with in order to remain in their home," said Heidi Bortel, senior repair home program manager at HIT Foundation. "In some cases, they will go without hot water or ignore a leaky roof if they don't have money for a repair.
"The grant from Reid Health Community Benefit will help us pay for repairs to keep clients safe, warm and dry."
Hope Center — $20,163
Hope Center is a pregnancy care center in Connersville that provides pregnancy tests, ultrasound, limited obstetric care, parenting education classes, a baby boutique and free testing for sexually transmitted diseases (STDs). The Reid Health Community Benefit grant will help pay a part-time nurse and cover some administrative costs to provide medical services, including the STD tests. "Since January 2015, we have provided 560 tests for sexually transmitted diseases, completely free of charge," said Marla Steele, executive director of Hope Center. "This service attracts a lot of people to our center, and gives us an opportunity to talk with them about preventing sexually transmitted diseases through practicing abstinence and making life-affirming decisions about their future."
Independent Living Center of Eastern Indiana — $14,000
Independent Living Center of Eastern Indiana (ILCEIN) helps people with significant disabilities lead as independent a life as they choose so they can remain in their homes. In the last three years, the organization has provided wheelchair-accessible ramps for 42 homes; funding from the Reid Health Community Benefit program will help the organization go deep into its waiting list of 28 more.
"This funding is a huge shot in the arm for our program, and will allow us to do a lot of significant work for people in our seven-county service area," said Jim McCormick, chief executive officer. "We just can't thank Reid enough for believing in us!" McCormick added that his organization uses contractors and volunteers to construct permanent wooden ramps and assemble portable aluminum ramps, depending on the client's needs.
Information and Referral Network (211) — $12,500
Indiana's 211 system provides comprehensive information and referrals to Hoosiers in all of the state's 92 counties—24 hours a day, seven days a week. Operators undergo 200 hours of training to provide callers with information about local services and organizations—everything from where to find a food pantry to how to file taxes. They even answer the state's suicide hotline. "Last year, the 211 system answered 285,000 calls, but we know that over 100,000 people who we put on hold hung up before we could help them," said Shari Morgan, director of operations at Connect2Help 211. "Gifts like the one from Reid will help us expand our staff so that we can reduce our wait times and help more people."
Indiana Women in Need (IWIN) — $5,000
Indiana Women in Need provides grants to women who are going through breast cancer treatment, with the goal of helping them enjoy a high quality of life in the midst of a medical crisis. Grants range from $250 to $500, and can cover anything from groceries and gas money to childcare costs. Funding from the Reid Health Community Benefit program will provide 20 women with grants. "These funds can relieve some of the stress that women experience in the course of breast cancer treatment," said Nancy Shepard, executive director/founder of IWIN. "This can allow them to continue working, stay engaged with their friends and family, and simply enjoy life more. Grant recipients really benefit from our program—in fact, 96 percent rate it as excellent, and the other four percent as good."
Senior Opportunity Services — $20,000
Last year, Senior Opportunity Services (SOS) was able to provide about 100 seniors and people with disabilities with homemaker and handyman services. This year, thanks to a grant from Reid Health Community Benefit, the organization hopes to help everyone on its waiting list of 80 people, and maybe even more. "It's going to be wonderful!" said Vicki Brimm, executive director. "Each client can get up to eight two-hour visits, and we can do everything from light housekeeping, carpet cleaning, laundry and handyman projects. These are the kinds of things that can seem overwhelming for people, so what we do makes a real difference."
Sunrise — $8,385
Sunrise Inc.'s therapeutic horseback riding program has been promoting the well-being of physically, mentally and socially disabled people since 1980. Now, thanks to funding from Reid Health Community Benefit, the organization will launch the VETS program, which will provide therapeutic riding services for any military veteran with a disability. Monies will be used to help pay the organization's certified instructor. "Research shows that equine-assisted therapy can benefit people with traumatic brain injuries, post-traumatic stress disorder and other injuries that our military experience," said Janice Edelman, board member/treasurer. "Our program has done so much for people over the years, and we are very excited to provide this therapy free of charge for our veterans—they have already sacrificed so much for their country."
2015 Grants
Boys & Girls Clubs of Wayne County — $33,750
Talk about healthy competition! A program called Club Fit, sponsored by Boys & Girls Clubs of Wayne County, gives kids the opportunity to earn points as they participate in fitness and nutrition activities. At the end of the program, those who accumulate the highest number of points get to participate in a fitness-related field trip. "This grant will help pay for personnel, materials and incentives for Club Fit, and we really appreciate it!" said Stacey Steele, director of grants and program assessment for Boys & Girls Clubs of Wayne County. "We expect about 300 people to participate in Club Fit this year, and think it has the potential to help kids make healthy habits part of their everyday lives."
Centerville Playground Committee—$11,403
Centerville, Ind., is a vibrant community, but you wouldn't have known it from looking at its downtown playground a few years ago. "That playground was old when I was little!" said Jessica Maule, a mother of four who now serves on the Centerville Playground Committee. "We are bringing new playground equipment to the park, thanks to donations from residents and local organizations. In August, we completed phase one, which included installing equipment for kids ages eight to 12. The money we received from Reid Community Benefit program will help pay for phase two—swings and other equipment geared toward younger children. We are so excited about this grant and what it will mean for kids in Centerville!"
Community Food Pantry — $7,623
Last year, Community Food Pantry served 143,523 meals to 15,947 people. That kind of generosity just wouldn't be possible without the support of the community. More than 100 volunteers, leadership from 24 local churches, and gifts from many organizations keep the pantry going strong year after year. "With a referral, families can come to the pantry once a month and receive enough food for nine meals," said Eldon Harzman, president of the board of directors. "The need for this service continues to grow in our community. We will use the Reid Community Benefit grant to pay for staples, such as dry goods, frozen meat and eggs. These will supplement what we collect through food drives and receive from other organizations."
Gateway Food Pantry — $12,262
One Saturday morning a month, Gateway Food Pantry opens its doors and provides healthy food for as many as 400 families. Funding from the Reid Community Benefit program will support the pantry in a variety of ways. "We are going to purchase two computers, which will help us with bookkeeping and other tasks—we've never had that before," said Linda White, director of the food pantry. "We are also going to purchase new tables. But what's really a delight is that we can use the money to purchase fresh vegetables, cheese and meat. Also, we are going to start providing recipes that include ingredients people receive from our pantry. This will help them prepare healthy dishes for themselves and their families."
Girls Inc. of Wayne County — $5,520
Girls Inc. of Wayne County is helping girls embrace a healthy lifestyle through a program that features physical activities and nutrition and wellness education. Girls Get Fit is offered after school and during the summer for girls ages six to 14, and is designed to help them establish a foundation for lifelong health. "We're so thankful for the generous support we received from Reid Community Benefit program," said Beth Harrick, executive director of Girls Inc. "Girls Get Fit helps girls experience how regular physical activity benefits their bodies, reduces stress and improves self-esteem. This program helps them understand what their bodies are capable of doing while they have fun at the same time."
Noah's Ark Daycare — $3,200
When exercise is fun, kids will do it! And at Noah's Ark Daycare, exercise is about to get a lot more fun. A gift from the Reid Community Benefit program will pay for exercise equipment that kids will use in the daycare's large gym, including bicycles, basketball hoops, balls, jump ropes and much more. The daycare serves about 100 children ages six weeks to 12 years old. "Some of the money will help us purchase equipment that will allow kids with physical challenges to participate in activities," said Paula Murphy, director of operations at Noah's Ark. "We are really, really excited about getting this grant. Especially with winter coming! Our kids won't feel as cooped up with so many fun things to do in the gym."
Richmond Friends School — $13,500
At Richmond Friends School, kids have outdoor recess and physical education class every day. With that kind of emphasis on physical fitness, the school wanted to replace its old, wooden play structure with equipment geared to challenge and engage students of all ages, said Head of School Marcie Roberts. "We consider physical activity to be integral to a student's emotional, spiritual and academic development, and this new equipment will be a dynamic addition," Roberts said. "Next school year, we'll be adding seventh and eighth grade students to our K-6 campus on Main Street. The new equipment will be installed next summer—I can't wait to see the kids' reactions when they get to school in the fall!"
Richmond Parks and Recreation — $7,500
Funds from Reid Community Benefit program will support JUKO, a summer camp sponsored by Richmond Parks and Recreation. Short for "Just Us Kids Outdoors," the six-week camp gives kids in first through sixth grades new experiences and keeps them active. "This grant means that instead of worrying about how to fund JUKO, I can focus on making sure our camp is so much fun that kids have their best summer ever, " said Alisha Estabrook, community recreation coordinator for the Richmond Parks and Recreation Department. "With 250 kids participating in this camp every summer, costs add up! The money will pay for arts and crafts supplies, field trips, transportation and service learning projects."
Richmond YMCA — $4,200
Childhood obesity rates are rising in our region, and that means our children are at risk for conditions such as diabetes and heart disease. Richmond YMCA has created a new program, "Y Youth Fit," for kids ages 10-14 who are overweight and/or prediabetic. The YMCA will begin the six- to eight-week program as a pilot in January. "We wanted to help these kids tackle the problem from a lifestyle format instead of just focusing on exercise routines," said Misty Hollis, executive director of the YMCA. "We are going to start with 16 kids, and introduce them to all kinds of fitness activities, from dodgeball and yoga to kickboxing and basketball. They will also participate in regular workouts and learn about nutrition. If the program is successful, we hope to expand it in the future."
Thump Jumpers — $4,820
There's jump roping. And then, there's Thump Jumpers! This high-energy group, based at Hibberd Intermediate School, performs at local schools with exciting routines that feature jump ropes, pogo sticks and a whole lot of energy. Funding from the Reid Community Benefit program will help pay for new uniforms, workshop participation, equipment and a jump rope for every child who attends a Thump Jumper performance. "Last year, the team included 43 kids in third through eighth grade, and kids jump their little hearts out to get on the team," said Pam Kirk, physical education teacher at Hibberd and coordinator of Thump Jumper. "We touch a lot of lives when we perform, and I follow up with schools to see if kids are using the jump ropes we give them. They are! What a great way to fight childhood obesity, one kid at a time."
Wayne County Cardinal Greenways — $25,795
Trail season 2016 is coming, and if everything goes according to plan, Wayne Country Cardinal Greenways will have a new fitness area at Industries Trailhead, located at Industries Road in Richmond about ¼ mile from the Union Pike Trailhead. "The funds we received from Reid Community Benefit will help pay for fitness stations at the trailhead, including a balancing beam, pull-up bar, sit-up board and maybe even monkey bars," said Denise Retz, director of Wayne County Cardinal Greenway. "We feel like this will become a fun destination for families who ride or walk on the trail. Cross-country teams and members of the military already train on the trail. This will be just one more reason for people to enjoy Cardinal Greenways!"
Achieva Resources -- $37,425
The funds are to support 50 individuals through the guardianship program. "This grant means so much to us because it is going to allow us to expand and do things that we just couldn't do," said Dan Stewart, President/CEO for Achieva. "It's going to allow us to expand our program and grow by at least 30 to 40 actual guardianships," he said, noting that his organization is in demand to assist individuals with many specialized needs. "We keep people in a safe place, with quality health services and support."
Boys and Girls Club-- $11,250
Stacey Steele, Director of Grants and Programs at the Boys and Girls Club, said the money will help facilitate drug and alcohol prevention programs for members age 6 and older. She noted the grant will help get services expanded back into Union County, besides helping kids in Wayne County with education and program materials. "We appreciate the personal support of the Community Benefit team," she said.
Cross Road Christian Recovery -- $17,909
"Our goal and vision is how can we help serve more women," said Wendy Canon, Executive Director of the program that helps women struggling with drug and alcohol addiction. "With this grant, that's a fulfillment of that vision for us." Cross Road offers a four-month recovery program, involving classes, life skills training and mentoring. The grant will specifically help them with more introductory classes to provide a better transition into the long-term portion, and allow them to offer services to more women.
Open Arms Ministries - $7,500
The funds will provide emergency support for families affected by incarceration and substance abuse. "The day they came down with the check, we had two people come in that fit right into that category," said Sharlene George, organization executive director. "It was awesome!" She said Open Arms Ministries serves those living in poverty in many ways, with core services of "helping prevent evictions, utility disconnects, emergencies with medications." The issues often relate to a breadwinner either being incarcerated or in treatment for addictions, which are also often behind the incarceration. "This grant will be focused specifically for those families. It's an enhancement to the number of people we are able to serve."
JACY House -- $15,000
JACY House, a child advocate center, will use the grant to help with "Speak Up, Be Safe," which teaches child abuse prevention to children, according to Amanda Wilson, Executive Director of JACY House. The program is operated through area public and private schools. The grant will help with expanding the program to from Pre-K through 6th grades to Pre-K through 12, she said. "We are the only program in this region that does this education," she said.
The Journey Home -- $17,250
The Journey Home Shelter in Winchester, IN, provides mental health and substance abuse services to veterans. James Garringer, Executive Director, said the Community Benefit Funds will allow taking a part-time case worker to full-time to meet the need. The transitional facility works with veterans with to get them established with jobs and a place to live. "They learn more about themselves and what they are capable of doing," he said.
Whole Community Family Initiative Inc. -- $47,970
Sharon Cranfill, Director of the Connersville-based House of Ruth program, said the grant will allow them to expand education and outreach to families from a program that has been more focused on women with addiction issues. "It is vital," she said, noting that the grant and other developments will make it possible for education and focus to reach families, not just the women in recovery. "We will actually be able to better help the entire family," she said.
Youth as Resources -- $7,500
"Our heartbeat is about funding and empowering students to make a difference in the community," said Executive Director Erin Ferguson of Youth as Resources. "This grant is major because it allows the support of a youth summit in September that educates elementary and high school students about the harm caused by tobacco. She said the summit will involve a main speaker who worked in the industry and learned first-hand of efforts to target young people with harmful products.
YWCA-Genesis -- $20,000
Rebecca Studebaker, Executive Director of the YWCA-Genesis program, said the grant "makes a huge difference for us." Genesis services victims of domestic violence and sexual assault, and also the homeless when there is space. "The Reid Health dollars allow us to do many things – unexpected expenses, feeding people and other needs associated with operating the program.
Birth to Five — $16,875
In support of their Parents as Teachers program for developmental and health screenings with home visits.
Communities in Schools — $18,750
To fund the salary of site coordinators, training and supplies.
Diplomas — $5,400
To support childcare for up to 26 infants and toddlers and for up to 52 teen parents who are students of Richmond High School.
Hope Center — $23,000
To fund the salary for a nurse manager, insurance costs, education and miscellaneous expenses.
Indiana Women in Need (IWIN) — $3,750
For their Survivor Support Program which includes childcare, meal preparation, transportation and housekeeping for up to 30 women in our service area dealing with the diagnosis and treatment of cancer.
Information and Referral Network, Inc. — $12,500
To assist in the expenses for their resource call center that supports Wayne, Fayette, Union, Henry and Randolph counties.
Victory Lane Camp — $10,000
To fund a video production for training the volunteers of special needs families.