Why should I have my child vaccinated for COVID-19?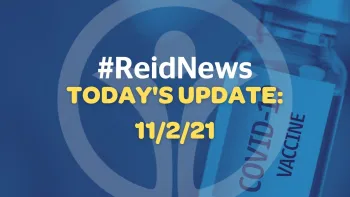 Nov. 2, 2021 -- With children as young as 5 years old expected to soon be eligible for COVID-19 vaccinations, many parents are likely considering the same question: Should I take my child to get vaccinated?
According to the U.S. Centers for Disease Control and Prevention (CDC) and groups such as the American Academy of Pediatrics (AAP), the answer is "yes."
Although COVID-19 infection has typically led to less serious illness in children than adults, they can still get sick -- sometimes severely or even deathly so -- and they can pass it along to others who might be more vulnerable to the virus such as older family members, caregivers, teachers and staff members at their schools, or even others their own age who might be immunocompromised or have other underlying health conditions.
Getting your child vaccinated not only protects themselves but also your family and all those who come into contact with your child.
So far, the only COVID-19 vaccine approved for those younger than 18 is Pfizer's product, which is safe and effective. Typical side effects are the same as those experienced by adults -- including arm soreness or redness, headache, muscle pain, tiredness, and chills -- and they usually go away within a few days.
There have been rare cases of heart inflammation called myocarditis and pericarditis in children and young adults who have received the Pfizer or Moderna vaccines, but according to the AAP, the risk for inflammation is much higher from COVID-19 infection than from the vaccine.
For the few who have experienced myocarditis or pericarditis after vaccination, most of those who received care responded well to medicine and rest and felt better quickly, according to the CDC.
Some other common concerns from parents include:
Can my child get COVID-19 from the vaccine? NO. None of the authorized vaccines contain the live virus that causes the illness, which means the vaccines cannot make you sick with COVID-19.
Will I have to delay my child's other vaccinations? NO. The COVID-19 vaccines can be given at the same time as any other vaccines, including the flu shot.
Will the vaccine affect my child's future fertility? NO. There is no evidence that any vaccines -- including the COVID-19 vaccines -- cause fertility problems now or in the future.
FREE vaccinations are available at a number of nearby locations. Indiana residents can find sites and sign up for an appointment by going to ourshot.in.gov. Ohio residents should use gettheshot.coronavirus.ohio.gov.
Today's COVID-19 stats
Patients in containment areas: 28
Number of those patients who are unvaccinated: 22 (78.6%)
COVID-19 patients in the ICU: 7
Number of those patients who are unvaccinated: 6 (85.7%)
COVID-19 patients on ventilators: 5
Number of those patients who are unvaccinated: 4 (80%)
Tests submitted since last update: 223
Lab-confirmed positives since last update: 14 (6.3% positivity rate)
Suspected COVID-19 admissions in the past 24 hours: 12
Unvaccinated, as defined by the CDC, includes anyone who either has not received a dose or has received only the first of a two-dose vaccine.
Reid Health serves an eight-county area, including Wayne, Randolph, Henry, Union, Fayette, and Franklin counties in Indiana and Darke and Preble counties in Ohio. The statistics above represent patients from throughout the service area.
Key reminders
You should never delay care. Previous surges have seen patients put off necessary care for emergent issues such as chest pain, stroke symptoms, appendicitis, and even symptoms of cancer. Delaying care can have life-altering consequences.
COVID-19 vaccines are FREE. They are safe. Make an informed decision by consulting sites such as the CDC and FDA.
Those with risk factors for severe COVID-19 illness might qualify for an infusion of monoclonal antibodies, a treatment designed to help your immune system fight viruses. The infusion works best when given within a few days of the start of symptoms and can be given regardless of whether you've been vaccinated. For more information, call Reid's COVID-19 Hotline.
Reid's COVID-19 Hotline staff can assist with scheduling a test, receiving test results, and seeking clinical advice, including for monoclonal antibody treatment. The hotline is available seven days a week by calling (765) 965-4200. Hours are 8 a.m.-5 p.m.
Before you come to a Reid Health site to see a loved one or accompany them to an appointment, be sure to check our latest visitor policy and screening procedures.
Surgical masks are required in all Reid Health facilities. Cloth masks are not acceptable. Reid will provide you with a surgical mask upon entry if needed.
Safe Pathways to Care: Learn more about COVID-19 and vaccinations