Right
beside
you.
Well at Work: Reid Health partners with companies to keep employees healthy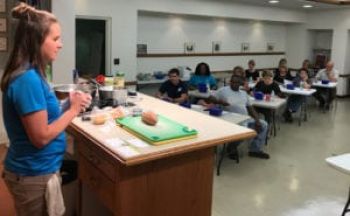 Jennifer Stachler registered dietitian conducts a healthy cooking demonstration for Richmond Power & Light employees.
August 15th 2018
Various studies support the benefit of workplace wellness programs including lowering costs for employers and even saving lives.
Two companies who participate in Reid Health Well at Work programs say they are definitely seeing the benefits of focusing on team wellness. "We care about the health of our employees and we want them to feel good when they get to work. This also keeps our health care bills down" says Doris Ebeling Human Resources Director for Frank Miller Lumber Co. in Union City. Her company has worked with Reid Health for five years.
"Bringing Reid Health on site allows the employee the advantage of getting their screenings without taking off work. They also have the ability to have their results sent directly to their doctor" Ebeling said. She has had the Reid Health team conduct various wellness screenings on site and has also made it possible for team members to come to the hospital for other tests such as heart scans. "The results of their tests have brought their attention to issues such as high blood pressure cholesterol and thyroid issues among others."
Rhonda McClure Human Resources Assistant at Richmond Power & Light has also been connected to Reid Health wellness for about four years. She said health screenings and other on-site presentations have been positively received by the team. "One employee stated the event was discussed outside of work and because of that conversation a family member visited his physician asked for testing and discovered an issue. So our event and that conversation were instrumental in this family becoming aware of a problem before it was potentially too late."
McClure sees workplace wellness as a potential building block for a stronger healthier workforce.
Tajuan Stoker Reid Health's Director of Wellness Services is a longtime ambassador for promoting health and wellness both at Reid Health and at companies and others served by his wellness team. "We all know that many illnesses and chronic conditions are preventable but many of us do not take the time outside of work to focus on our wellbeing" he notes. Workplace wellness programs can bring improved morale more focused employees less absenteeism and an improved bottom line by a reduction in the cost of employee health issues and benefit programs.
Workplace wellness programs can bring improved morale more focused employees less absenteeism and an improved bottom line by a reduction in the cost of employee health issues and benefit programs.
Stoker said his department offers a range of options to companies of all sizes. Options also involve participation of other Reid Health departments and services such as Diabetes and Nutrition Education and Occupational Medicine.
Lindsay Lawrence manager of Reid Health Occupational Medicine said companies also appreciate the easy access when they need to send employees her way. "Occupational Medicine is conveniently located just beside the emergency room entrance. We provide acute injury care pre-employment physicals DOT (CDL) physicals audiograms pulmonary function testing PPD and other testing and vaccines." The department also assists with health fairs and annual flu vaccine administration.
Jennifer Stachler who recently conducted a healthy cooking demonstration for RP&L team members said she often finds attendees are surprised at how good healthy recipes taste and how easy preparation can be. "I also try to emphasize the importance of meal preparation and how to plan meals since working families have limited time to cook at home and often grab fast food."
Her presentations offer recipes that are simple quick and inexpensive "designed to help families who have limited time to cook at home."
A variety of services are available to companies through Reid Health's Wellness and Occupational Medicine departments including:
On-site health screenings
Programs customized to company needs
Lunch and learn presentations
Healthy cooking demonstrations
Diabetes and nutrition education and information
Wellness lifestyle management
Pre-employment screening
Work conditioning
Work-related injury care
CPR/First-aid programs
Physicals
OSHA training and certification
To learn more contact: [email protected] or call (765) 983-3086.