Right
beside
you.
Urgent Care team in 'Battle of the Businesses' in Eaton, Ohio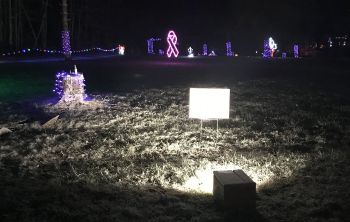 The Eaton team was in charge of the Breast Cancer Awareness area of the lighting display
The team is participating in the "Battle of the Businesses" with three other companies who helped other volunteers decorate Fort St. Clair Park in Eaton, Ohio, for the annual "Whispering Christmas" holiday event. The teams are taking votes on social media through Dec. 31.
"We decorated the last weekend of October and the first weekend of November by wrapping trees with lights and setting up lighted figurines," says Noelle Armstrong, PA-C, who was the team leader. Joining her were Monica Schlichter; Shari Simpson, MA; Tammy Thompson, practice manager; Angela Snowden, NP; and Shannon Winkler, MA.
They will return in January to take down their area of lights. Meanwhile, the competition has heated up between the Reid team, Henny Penny, Parker Hannifin and Silfex.
The Fort St. Claire event offers a drive-through light display, open from 6 to 10 p.m. each day through Dec. 31.
To vote for the Reid team, use this link: https://www.surveymonkey.com/r/9DSDW2F…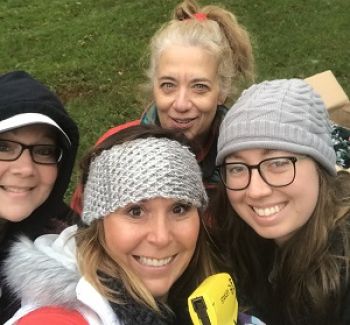 Team members helping at Whispering Christmas display included, from left, Tamala Thompson, Monica Schlichter, Angela Snowden and Noelle Armstrong.