Right
beside
you.
Teen's determination results in low-cost veterinary camp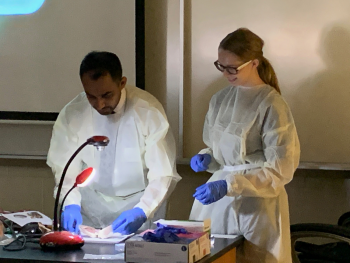 Dr. Bhavsar and Jasmine during his demonstration.
Jasmine Roosa knew when she was a toddler that she wanted to be a "vegetarian." Of course, she meant "veterinarian" -- she was just still too young to pronounce the word.
Today at 16, she hasn't wavered from a plan that began before she was talking clearly. She's worked at a vet clinic since she was 13. She's attended veterinary camps every year since she was in the 7th grade.

And this year - with the help of a host of others including Reid Health's Community Benefit department and the Reid Health Residency Program - she organized a weeklong veterinary camp at her school. It was an amazing feat for someone who is still a couple of years from college. "I decided I wanted to make a veterinary camp here for the kids around this area who are interested in the profession or enjoy working with animals," she says.

So with the help of her stepmom, Kara Roosa, she spent well over 100 hours planning the weeklong camp at Northeastern school for only $50 a participant. She secured the Northeastern FFA as a sponsor. Her principal got involved. She rounded up 10 presenters, including veterinarians and a Reid Health physician. Businesses donated prizes and gifts. Five veterinary colleges helped out.

Roosa called the event the SPARK Jr. Vet Camp, named "for the qualities I believe are important to becoming a strong veterinarian and individual:"

S -- Self.

Self-confidence is an important step for anyone in life

P -- Pursue

. Being willing to pursue your path or dream.

A -- Achieve. Actively achieving your set goals.

R -- Responsibility

. Fulfilling your commitments to school, family and community.

K -- Knowledge

. You have to be willing to gain the knowledge necessary to be a veterinarian and your best self.
"So many people, businesses and colleges helped make this camp possible." Her mom Claire Baker was a camp leader and donated supplies. Her dad, Chris Roosa, helped her practice her own presentations. And she made it affordable. For comparison, one of the closest such camps she knows about is two hours away and costs almost $1,000. "I wanted a low-cost camp available to kids in this area."
Reid Health's involvement included Jay Bhavsar, D.O., who led a suturing training session that involved stuffed animals and then a demonstration using a sheep heart. This presentation was special to him -- doing a sheep heart dissection when he was in high school is what sealed his decision to go into medicine. So he knew first-hand the power of impressions and experiences for young minds.
"It touched me, knowing the part that played in my own career choice," says Dr. Bhavsar, who is enrolled in the Reid Health Family Medicine Residency program. "If someone has that moment, like I did, it can be life-changing."

The event in June involved more than 20 Northeastern students grades 6 through 11, over a five day schedule with presentations about animal exams, the costs of owning a pet, pet first aid, equine dentistry, multiple case studies and more.

"Our goal with the camp was that when campers left, they would have a better understanding of the veterinary profession," says Jasmine. "And we 100 percent are planning on doing the camp next year, opening it to students across the county."