September Ambassador is 'a breath of fresh air'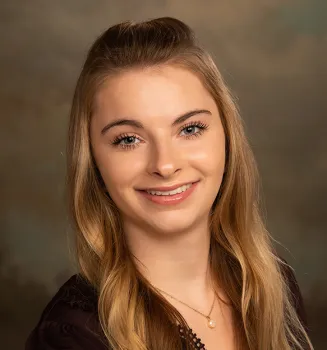 Francesca Straight, Patient Transport
Sept. 10, 2021 -- When you arrive at Reid Health Hospital, the first person you see might just be Francesca "Frannie" Straight. If it is, you'll likely be able to make out the signs of a smile behind her mask or maybe hear it in her voice.

"Francesca is a breath of fresh air whenever you encounter her," a co-worker said. "She's often the first person we see when we enter the building. Her greeting is incredibly warm and genuine with everyone who enters. Even with a mask, you know she is smiling ear to ear."

It's Straight's always-positive attitude that made her a perfect choice to be Reid's September Ambassador.
"Frannie is always moving, always helping, and always paying attention to what's going on," another colleague said in nominating Straight for the honor. "She is a great asset to our organization and a key role in easing the initial tensions during this difficult time."
Straight has worked in Patient Transport for a year as a door screener. A graduate of Richmond High School, she enjoys playing the piano and taking fun trips to make memories with loved ones. She also likes to go for walks around her neighborhood with her dog, Stella.
"I have a passion for animals and have always enjoyed being around them," Straight said. "I value family and the importance of having others in my life who support me and encourage me to be the best version of myself."
Straight loves that her job allows her to meet new people and to have an opportunity to help others, an extension of her days doing volunteer service while in high school that "helped develop me into the person I am today."
"My supervisors and co-workers have set great examples for me to live up to with their hard work," she said.
"I admire the way Reid shows empathy and compassion to families in need of emotional support. I appreciate the way all my co-workers put the patients' needs first."