Right
beside
you.
Robotic surgery technology is topic of May Medical Monday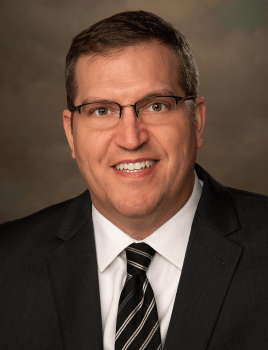 Joel McClurg, M.D.
When is robotic technology the best option in joint replacement surgeries?
This topic will be addressed by Joel McClurg, M.D., Reid Health orthopedic surgeon, at the monthly Medical Monday, 1 p.m. May 13. Dr. McClurg will share about technologies that are available and when they are the best option when facing joint replacements such as knees or hips.
Mako® Robotic-Arm assisted technology is one of the newest options available at Reid Health. The technology is designed to increase accuracy in surgeries. Reid Health and Reid Orthopedics are among only a handful of facilities with this option for orthopedic patients.
Dr. McClurg has been in orthopedic medicine for more than 20 years and brings extensive experience in robotic surgeries to the orthopedics team.
Medical Monday is a free presentation and will begin at 1 p.m. Monday, May 13, at Central United Methodist Church. To attend, please RSVP Sharrie Harlin at (765) 983-3000, ext. 4676. The church is located at 1425 E. Main St. in Richmond. Medical Monday is supported by Reid Health Community Benefit.