Right
beside
you.
Reid team, volunteers bring Disney experience to hospice patient's family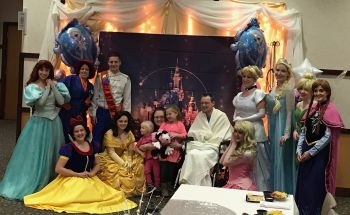 Characters pose with the Alcorn family at the surprise party.
When a hospice patient became too ill to go with his family on a planned trip to Disney World – a dream vacation for his two little girls – the Reid Health Hospice and Oncology team had to do something. So they brought Disney to the family.
When they learned about the cancellation of the Liberty family's trip late last week, they immediately started organizing a party complete with presents, pizza and Disney characters – lots of Disney characters -- thanks to help from numerous volunteers, the Richmond Civic Theatre and many staff members.
As a result, Prince Charming escorted the family down to Lingle Hall where they were surprised with a special celebration late Monday afternoon. Mary Poppins, Tinker Bell, Snow White, Sleeping Beauty, Cinderella, Elsa, Anna, Ariel, and Belle came in one at a time to greet the family and pose for pictures.
"I'm so glad they got to see this," said Lee Alcorn, the girls' father who was able to attend a little bit of the party and see the delight on his daughter's faces. Unfortunately, he wasn't feeling well enough to stay for the whole evening and returned to his inpatient room after photos and introductions of all the characters.
Nicole Alcorn says daughters Summer, 6, and Jenalee, 3, were thrilled. "It's all about the princesses," she said, trying to hold back tears as daughters interacted with the characters, including dancing in a circle to music from Disney musicals and opening gifts from the Reid Health staff.
Jessica Miller, Manager of Hospice/Symptom Management, said the team learned about the planned trip from Alcorn during his admission to hospice. His cancer progressed to a point that it became clear he'd not be well enough to make the trip.
"As it was getting near vacation time, his health was declining to the point the staff was very unsure he would be able to physically make the trip," Miller said. Last Thursday at about 3:30, the party effort began.
"Ariel" had just retired from Disney last year and lives in Indianapolis. Her costume came from her friend's company in Michigan. Sleeping Beauty and Tinker Bell came from Royal Wishes of Anderson. Snow White and Elsa – and the rest of the costumes – came from Richmond Civic Theatre.
Cinderella and Anna were played by hospice nurses Kristen Kriz and LaCole Fleagle. Prince Charming was played the by son of hospice nurse Melanie Vredeveld and his girlfriend played Belle; and Mary Poppins was played by Christa Maitlen, the clinical manager of the Oncology office. A large banner was purchased by Emily Hans and donated to the family.
Miller said other donations and support came from Reid Hospice staff, Reid chaplains, oncology staff, Cakes & Catering, Olivia Grace and Company, Paper Street Bakery, Chelsea White Photography, Rodney Grovier, Monyca Schlechty, Becky Melton and Cordial Cork, Beechwood Golf Course, Jim and Tammi Flood, Leslie Hendrix and Lularoe Aimee Ash.
"The night was truly magical, and we were honored to be able to provide such an evening," said Miller.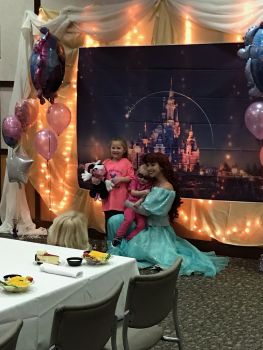 Summer and Jenalee pose for pictures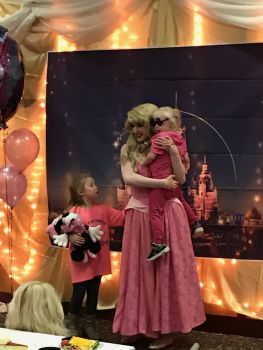 Summer and Jenalee pose for pictures