Reid is 'very fortunate' to have June Ambassador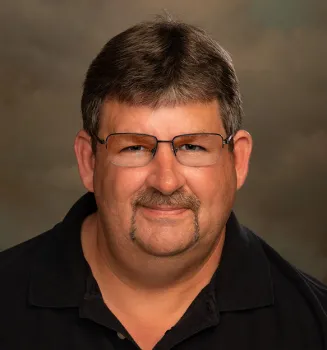 Stuart McDaniel, painter/signage,
Engineering Services
June 4, 2021 -- When Reid Health adopted new mission, vision, and values statements earlier this year, several hundred plaques around the main hospital campus needed to be updated.
In under two days' time, Stuart McDaniel had them all replaced, his positivity spreading cheer throughout the facility all the while. It's for that and more that he was named Reid's June Ambassador.
"Stu has always been very helpful and polite. I believe his demeanor, positive attitude, and willingness to do anything for Reid exemplifies what an Ambassador is," one nominator wrote.
McDaniel, Painter/Signage with the Engineering Services Department, has worked in the maintenance field since he was 16. After being in property management for well more than 20 years, he has spent the past seven years at Reid.
"Whenever I encounter Stu, whatever the situation, he also says hello, has a funny comment, and makes an effort to engage the person he is talking to," a nominator wrote. "He is one to hold open doors and elevators for others.
"I have never heard Stu complain about anything, not even something unrelated to his job. Reid as a whole is very fortunate to have Stu on our team."
McDaniel's wife, Teresa, and one of their three children, Jordyn, also are members of the Reid team. The couple's other children include Michael, an information services contractor at Wright-Patterson Air Force Base in Dayton, Ohio, and Jalyn, who works at Cates Eye Care and is enrolling in nursing school this year.
"I guess you could say most of my family is working at Reid or in the medical field of some sort," McDaniel said.
The couple, who live in Richmond, met while students at Northeastern High School, have been married for 30 years, and loved the Chicago Bulls "back in the day" (take a look at the kids' names again).
McDaniel likes to buy and resell at flea markets as a hobby and has numerous collections of cars, albums, posters, beer items, knives, signs, fishing lures, and more.
"My wife calls it hoarding," he said with a smile.