Right
beside
you.
Reid Health team raising funds for animal shelters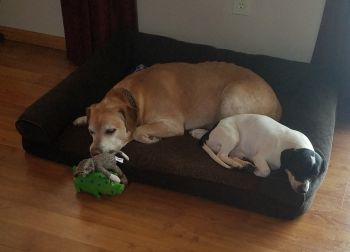 A Reid Health team member not only supported the current drive, but adopted "Snoopy" (right) when it seemed abandoned near their home. The team member said: "He has won over our hearts and we are now making him part of our family. I love that we raise money to support our animal shelters, plus all of the other ways we support our community."
The Reid Health team, as part of its "CARE Beyond our Doors" committee, aims to raise at least $5,000 by March 1 to provide supplies for regional animal shelters.
The drive started Feb. 1 and ends Feb. 28. Carrie Kolentus, Director of Human Resources, said such outreach for the community is something ingrained in the Reid Health culture, noting that team members also have held annual collections for local food pantries and volunteer at organizations throughout the region served by the health system. "Our team members go above and beyond in efforts to help and improve their community," she said.
Food collections have been done by departments and by the entire team for many years, Kolentus noted. This is the third year for efforts to also help animal shelters. Team members who donate are able to share photos of their pets, which are being shared on the health system's social media channels.
"Our team of more than 3,200 employees is among the most compassionate and giving people around," she said. "It truly is the giving spirit of our people that make Reid Health the organization that we are."
Other efforts besides animal shelters and food pantries have include helping Tools for Schools, the United Way and Reid Health Foundation, which in turn supports patient care. Several departments, including nursing units, also regularly spend time serving at area food pantries.