Right
beside
you.
Reid Health team members share 'Stop the Bleed' with state legislators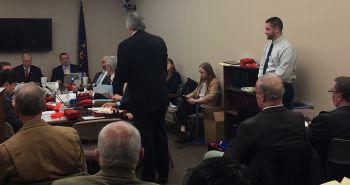 State Rep. Dr. Brad Barrett (left) and Jacob Cox share 'Stop the Bleed' with legislators.
Reid Health Emergency Services team members took the ongoing "Stop the Bleed" education outreach to the state capitol this week as part of an effort to pass a bill to get program kits in every school in the state.
Jacob Cox, RN, Injury Prevention Coordinator for Reid EMS and Trauma Services, and Ryan Williams, RN, Director of EMS and Trauma Services, were invited by Dr. Brad Barrett, newly elected District 56 State Representative. Dr. Barrett is co-author of a bill to provide the funding for three "Stop the Bleed" kits in each school. "After showing Dr. Barrett how we were implementing Reid's Stop the Bleed program, he invited me to come to the State House to assist him with a short training using our kits."
Dr. Barrett, who is a retired surgeon, said he helped Cox with one of the training sessions at a school. And as a physician, he knows first-hand the importance of quick action in life-threatening bleeds. "Studies have shown that bystanders can recognize and control bleeding until first responders arrive and can save lives." He said House Bill 1063 has a goal of getting kits and training into every Indiana school. "The Indiana Hospital Association has generously agreed to donate kits statewide, with training provided by surgeons, firefighters, EMTs and others. Reid has already taken steps in the regional market to advance this potentially life-saving initiative."
Cox and Williams joined EMS, fire and law enforcement personnel from around the state to share a short training session with a committee of legislators on use and purpose of the kits. "The information I provided will be used to help aid them in making a decision to push this through the House," Cox said.
Cox also shared his experience with the Dennis school shooting in December, which brought the reality of mass casualties close to home. "Dr. Barrett particularly wanted me to share my experience as the first medical crew to enter the building with law enforcement – the smell of gun powder in the building, the faces of children and staff, casings on the floor. I think it really drove the point home."
As part of the session, Cox and Williams illustrated how to appropriately apply and use the tourniquets that come in the kits.
Dr. Barrett said the proposal was approved unanimously by the committee and "will hopefully continue through the complicated legislative process to become law."
Trauma centers across the state and in the nation are providing Stop the Bleed education to schools and other public entities. The Reid Health outreach effort received a unique boost with support from the Reid Health Foundation to fund the kits and training in the health system's eight-county coverage area.
The Reid outreach team provided training and kits so far to eleven schools for a total of 111 kits available for more than 4,500 students.
The program is designed to save lives by having equipment and trained staff who can quickly stop life-threatening bleeding. With a serious injury, a person can bleed to death in less than five minutes -- often before trained emergency help can arrive.
"The Stop the Bleed campaign was initiated by the White House in 2015," Cox said. "By having the general public trained in bleeding control techniques, there is an increased likelihood that more lives can be saved."
The Foundation funds are providing "Stop the Bleed" kits to area schools where a previous Foundation campaign also funded AED stations – automated defibrillators that have already been used to save lives in emergency situations. Four kits containing tourniquets, bandages and other supplies are being placed in schools in Wayne, Randolph, Henry, Fayette and Union counties in Indiana and in Preble and Darke counties in Ohio.
Justin Burkhardt, director of Reid Health Foundation, said the outreach of the Reid Health Emergency Medical Services department is a great addition to the AED stations. "Like the AED, you hope it is never used. But if a need arises, this equipment and kits have been shown to save lives."
Cox notes studies have shown that 30 to 40 percent of the victims in mass casualty events died from rapid blood loss. "Our goal is to train as many people as we can on how to identify the source of the bleeding and then control it before first responders arrive."
Anyone with an interest in scheduling training can contact Cox at [email protected]