Right
beside
you.
Reid Health team-initiated events encourage Dennis students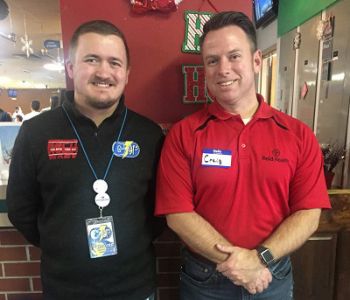 Andrew Hoover with G101.3 and Craig Towns (right).
As Dennis Intermediate School students returned to class for the first time since a campus shooting in December, Richmond Community Schools Superintendent Todd Terrill cited "exceptional" community support for the students -- including two special events initiated by Reid Health team members.
The most recent event at Richmond 40 Bowl last Friday attracted more than 400 students, families, staff and first responders for a few hours of unlimited bowling, food and prizes.
"We raised almost $6000 for the event," said Craig Towns, a Reid Health team member involved in helping plan and host the event. The event came about with the help of more than 40 volunteers -- 35 from Reid Health -- and financial support from Reid Health Community Benefit, which provided funds to help with food and expenses and shared costs with the bowling center management.
More than 200 "Dennis Strong" shirts were given out and more than 20 businesses contributed to help with expenses, prizes and goody bags.
"We just appreciate all of that outpouring," Terrill said in a Palladium-Item report, "and it just helps get through a really tough time."
Community Benefit also supported another event held a few days after the December shooting that drew hundreds to the Family Fitness Works Rec Plex for various activities, food and fun. That event was launched by three Reid Health nurses and other volunteers and supported by Family Fitness Works, which provided the facilities.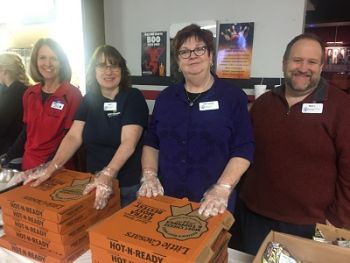 Reid Health volunteers get ready to serve pizza.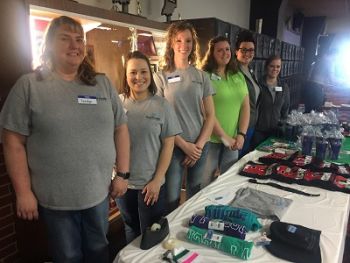 Volunteers manage the prize table.
Approximately 40 volunteers helped with bowling event.