Reid Health swears in more police officers
ABOVE: Craig Kinyon, Reid Health President/CEO, leads swearing in ceremony.
The Reid Health Police Department marked another milestone this week with the swearing in of four more officers who are headed to the Indiana Police Academy in October.
Randy Kolentus, Department Chief, said this weeks' ceremony brings the total to five additional officers to be sworn-in since the first ceremony in February when the department was launched. And the newest officers are the first of existing staff who have not served as officers in previous jobs. "This is exciting for our growth," Kolentus said. The four this week - Brian Bolin, Mike Hurst, Ryan Gerber and Brian Jackson - are now official officers as they prepare to go for eight weeks of Academy training.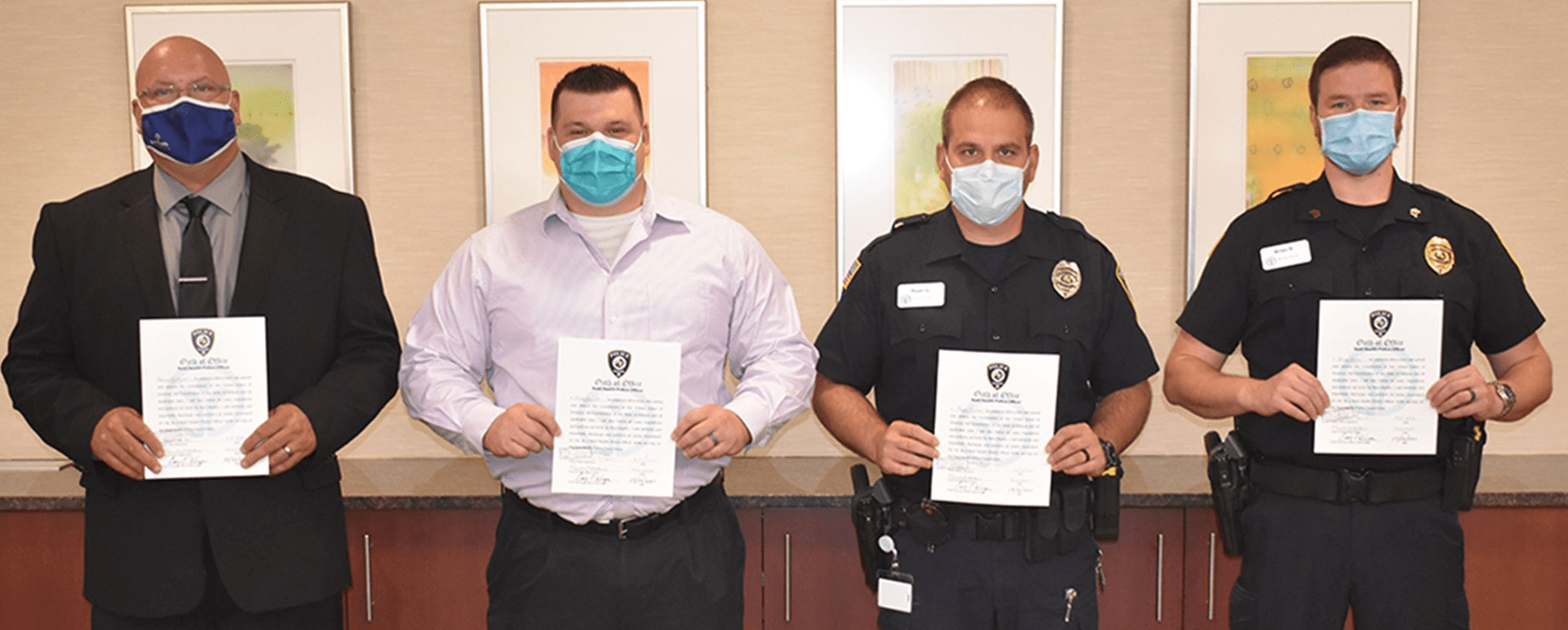 They join the original four sworn-in officers that included Kolentus, Assistant Chief Jeff Cappa, Captain Dennis Perkins and Steve Smith; and Jeff Glover was sworn-in in early March.

The health system joined others in the state to transform its department and security team to a police department as a way to enhance the security and safety of Reid Health patients, visitors, staff and the community members who use Reid services.

The change reflects the growth of Reid Health and the accompanying increase in the need for police assistance, Kolentus said. When the move to establish the department was announced in early 2020, he noted that the Richmond Police Department responded to Reid calls almost 900 times in 2019.

Becoming a police force means increased training and certifications for the 23-member security team in Richmond and Connersville. It also provides officers arrest authority, allows them to deal more effectively with an increasing number of potentially violent incidents, and creates what will ultimately be the third largest police force in the county, behind the Richmond Police Department and Wayne County Sheriff's Department.

Kolentus noted violence against physicians and other care providers has increased in recent years, including some where employees were injured while providing patient care. With police officers on site, the health system has more flexibility in dealing with issues including the option to arrest.

The former Security Department has grown from nine officers in 2016 to more than twice that today, also a reflection of the Reid Health system's growth geographically and in number of team members to about 3,400. Kolentus noted that the main campus in Richmond typically has more people at any given time than some of the area's small towns.

"We are taking all the steps necessary to protect our patients, their families and our team members," he said.

Jennifer Ehlers, Reid Health Vice President/Chief Quality Officer, said the growing force reflects Reid Health's commitment to patient and staff safety in all aspects. "This change was the right move at the right time. We can never let up on our efforts to make and keep all our facilities as safe as possible for the thousands of people we serve each day."