Reid Health receives 'Primary Stroke Center' certification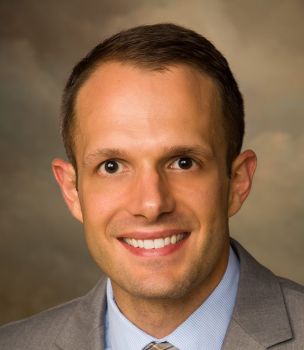 Jordan Raynor M.D. neurologist
May 8th 2018
Someone suffers a stroke every 40 seconds in the United States — and survival and recovery depend on rapid specific emergency treatment.
That's why Reid Health sought and now has received certification as a Primary Stroke Center from the Healthcare Facilities Accreditation Program (HFAP) health system officials said. "We wanted to ensure patients have access to world class stroke care" said Jordan Raynor M.D. Reid neurologist and Stroke Medical Director. "While difficult for many hospitals to achieve we are proud to have built a stroke response team that allows us to provide patients with access to therapies that are currently unavailable in many parts of the country."
The certification also brings into play recently updated guidelines for care that when implemented are providing improvement in stroke survival. The process can help minimize or avoid long-term effects from what can be a deadly or debilitating health event. Dr. Raynor noted stroke is the fourth leading cause of death in the nation and has historically also caused debilitating and life-changing damage to a person who survives.
Treatments have been developed in recent years that have greatly improved the outcomes for stroke patients he said. "This is an exciting time for stroke. In the 1980s no treatments were available. The focus was on diagnosis and prevention. Advancements in technology have allowed us to develop treatments once thought impossible."
The key with stroke is recognizing signs and pursuing quick treatment. "From the emergency medical crew first at the scene to the triage nurse who meets the patient in the emergency department and all the ensuing tests and lab work the key is speed" he said.
Dr. Raynor said the certification comes after almost two years of preparation involving numerous departments extensive staff education on stroke awareness and adoption of the latest stroke treatment protocols from the American Heart Association and American Stroke Association.
"From the EMS first at the scene to the triage nurse who meets the patient in the ED to the CT technician quickly performing the CT scan to the lab quickly performing the bloodwork this certification shows that multiple different stroke team members at Reid hold themselves to a higher standard of stroke care" Dr. Raynor said.
Craig Kinyon Reid Health President/CEO said the successful effort is a reflection of the health system's ongoing dedication to quality and excellence. "Our focus is on improving patient outcomes when time is of the essence. Seeking the voluntary certification was a logical step in our historic dedication to always striving to improve and ensuring we provide the gold standard of care for any health issue. We always strive to be on the cutting edge of technology and processes to ensure care excellence for every health care situation."
Sam Iden M.D emergency physician noted that stroke is an extremely serious and dangerous health challenge. "Time is critical in stroke care" he said. "Anyone experiencing stroke-like symptoms should go to the closest most appropriate facility immediately."
If that facility is Reid Health the Stroke Center means the latest treatment protocols will be followed in rapid fashion including — when appropriate — quick transfers to Comprehensive Stroke Centers with which transfer agreements have already been established.
"This certification similar to our recent advances in trauma care has put into place better efficiencies within the system to provide timely care to stroke patients" Dr. Iden said.
Misti Foust-Cofield Vice President/Chief Nursing Officer said the certification "has aligned Reid to serve our community with the highest level stroke care and guide our patients and their families through this journey. From acute onset and intervention to a plethora of rehab needs we will be able to care for stroke patients offering life-changing outcomes."
Horia Draghiciu M.D. medical director for Critical Care said the certification "is a great accomplishment and a logical step in our growth as a regional referral center. This program offers the ability to have these acutely ill patients evaluated and treated in the best and fastest possible fashion." He noted the certification verifies that providers and ancillary staff are all versed in early recognition and prompt interventions of all aspects of acute stroke management.
The Reid Radiology team worked tirelessly for many months for their role in the certification. "As soon as a stroke alert is called CT Scan department holds a room for that patient. The radiology team of technologists and radiologists are ready to assist the Emergency Department by providing imaging and results in 45 minutes or less from the time the patient arrives" said Lisa Hicks CT Supervisor.
Mary Alexander Pharmacy Operations Manager said her pharmacy team works closely "to make sure that when needed clot dissolving medication called tPA – which stands for tissue plasminogen activator — "is made and delivered to the patient's bedside in minutes."
Aaron Wasserman M.D. emergency physician who worked with the team to help develop the new protocols for the flow of patients in emergency noted "this certification verifies that we are meeting or exceeding all national guidelines for the treatment of stroke."
"Reid Health clearly demonstrates a commitment to quality and patient safety" said Lawrence Haspel D.O. Chairman of the Bureau of Healthcare Facilities Accreditation for HFAP. "We base our decision on the findings of an extensive and thorough on-site review of the hospital against recognized national standards for patient safety quality improvement and environmental safety. Reid Health has earned the distinction of HFAP certification through its performance in successfully meeting those standards as a Primary Stroke Center."
RELATED STORIES:
Miraculous timing: New guidelines likely saved stroke patient's life
Stroke survivor: Take meds 'get regular checkups for heaven's sake!'