Right
beside
you.
Reid Health receives prestigious 'Baby-Friendly' designation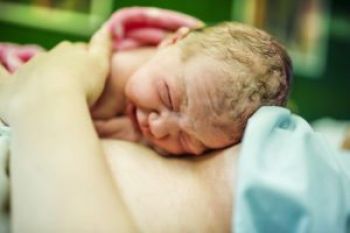 Besides a focus on breast-feeding Baby-Friendly also emphasizes the importance of immediate "skin-to-skin" contact with mom at birth.
August 24th 2016
More than three years of work by Reid Health team members has earned prestigious international recognition as a "Baby-Friendly® Designated" birth facility.
Baby-Friendly USA Inc. announced the designation last week. Baby-Friendly USA is the U.S. authority for the implementation of the Baby-Friendly Hospital Initiative (BFHI) a global program sponsored by the World Health Organization (WHO) and the United Nations Children's Fund (UNICEF). The initiative encourages and recognizes hospitals and birthing centers that offer an optimal level of care for breastfeeding mothers and their babies.
Based on the Ten Steps to Successful Breastfeeding this international designation recognizes birth facilities that offer breastfeeding mothers the information confidence and skills needed to successfully initiate and continue breastfeeding their babies. "This recognition is not just significant for the Reid Health team members who have worked so hard to obtain it – it is also a wonderful distinction for our region. We join a limited number of hospitals and birth centers to receive this designation" said Craig Kinyon Reid President/CEO. "And this is just one significant milestone in major enhancements we have made in the birthing experience at Reid Health."
Loretta Ryan M.D. Pediatric Section Chief agreed that Baby-Friendly® and the other enhancements are important for community health throughout the region. "We will have healthier babies and healthier moms."
Though there are more than 20000 designated Baby-Friendly® hospitals and birth centers worldwide Baby-Friendly USA's announcement notes that there are just 364 active Baby-Friendly hospitals and birth centers in the United States. The Baby-Friendly® designation is given after a rigorous on-site survey is completed. The designation is maintained by continuing to practice the Ten Steps as demonstrated by quality processes.
The core of a Baby-Friendly® initiative is the "Ten Steps to Successful Breastfeeding" a bundle of science-based practices established by the WHO and UNICEF as global criteria to improve breastfeeding rates. The criteria are also endorsed by the American Academy of Pediatrics.
The designation also indicates that besides breastfeeding the facility supports and promotes the importance of mother and infant bonding. At Reid Health it means making sure mothers have immediate skin-to-skin contact with their newborn which is believed to help activate the baby's immune system. It also means babies remain with their mother most of the time during their stay rather than being whisked away to a nursery.
Erika Brandenstein M.D. with Reid OB/GYN said the designation illustrates the Reid team's commitment to patient and family-centered care. "We know this initiative means our mothers and families are getting the optimum care and encouragement that has been proven to reduce risks to the baby and mom."
Natalie Klotz of Richmond wasn't able to have the immediate bonding time that would normally be part of a birth because she had an emergency delivery of her twins a month ago. Once their minor problems were handled however she said she did notice and enjoy the fact that her babies were with her afterwards. "Once the traumatic emergency part was over it was fine" she said.
Her experience is an illustration of how today's birthing experience has changed to reflect the things Baby-Friendly® is all about. Long gone are the days when babies are lined up in a hospital nursery while mothers recuperate in their rooms.
"The birth experience is a family event" said Kelly Beall RN MSN CLC Women's Health Service Line Director at Reid Health. "Besides emphasizing the importance of breast-feeding being a Baby-Friendly® center is wonderful recognition of all the things that are involved in ensuring an exceptional experience for mom baby and other family members during such a significant life event." She noted that with the exception of when there are complications requiring it the center nursery is rarely used. "We are creating a home experience in the hospital so parents get to know babies and babies get to know their families. All care happens in the room."
"We help families learn the importance of breastfeeding and understand how good it is for their baby" said Janet Feazell RN Lactation Consultant & Perinatal Educator with Reid's Family Birthing Center. "Breastfeeding is a preventative measure to protect health and it is the best form of nutrition for infants" she said noting that in today's unit almost 80 percent of moms are going home successfully breastfeeding.
Beall said other improvements to the birthing experience at Reid Health include adding a midwife this year and maintaining five certified lactation counselors on the Family Birthing Center one in the Reid OB/GYN office and two with the Reid Pediatric and Internal Medicine practice.
Changes at Reid already implemented since moving toward the designation include:
20 hours of training about breastfeeding for every employee of the unit
Placing babies skin-to-skin immediately with their mother after birth which aids in transition from life in the womb to life outside and improves baby's heart rate respiratory rate body temperature and blood sugar
Having babies room with their mother their entire stay
Maintaining on staff an internationally board-certified lactation consultant (IBCLC)
Continuing education for unit physicians
Free childbirth breastfeeding and sibling classes for expectant parents
Outpatient support after families leave the hospital
A quiet time every day with visitor limitations to allow special family bonding in the rooms.
The Baby-Friendly® designation began in 1991 in response to rising infant mortality rates around the world and is sponsored by the World Health Organization and United Nations Children's Fund. To become Baby Friendly a hospital must demonstrate its commitment to a whole philosophy of care that helps women understand the benefits of breastfeeding and be successful at it.
Baby Friendly designation benefits new mothers and their babies with support to initiate and succeed with breastfeeding and also to encourage bonding during this special time.
Bonding time "skin to skin" — We encourage uninterrupted skin-to-skin contact right after the baby is born and until baby completes the first feeding. The baby is placed on the mother's chest and tends to remain calmer and cry less. This special bonding time along with successful breast feeding has proven to have many immediate and long-term health benefits.
Rooming In –The days of babies lined up in a nursery are long gone. Babies and mothers with the support of the staff spend this special time together. Rooming in improves bonding and allows the mother and family members to be more included in the bedside care. Our nurses are specially trained to help in this special time for Baby Mom Dad and even siblings.
The first bath — Another change from years past is that the baby's first bath is done much later. A protective substance is on the skin of many newborns and we now know that leaving it on the baby can help the baby including helping protect against infection.
Have a written breastfeeding policy that is routinely communicated to all health care staff.
Train all health care staff in skills necessary to implement this policy.
Inform all pregnant women about the benefits and management of breastfeeding.
Help mothers initiate breastfeeding within one hour of birth.
Show mothers how to breastfeed and how to maintain lactation even if they are separated from their infants.
Give newborn infants no food or drink other than breast milk unless medically indicated.
Practice "rooming in" – allow mothers and infants to remain together 24 hours a day.
Encourage breastfeeding on demand.
Give no pacifiers or artificial nipples to breastfeeding infants.
Foster the establishment of breastfeeding support groups and refer mothers to them on discharge from the hospital or clinic.
The Ten Steps are endorsed and promoted by the major maternal and child health authorities in the United States including:
Related link:
https://www.babyfriendlyusa.org/