Reid Health President/CEO featured in leadership video series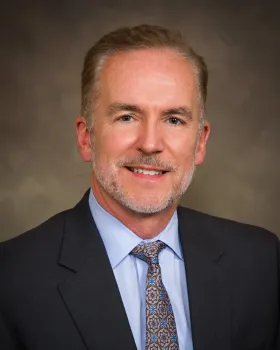 Reid Health President/CEO Craig Kinyon
March 5, 2021 -- Reid Health President/CEO Craig Kinyon talks change and technology in the healthcare industry, how the Reid team has responded to the COVID-19 pandemic and more in a video series that spotlights industry leaders across the country.
Kinyon is featured in the Senior Leaders Perspective series from Vizient, "the largest member-driven, healthcare performance improvement company in the country," according to Vizient's website.
"The Senior Leaders Perspective video series features discussions with select, noted healthcare executives, who share their views and experiences in their current roles as well as over the course of their healthcare leadership career," said Thomas Spindler, Group Senior Vice President for the company.
"Executives are identified and approached based on several considerations, including leadership, being a critical thinker in terms of healthcare delivery now and in the future, and respect among peers."
Kinyon appreciated the opportunity to discuss the Reid Health story.
"I'm very grateful Vizient reached out to provide this chance to share with others all the wonderful work being done by our team," Kinyon said. "As I say in the video, we are second to none in the services we provide to our communities."