Reid Health Police Chief-led group gains international recognition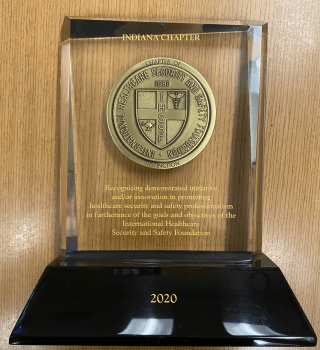 The Indiana chapter of the International Association for Healthcare Security & Safety (IAHSS) -- headed by Reid Health Police Department Chief Randy Kolentus -- has been recognized as a Chapter of Distinction by the international organization.
IAHSS cites the Indiana group for its demonstrated initiative and innovation in promoting healthcare security professionalism and furthering the goals of IAHSS.

Kolentus has led the state chapter since 2014, noting that it has been involved in developing and improving training for healthcare security and police officers, working on legislative issues relating to security for healthcare organizations and increasing networking among state healthcare security departments.

"The IAHSS provides several levels of training and certifications that relate directly to healthcare security," Kolentus said. "This training has proven very valuable to all Indiana hospitals with these formalized universal certifications that many Indiana hospitals have utilized for their security teams. Annual and regional training opportunities have created opportunities for Indiana members to learn from and see how needs are met in other areas of the country which may benefit them."

Jennifer Ehlers, Vice President/Chief Quality Officer, said Kolentus has been instrumental in the growth and expansion of the Indiana chapter. "His leadership has not only had a positive impact on Reid's officers, but all officers serving healthcare entities throughout the state. We are proud and thankful for his dedicated service."

Though not a direct goal of the international organization, the chapter has been involved in state legislation making it possible for hospitals and health systems to form police departments to better handle security issues - something Reid Health did early this year.

Kolentus said the group is also working to develop a police academy training curriculum more specific to the needs of healthcare police officers.