PR: Reid Health passes 45,000 COVID-19 vaccine doses milestone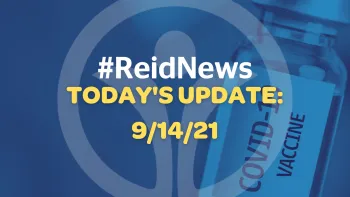 Sept. 14, 2021 -- Reid Health recently administered its 45,000th dose of the COVID-19 vaccine, a milestone that was a long time in coming.
It took only a month after vaccinations began in mid-December for the health system to give out its first 5,000 doses. By mid-May, Reid had reached 40,000.
But the pace of vaccination already had significantly slowed at that time, and it would take another four months to finally get to 45,000 doses administered.
The COVID-19 vaccine remains the best tool available to end the pandemic, and Reid continues to offer several vaccination sites, including a new one on the main campus in Richmond.
Vaccinations now are available 6 a.m.-5 p.m. Monday through Friday on the main concourse next to the Home Medical Equipment store. Patients already present for outpatient services are offered the opportunity to receive a vaccine during their visit.
Walk-ins are welcome, but appointments also can be made through Indiana's COVID-19 vaccination website, ourshot.in.gov.
Some 43 people were vaccinated at the new site on its first day Monday.
Those who get their shot at the new location will receive a card good for a free drink and snack at the Espresso Bar or at the Café at 1200.
Both the one-dose Johnson & Johnson and the two-dose Pfizer vaccines are available at the new site. Other Reid vaccination sites use only the Pfizer product.
During its first day Monday, some 43 people were vaccinated at the new site at Reid Health's main campus in Richmond.
Those who opt for the Pfizer version will be scheduled for their second dose at either Reid's vaccination clinic at the Kuhlman Center on the Wayne County Fairgrounds or Reid's Residency Clinic on Sim Hodgin Parkway.
Anyone 12 years and older can receive the Pfizer vaccine while those wanting Johnson & Johnson must be at least 18. Parents or legal guardians of minor children who will be vaccinated need to be present at the time of vaccination.
All those receiving the vaccine are required to remain for a 15-minute observation period.
As a reminder, a door screening is required to enter the main campus, and a surgical mask will be provided for entry. Cloth masks are no longer acceptable at Reid facilities.
Today's COVID-19 stats
Patients in containment areas: 72
Number of those patients who are unvaccinated: 57 (79.2%)
COVID-19 patients in the ICU: 13
Number of those patients who are unvaccinated: 13 (100%)
COVID-19 patients on ventilators: 9
Number of those patients who are unvaccinated: 9 (100%)
Tests submitted since last update: 375
Lab-confirmed positives since last update: 38 (10.1% positivity rate)
Suspected COVID-19 admissions in the past 24 hours: 23
Reid Health serves an eight-county area, including Wayne, Randolph, Henry, Union, Fayette, and Franklin counties in Indiana and Darke and Preble counties in Ohio. The statistics above represent patients from throughout the service area.
Key reminders
You should never delay care. Previous surges have seen patients put off necessary care for emergent issues such as chest pain, stroke symptoms, appendicitis, and even symptoms of cancer. Delaying care can have life-altering consequences.
COVID-19 vaccines are free. They are safe. Make an informed decision by consulting sites such as the CDC and FDA.
Indiana residents can find vaccination sites and schedule an appointment by going to ourshot.in.gov. Ohio residents should use gettheshot.coronavirus.ohio.gov.
Since Reid's COVID-19 hotline was established on Aug. 26, nearly 3,000 community members have taken advantage of the service. Hotline staff can assist with scheduling a test, receiving test results, and seeking clinical advice, including about monoclonal antibody infusions. The hotline is available 8 a.m.-8 p.m. seven days a week by calling (765) 965-4200.
Before you come to a Reid Health site to see a loved one or accompany them to an appointment, be sure to check out our latest visitor policy and screening procedures.
Surgical masks are required in all Reid Health facilities. Cloth masks are not acceptable. Reid will provide you with a surgical mask upon entry if needed.
Safe Pathways to Care: Learn more about COVID-19 and vaccinations