Reid Health now at 15,000 COVID-19 vaccine doses and counting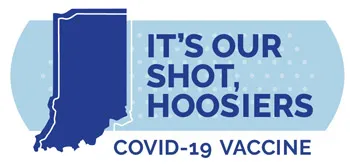 The milestones are coming faster than ever before as Reid Health administered its 15,000th COVID-19 vaccination dose Monday.
Reid began administering the vaccine for a four-county area on Dec. 17. It took five weeks to reach the 5,000-dose mark, but since then, the pace at which milestones have been met has accelerated.
It took only 15 days to go from 5,000 to 10,000 doses given out. This latest plateau was gained in just 12 days.
"Obviously, this is wonderful news," said Thomas Huth, M.D., Vice President of Medical Affairs for Reid Health. "The faster we can get everyone vaccinated, the faster we can return to our normal lives."
Over the past week, Reid has averaged administering some 539 doses a day at its public vaccination clinic at the Kuhlman Center on the Wayne County Fairgrounds in Richmond.
Reid has been designated a host site by the Indiana State Department of Health with responsibility for helping to vaccinate Wayne, Randolph, Union, and Fayette counties.
County health departments in those areas also are offering vaccinations through their own clinics. Those are located at:
Wayne County: 601 E. Main St., Richmond
Randolph County: 1885 U.S. 27, Winchester
Union County: 6 W. South St., Liberty
Fayette County: 401 Central Ave., Connersville
According to the ISDH, those now eligible to receive the vaccine include:
Any Hoosier age 65 and older;
Healthcare workers who live or work in Indiana and have face-to-face interactions with patients or contact with infectious materials in a healthcare setting; and
First responders who are firefighters, police officers or sheriff's deputies, Emergency Medical Services, reservists or correctional officers who live or work in Indiana and who are regularly called to the scene of an emergency to give medical aid.
Patients must schedule a visit through the state website, ourshot.in.gov, using either the Firefox or Chrome web browser.
"Obviously, this is wonderful news. The faster we can get everyone vaccinated, the faster we can return to our normal lives." -- Thomas Huth, M.D., Vice President of Medical Affairs
Reid's clinic at the Kuhlman Center is open 7 a.m.-5 p.m. Monday through Friday and 9 a.m.-1 p.m. Saturday.
The state has designated 211 as a call line for assistance, but Reid has been made aware at least some local sites aren't showing for 211 staff as having available appointments. Patients should specifically ask for the Kuhlman Center if 211 staff don't initially offer it as an option.
If you still can't schedule an appointment at the Kuhlman Center through 211, please call (765) 935-8484 Monday through Friday from 7 a.m. to 5 p.m.
For those individuals who might need help getting to the Kuhlman Center, family members should assist with scheduling to ensure transportation will be available at the time of the appointment.
The City of Richmond now is providing no-charge bus service to the Kuhlman Center. To schedule a ride, patients will need to call (765) 983-7227 or (765) 983-7301. The service will run every hour at 25 minutes after with the first stop being at 7:25 a.m. and the last pickup at 5:25 p.m. Paratransit also will provide rides to the clinic daily from 10 a.m. to 2 p.m.
Once on site, patients will find directional signs and a phone number to call upon their arrival, (765) 935-8484.
After a visit has been scheduled, patients will be sent a link to complete their registration. That information doesn't have to be filled out before arriving for their scheduled vaccination but doing so ahead of time will speed up the process.
Only those who live or work in Indiana are eligible to be vaccinated in the state. Ohio residents who don't work in Indiana should visit coronavirus.ohio.gov to learn more about how to get vaccinated in their home counties.
Those with questions about the COVID-19 vaccine can call Reid Health's hotline at (765) 965-4200, and they can visit the FAQ section of the Reid website.