Reid Health, Ivy Tech agriculture program to receive excellence award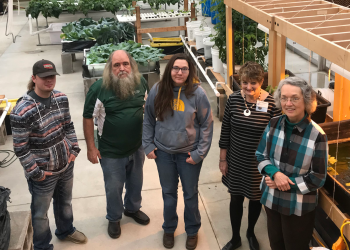 From left: Justin Witter, Jerry Stamper, Autumn Sharp, Kris Ankeny and Beth Treaster.
A partnership between Reid Health and Ivy Tech Richmond's agriculture program is being recognized with an Award for Excellence by the Governor's Workforce.
The recognition, to be presented in Indianapolis on Feb. 18, is for a collaboration between Reid Health's Food & Nutrition Services department and Ivy Tech involving Reid programs that offer student produce for sale. Among them is Reid's "Fresh Friday" event, a seasonal program offering fresh, locally grown produce for sale in the Café at Twelve Hundred on Reid's main campus, 1100 Reid Parkway.

Reid buys the produce from Ivy Tech students, who grow their products either conventionally or hydroponically in the school's greenhouse. The Reid Health Wellness Department also worked with the Ivy Tech program to have a "Grab N' Grow" Spring event where students grew vegetable bedding plants that were sold at Reid. Students and faculty were on hand to answer questions, and employees who bought plants earned wellness points that can be used to get gift cards and other items. The program will be repeated this Spring.

Funds from the programs are used to buy equipment and supplies for the student greenhouse. "This collaboration is a great win-win for Ivy Tech and Reid Health," said Kris Ankeny, Director of Food & Nutrition Services at Reid Health.

The Governor's Workforce notification said the program "has resulted in a strategic partnership recognized for its exceptional outcomes in preparing Career and Technical Education students for continued postsecondary education and future employment opportunities."