Reid Health increases germ-zapping robot team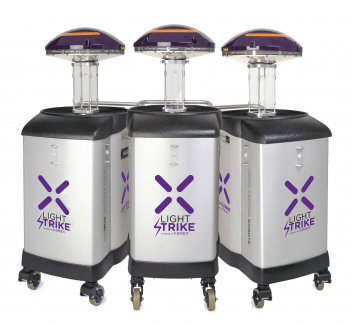 Three new UV robots added to infection-prevention arsenal at Reid Health.
Reid Health, which was the first hospital in Indiana to deploy a new "germ-zapping robot" in 2017, has added three more to the high-tech team used to disinfect surgery and inpatient rooms as part of a multifaceted arsenal to reduce or eliminate risk of infection.
The new units expedite the process of sterilizing surgery suites and patient rooms and are also used to sterilize every room after a COVID-19 patient is released. In fact, the pandemic influenced the health system's decision to add units to the original robot unit, dubbed "Rosie" by team members.

"With the COVID-19 pandemic this year highlighting the importance of infection control, we always ensure we have the best tools and technology at our disposal," said Jennifer Ehlers, Vice President and Chief Quality Officer for the health system. She said the first unit clearly proved its value in reducing risk of infection.

Kim Schneider, RN, Infection Control with Reid Health, said cleaning processes used by Environmental Services without the robot are excellent. The use of the robot after that process "adds an extra layer or protection for our patients, visitors and staff."

"Xenex's LightStrike™ Germ-Zapping Robot" uses pulsed xenon Ultraviolet (UV) light to disinfect rooms without leaving chemical residue or toxic fumes. Hospitals and health systems using the technology have reported significant decreases in infection rates.

Jeff Cook, Director of Engineering and Environmental Services, said the additional disinfecting robots "are another tool Environmental Services uses in their already stellar performance in cleaning and disinfecting patient care areas." He said besides being used in surgical suites and inpatient rooms, they will also be used in the Emergency Department.

The Xenex robot uses Full Spectrum™ pulsed xenon ultraviolet (UV) light that is hundreds of times more intense than sunlight to quickly destroy bacteria, viruses, fungi and bacterial spores. The portable disinfection system is effective against even the most dangerous pathogens, including Clostridium difficile (C. diff), norovirus, influenza, Ebola and methicillin-resistant Staphylococcus aureus, better known as MRSA. Their DNA is fused, rendering them unable to reproduce or mutate, effectively killing them on surfaces
"This investment is significant and underscores our commitment to patient care and the communities we serve," Ehlers said.
Related link: www.ReidHealth.org/SAFE