Reid Health breaks ground on new facility in Winchester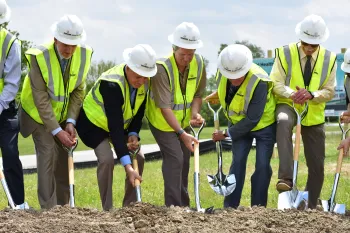 Ground was broken Monday on what will become the Reid Health Primary & Specialty Care - Winchester facility on Symmes Center Drive.
May 24, 2021 -- Reid Health is expanding its presence in Winchester, breaking ground Monday on what will be a 17,521-square-foot facility that will house a variety of services once it's finished.
The new Reid Health Primary & Specialty Care - Winchester location at 386 Symmes Center Drive on the southeast side of the city represents a $7.7 million investment by the health system.
Inside will be the primary care practice of Daniel Wegg, M.D., as well as space dedicated to specialties such as Orthopedics; Ear, Nose, and Throat; Audiology; Cardiology; OB/GYN; and more. X-ray and laboratory services also will be available on-site.
"Having those kinds of resources within our grasp within our own building will be just amazing for our patients," Dr. Wegg said. "Our other facilities in Randolph County are dated, so they don't necessarily satisfy all the modern medical needs that we have."
The project is expected to take about a year to complete. The 4-acre site will have 99 parking spaces and an additional 12 handicap spaces.
"Having those kinds of resources within our grasp within our own building will be just amazing for our patients." -- Daniel Wegg, M.D.
Among the specialties that will utilize space in the new building will be Reid's musculoskeletal urgent and rehab services.
"What's great about this new facility for the people of Winchester and surrounding areas is to have specialty care that is as good as the care they receive at our main Richmond office," said Joel McClurg, M.D., of Reid Health Orthopedics & Spine.
"We will have everything we need to take care of the entire spectrum of orthopedic care right in Winchester. We are excited to be there."
There are no current plans for the future use of the Randolph Medical Center building at 400 S. Oak St. once the new facility is up and running.
Dr. Wegg has seen patients there since joining Reid about seven years ago, giving the health system its first physician in the community. Until then, Reid's primary care presence in Winchester had been limited to nurse practitioners.
Joining Dr. Wegg in the primary care practice are Jeff Baron, NP, and Cierra Fisher, NP.
"This new facility will provide Reid Health and Winchester, Randolph County, and its residents many opportunities," said Rohit Bawa, M.D., Chair of the Reid Health Physician Associates' Network Operations Council. "For patients who live in that area, having a local facility to have both primary care access and specialist access is important in that they won't have to travel to see those specialists.
"For Reid, it gives us opportunity to service an important secondary market and expand our presence in East Central Indiana."
The expansion of services to Winchester and the greater Randolph County area is a reflection of Reid's recently adopted new mission, vision, and values statements.
"Having a high-quality, multi-service clinic such as this will dramatically help Reid Health fulfill its mission statement in the Winchester area -- to lead our communities to well-being, one person at a time," said Tom Hilkert, Chairman of the Reid Health Governing Board.
"We're thrilled to be adding to our service capabilities in the Winchester and Randolph County area," said Craig Kinyon, Reid Health President/CEO. "This new facility embodies our vision of healthier people, thriving communities, and being a trusted partner to those we serve."

"Having a high-quality, multi-service clinic such as this will dramatically help Reid Health fulfill its mission statement in the Winchester area -- to lead our communities to well-being, one person at a time." -- Tom Hilkert, Chairman of the Reid Health Governing Board