Right
beside
you.
Radiology school team helps with cleanup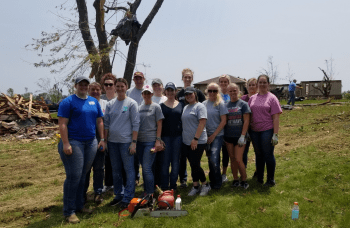 Students and faculty from the Reid School of Radiologic Technology.
Faculty and students in the Reid School of Radiologic Technology recently helped deal with the damage from a tornado that struck Brookville, Ohio, on Memorial Day.
Casey Lieberman, R.T. (R), Clinical Coordinator for the school, said the goal is to perform two community service projects each year - so this was a great opportunity for the group. "The Brookville property that was damaged had total destruction of the home and trees surround the home," Lieberman said. The heavily wooded five-acre lot had nearly all the trees damaged and debris from the home scattered across the property.
"We mostly helped cut and clear the downed trees to make room for heavy operating equipment to reach the home," she said.