Paul and Pat Lingle Collection on display in MacDowell Gallery
Nov. 1, 2023 -- The Paul and Pat Lingle Collection shares the work of 20 artists in the newest exhibition to MacDowell Gallery, which is open today through January 2024.
Paul and Pat Lingle generously gifted a 16-piece collection to the Reid Health Foundation, and Richmond Art Museum (RAM) has loaned an additional four pieces to accompany the exhibition.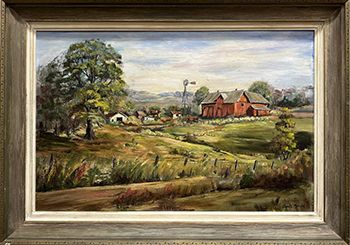 "We are pleased Paul and Pat are sharing their appreciation of the arts with the community by providing this gift to the foundation," said Jason Troutwine, Reid Health Vice President/Reid Foundation President. "We also thank RAM for their contributions to the exhibition."
The Paul and Pat Lingle Collection features historic artists from the "Richmond Group" of painters, as well as artists across the region and the United States. Exhibit artists include George Herbert Baker, Martha Bradshaw, John Elwood Bundy, Jean Chambers, India Cruse-Griffin, Shelby Harding, Ruth Leaf, Opal Murphy, Alan Patrick, Fred Pearce, W. Ray Stevens Jr., Tom Thomas, Doris Turnbaugh, Anton Weiss, and Tom Woodson.
The artwork includes paintings in oils, pastels, and watercolors, as well as gouache, acrylics, mixed media collages, and woodblock prints.
The Lingles are ardent supporters of the arts and initiatives that enhance the quality of life for those living throughout our communities. Additionally, due to their longstanding support, The Paul and Pat Lingle Gallery at RAM hosts a diverse series of exhibitions, available to the public throughout the year.
Paul Lingle serves as president of Lingle Real Estate, Inc., Meadow Park, Inc., and Bayberry Development Company, Inc. He serves as First Vice Chair on the Reid Health Governing Board and on several community boards focused on business, economic development, and education. Pat Lingle is a former childcare business owner.
The MacDowell Gallery is located on the second floor of the Reid Health Outpatient Care Center at 1100 Reid Parkway in Richmond. The gallery is named after Barry MacDowell, who served as Reid President and CEO from 1988 to 2008. Visitors can use the Grand Staircase or the outpatient elevators to reach the exhibit.