Right
beside
you.
Patients motivate November Ambassador in Information Services role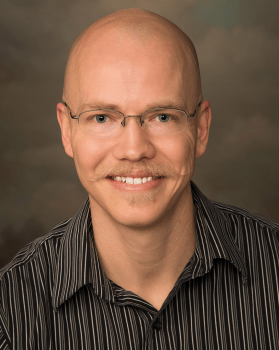 Kirk Davis
The November Reid Health Ambassador is motivated to help patients, though his role in Information Services doesn't usually involve direct contact with people in Reid Health's care.
"Whatever any of us do here at the hospital eventually comes down to how the patient is treated," says Kirk Davis, network analyst. "That's always on my mind. No matter how small the problem is, it can affect someone's day - and probably someone who is taking care of a patient."

Davis joined the team five years ago and has served in various roles including on the Help Desk, where team members call for network and computer issues; serving as an interim manager of the Help Desk; and most recently being promoted to the network analyst team.
His nominators cite his attention to detail and consistency in follow-up. "He never leaves an end user without a plan to move forward," said one nominator. "He fully understands the importance of this position to support those who care for our patients, and models the caring behavior we need."
Another said Davis demonstrates an "outstanding" work ethic and an even-keeled personality that doesn't hint to others when he's under stress or pressure. "He's a reliable, go-to person when it comes to any project, and has met every project head-on with great attention to detail."

Davis is a native of Richmond, though he grew up mostly in California. He and his wife, Heather, chose to return and settle in the area in 2011 after she completed active duty in the Air Force. They live in Richmond with their three pet cats.

Describing himself as always being interested in technology, Davis said he is always learning and trying to keep up with the latest in the field. His hobbies include staying active by lifting weights and biking. He also likes photography and rally car racing. And the Davises also like to travel.

Having moved around a lot, he finds the stability at Reid Health allows him to form strong relationships with coworkers and remain motivated with the realization his job is important to patient care. "Anything I can do to make the patient's day better - that's a lot of what motivates me."