October Ambassador 'tries to make everyone's day better'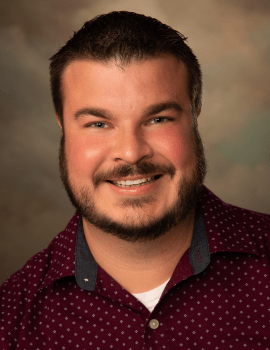 Jacob Gossett
The October Reid Health Ambassador is known for going above and beyond in his frequent patient interactions and for his coworkers.

Jacob Gossett, Radiologic Technologist, "always has a positive attitude, and he is hard working and dependable. He is the type of person who actively tries to make everyone's day better," said one nominator. Another noted "he's always quick to lend a helping hand. He has a great sense of understanding and compassion for his patients."

Gossett, on the Reid Health team for six years, graduated from the Reid Health School of Radiologic Technology in 2014. He worked his first three years in urgent care in Eaton, Ohio, and has been on campus for the past three.

Before Reid Health, Gossett worked in sales at a shoe store. He graduated from Centerville High School in 2008. At one point he considered training to be a physical therapist until he job shadowed a friend in Radiology. "After experiencing that, I knew it was the right path for me."

Gossett said his work consists of constant patient interaction that he enjoys. "I love the variety each day brings and the different challenges each patient has. I appreciate the feeling of knowing I'm helping in the healing process by performing the exam required to identify what may be causing people pain or sickness."

When not caring for patients on the job, he likes spending time with his girlfriend Amy Grace Cooper and her 10-year-old son Bentley. He's also president of Kids in Centerville Soccer, which "requires a lot of work behind the scenes" to make sure things run smoothly. He also likes to tinker around with his Jeep. "We are a Jeep family and love nothing more than taking the top and doors off in the summer and going on a cruise."